Every June, our development team embarks on the great journey to sunny San Jose, California for Apple's Worldwide Developers Conference. This year the journey was…shorter. In fact, it was just a few steps to the couch for the first remote WWDC. Amidst all the challenges facing the world, Apple did what they do best: Think different.
Credit to Apple – they've exceeded our expectations for a remote WWDC. The keynote was entertaining and informative. The sessions were clear and concise. And even the labs were great, with one-on-one time with Apple developers from the comfort of our homes.
While we've really missed hanging out with everyone in San Jose, this was easily a WWDC for the record books. Here are a few highlights from our week as WWDC draws to a close.
macOS: This one goes to 11 👩‍🎤
I immediately installed the beta of macOS 11 Big Sur, and it's no Big Sur-prise that I've been loving it ever since. The new design language, SwiftUI-based Control Center and Notification Center, and brand-new Safari are all incredibly exciting. And I can't wait to get my hands on a Developer Transition Kit for the move to Apple silicon.

macOS Big Sur introduces a new icon design language. Here's a sneak peak of 1Password's new icon in both light and dark modes, compared to its current icon.
iOS and iPadOS
Apple continues to move iOS and iPadOS forward in some wonderful ways. I'm delighted by the improved home screen using Widgets and the App Library, improvements to Siri and Dictation, and Safari's new Password Monitoring and Privacy Reports – both things that are near and dear to our core beliefs. Also, phone calls won't take over my whole screen anymore!
1Password runs well on the betas
We know you're just as excited to try out Apple's new operating systems, and may even be considering the public betas when they're available next month. I'm happy to report that 1Password runs really well on all developer betas: macOS 11 Big Sur, iOS 14, and iPadOS 14.
In fact, we wanted to show you a little something. Part of being a good citizen of an app ecosystem is embracing the platform tools wherever possible. One of the benefits of our doing this over the years is that we sometimes get new functionality with little to no extra work.
Take a look at how the new Scribble feature in iPadOS 14 works in the current version of 1Password.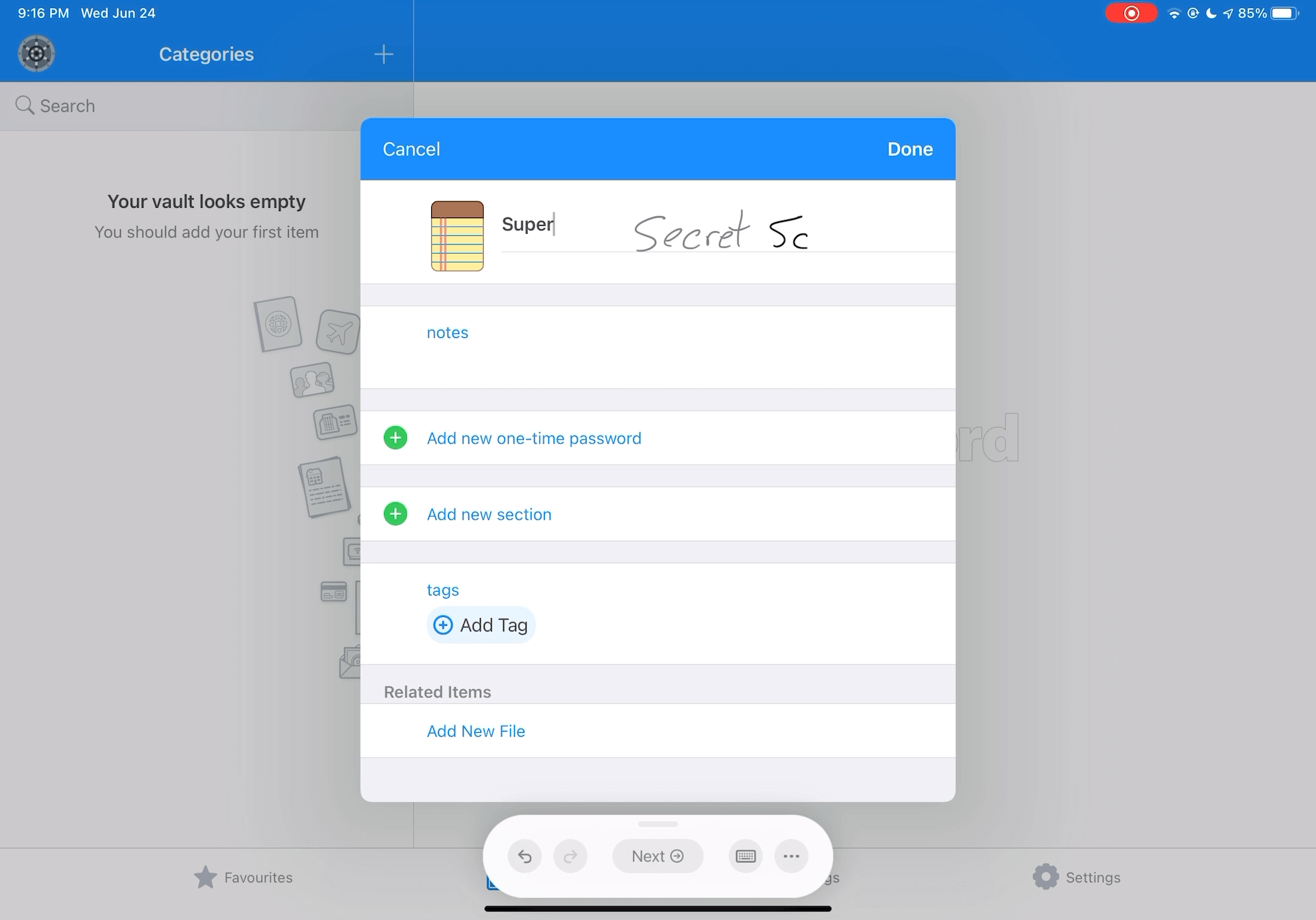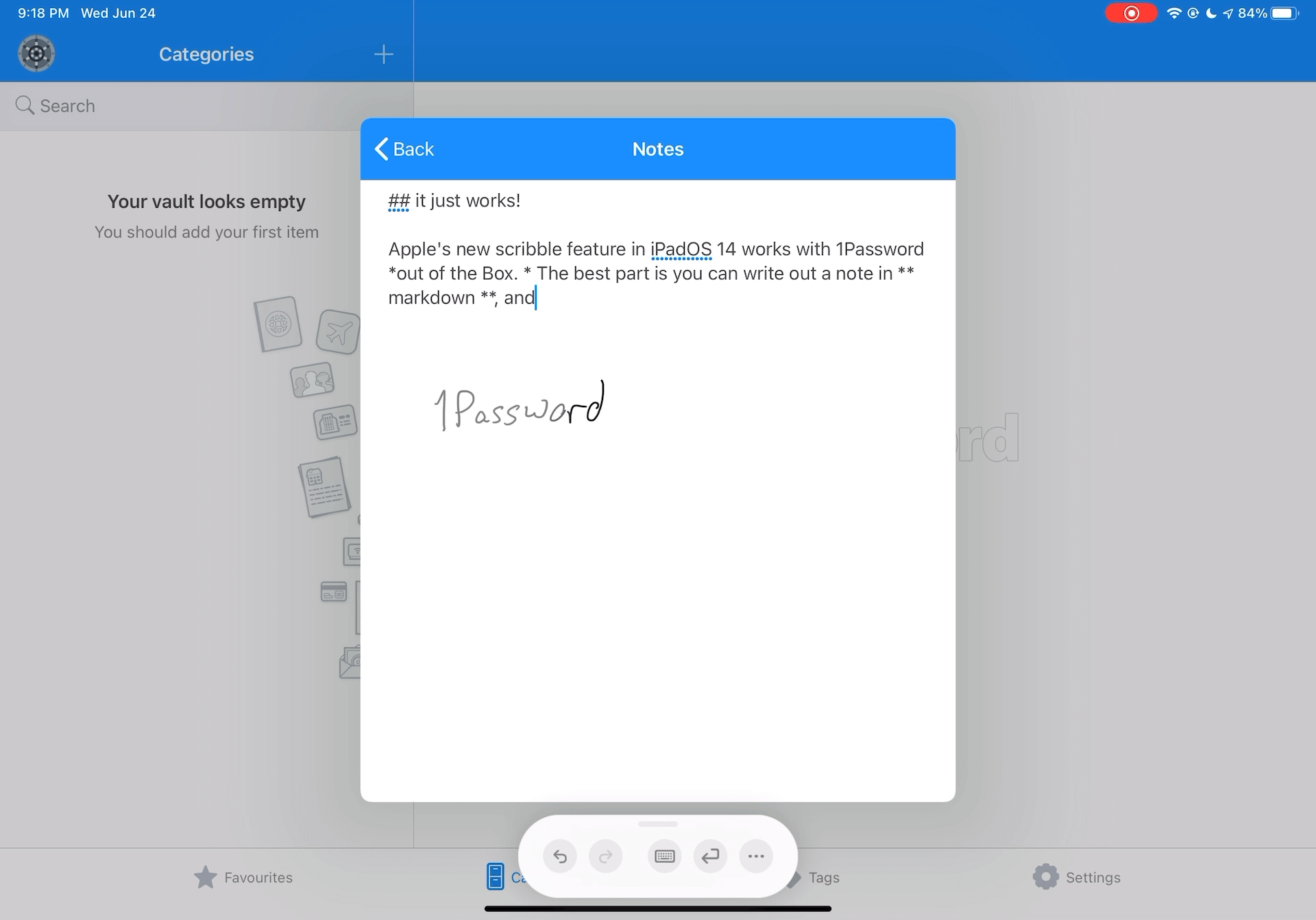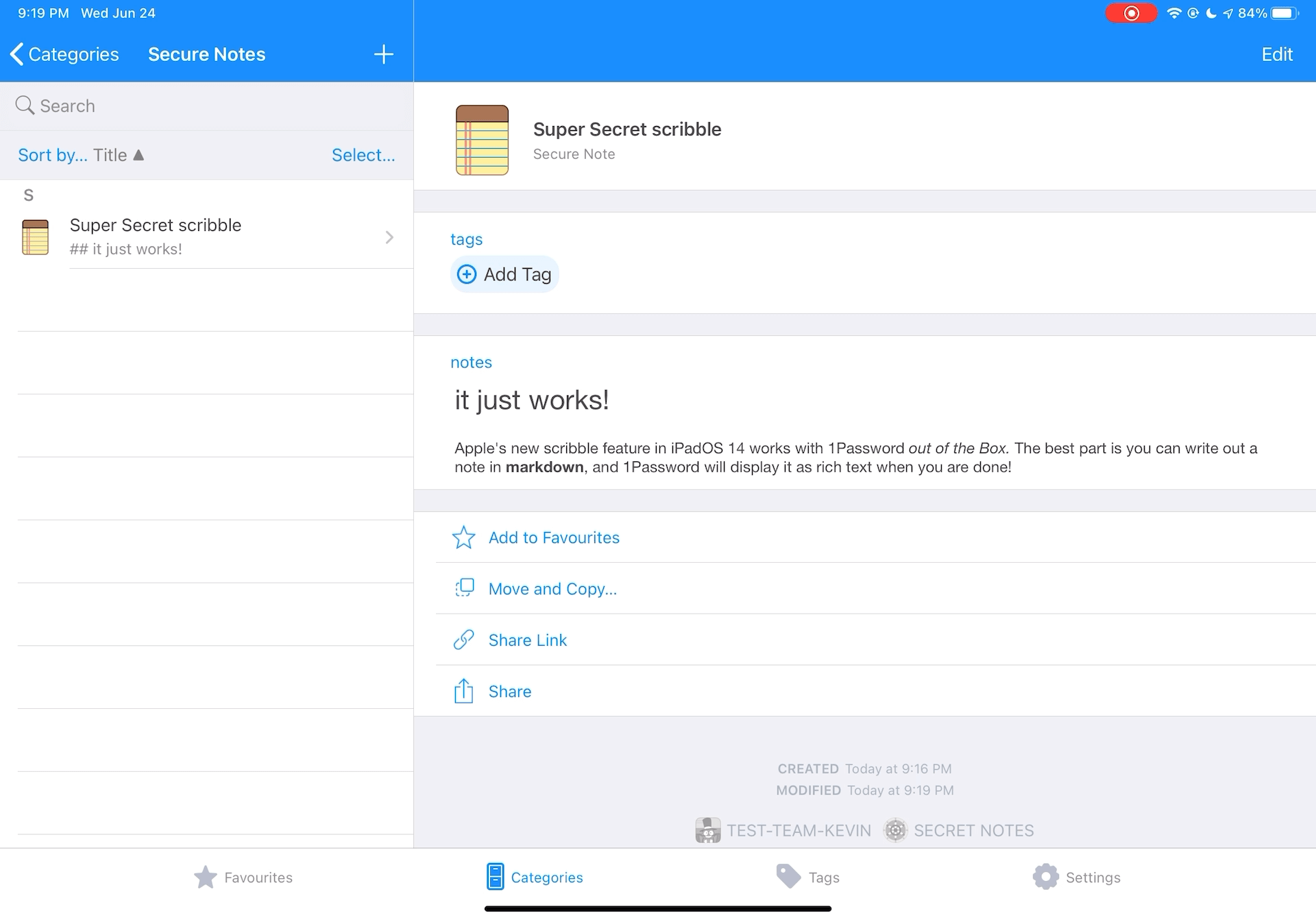 Handwriting a Title and a Note in a Secure Note item converts into regular typed text. We also wrote the note using Markdown syntax, which converted successfully into the text field, and then displayed as rich text when we were done editing. It just works™.
New OS means new features
Scribble isn't the only new thing we're excited about. Our developers have been hard at work the past few days exploring the possibilities of what 1Password could do with some of the new features available to us, and I'd like to show you some of those ideas.
Widgets
Widgets in iOS, iPadOS, and macOS are incredibly useful for seeing key bits of information quickly. This week, we put our heads together and created a widget that provides a glanceable report of your Watchtower stats. The best part is nearly all the code is shared between iOS, iPadOS, and macOS thanks to SwiftUI.
The 1Password widget shows you Compromised Sites in its small size, and its medium size reports an entire Watchtower summary. And when you've upped your security, Watchtower celebrates with you.
App Clips
App Clips are tiny portions of an iOS app that are available on demand from a website, NFC tag, or QR code. The team has put together an App Clip that creates a quick breach report from Watchtower – even without a 1Password membership. If anything comes up in the breach, you can download the rest of the app and start a free trial to improve your security with 1Password.
The 1Password App Clip lets you know when and where you've had compromised accounts.
Safari Web Extensions
Ever since we released 1Password X, we've been asked one question time and again: When is it coming to Safari? Thanks to the introduction of Safari Web Extensions at WWDC20, we were able to get 1Password X mostly running in Safari in a few short hours. We're not making any promises yet, but the future for 1Password X in Safari is looking bright.
That's a wrap
Apple has given us a lot of exciting new technologies to craft the next features of 1Password, and we can't wait to see how they evolve.
I look forward to sharing more with you later this fall when Apple's newest operating systems are released to everyone.