Our beta extensions cover the following browsers:
Chrome (macOS, Windows, and Linux)
Firefox (macOS, Windows, and Linux)
Edge (macOS, Windows, and Linux)
Brave (macOS, Windows, and Linux)
Safari (macOS)
1Password for Mac, iOS, Windows, Android, and Linux have also been updated so you can view, edit, move, share, and delete any passkey you've created using 1Password.
If you need a quick refresher: passkeys are a new kind of login credential that entirely replaces passwords. Passkeys don't need to be memorized, there's no such thing as a "weak" passkey, and they can't be stolen in a data breach. These passwordless login credentials also speed up the process of signing in to your online accounts. Research by Google shows that signing in with a password takes twice as long as a passkey login.
We're proud to be leading the transition from passwords to passkeys, and can't wait for you to start saving your own passkeys in 1Password.
Why you should create and store passkeys in 1Password
Passkeys aren't just a new type of login. They're a simpler, more secure alternative to passwords that will make it easier for all of us to protect our online accounts.
Here are just a few reasons why you should start using passkeys in 1Password:
Signing in with a passkey is fast and convenient. Unlike traditional passwords, there's nothing to type out or memorize. You simply open the website you want to sign in to, find the sign in page or button, and let 1Password handle the rest.

Passkeys are secure. Behind the scenes, every passkey has two parts, and only one of them is shared with the website you're signing in to. You need both parts of a passkey to authenticate, which means no-one can access your online accounts unless they have physical access to your devices – and a way to unlock them.

You can sync your passkeys between devices. Other solutions may lock your passkey to a specific device or only support syncing within a specific ecosystem. 1Password lets you use your passkeys on any device and any major browser.

Saving passkeys in 1Password will keep your digital life organized. Store your passkeys, passwords and other sensitive information in one secure and convenient place. That way, you know that everything you need is always at your fingertips in 1Password. You can also organize your passkeys with vaults, tags, and more!

1Password remembers where you've chosen to use passkeys. Signing in can be overwhelming when you use a variety of passkeys, passwords, SSO, and 'sign in with' services. 1Password will sign you in with the correct credentials every time, regardless of the website and login method.

You'll know when it's possible to secure your accounts with passkeys. In the latest 1Password beta apps, Watchtower will tell you when a website that you use has added passkey support.

You can share your passkeys. Need to give a co-worker or family member access to one of your passkey-protected accounts? Just put the passkey in a shared vault, or give them access via item sharing.
How to get started
Ready to start saving and signing in to accounts using the latest 1Password in the browser beta? Follow these steps:
Open a website that supports passkey login. You can find passkey-compatible sites in our passkey directory. In the latest 1Password beta apps, Watchtower will also tell you when one of your existing accounts can be secured with a passkey.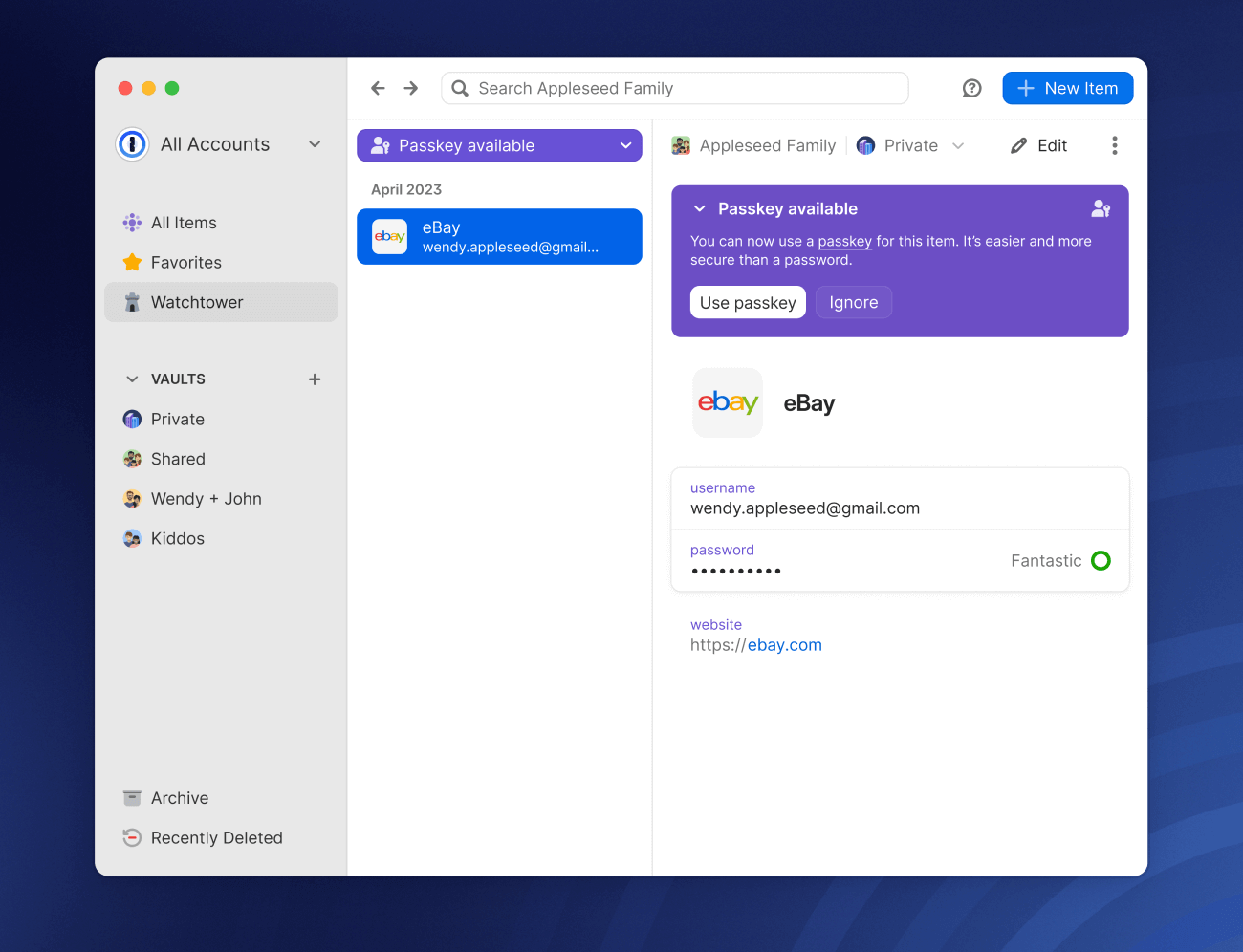 Follow the account creation process and choose the option to create your account with a passkey, rather than a password. If you're updating an existing account, sign in as usual and look for the passkey login option in your account settings.

An on-screen prompt will explain where your new passkey will be stored. If you already have an account with the website, you'll see an option to update your current credential with the new passkey or save it as a new one. Once you've confirmed that the new passkey should be saved in 1Password … that's it! You're all done.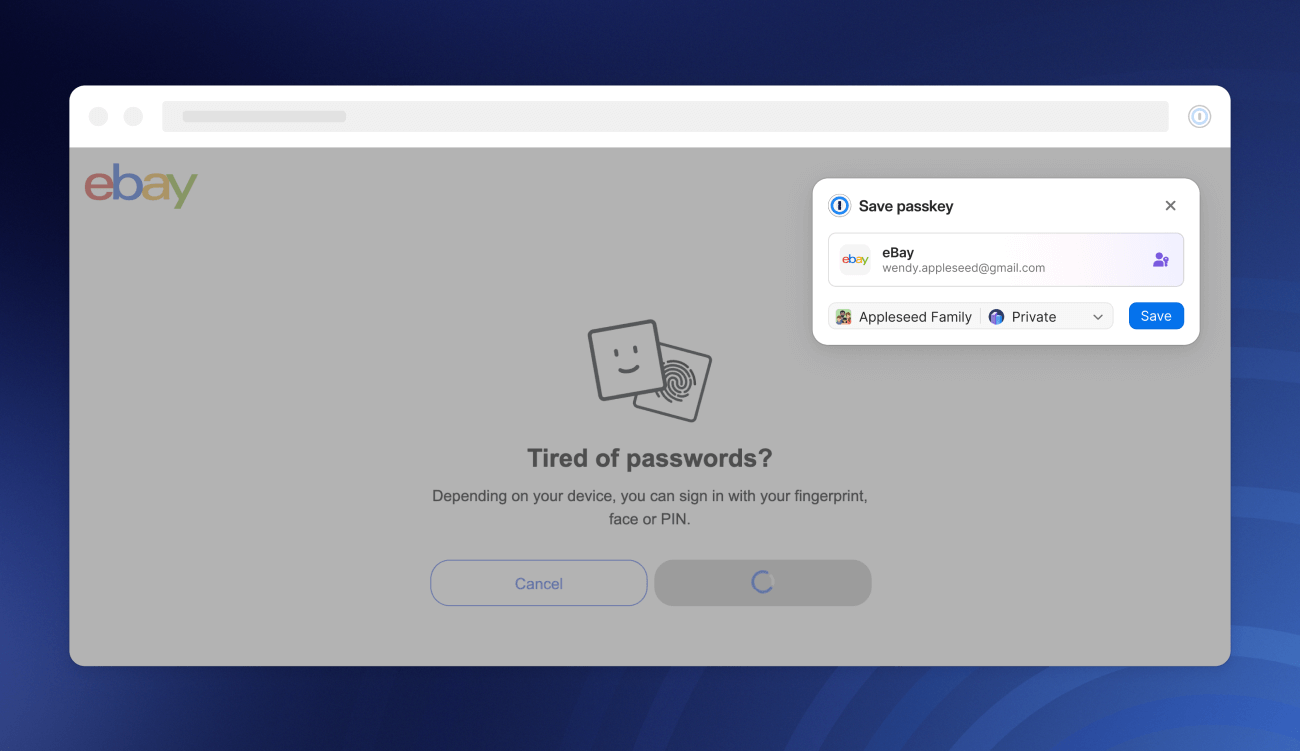 The next time you want to sign in to the account, the beta version of 1Password in the browser will offer to use your newly-created passkey.
Coming soon: Unlock 1Password with a passkey
Earlier this year, we said 'goodbye, passwords' and announced you'll also be able to unlock your 1Password account with a passkey, rather than a password.
We've been working hard on this functionality and will be launching it in beta later this summer! Here's a sneak peek of how unlocking 1Password with a passkey is going to work:
The future is passkeys
Today's public beta launch of saving and signing in with passkeys is just the beginning. We'll continue to update 1Password so that passkeys are even more seamless and useful, regardless of which device or browser you're using.
For example, you'll be able to save and sign in with passkeys on an Android device later this summer, once Android 14 is available. This will work not only in Chrome for Android but also in other native Android apps that support passkeys.
We're also hard at work bringing the same level of passkey support to iOS! That means you'll be able to save and use passkeys in any app installed on your device, including Safari. (We'll have more to share on this soon.)
Passkeys are the future. And the future has finally arrived.
Start using passkeys
Ready to create some passkeys? Start by downloading the beta version of 1Password in the browser. You can then save and sign in with passkeys on compatible websites!
Download 1Password in the browser beta