Policies are getting a new home, making it easier for 1Password Business admins to govern how and where teams use 1Password to help them stay in compliance.
Employees don't want to violate security protocols. When they do, it's often a result of stress – or simply trying to get things done. The trick is to put the right guardrails in place so employees don't have to think about protocol. Ideally, they can just go about their work.
With the new, dedicated policies page, we've brought together all of 1Password's existing policies, making it easier to manage them and to put the right guardrails in place to help employees stay secure.
Going forward, we're focused on giving you even more flexibility by expanding available policies, and adding more precise controls and granularity so you can configure 1Password to your exact specifications.
What are policies?
Policies in 1Password are a collection of security and administrative controls you can use to govern how and where your workforce accesses and uses 1Password.
Policies currently cover four main security and administration categories:
Authentication policies help you manage how your team authenticates with and into 1Password. From here, you can strengthen the requirements for 1Password account passwords, require two-factor authentication, and more.
App usage policies give you precise control over how your team uses 1Password. You can specify who can view and edit items, for example, or whether team members can share or create new vaults.
Firewall policies can allow, report, or deny sign-in attempts from certain locations or IP addresses.
Unlock with Identity provider policies is where you can integrate 1Password with a supported identity provider to set up single sign-on, so you can verify user identity before they access 1Password.
Where can I find my policies?
The new 1Password policies page brings together a host of previously available policies.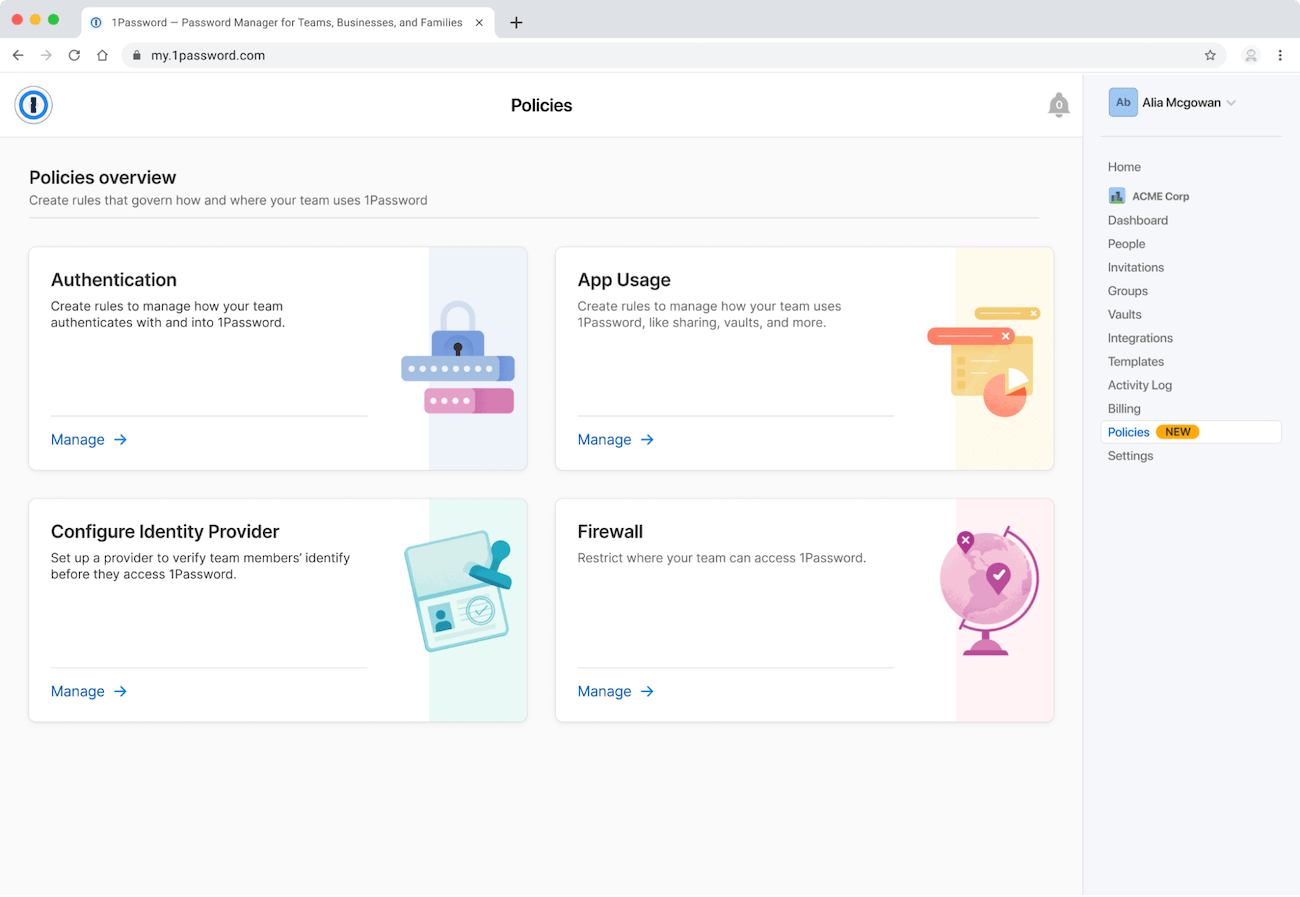 When you sign in to 1Password.com, you'll notice a new "Policies" option in the sidebar. Select it to access and modify your Authentication, App usage, Firewall, and Configure Identity Provider policy settings.
Here you'll find everything you need to customize how your team uses 1Password to align with your compliance, auditing, and security requirements.
Stay tuned for more policies updates
When you set a security policy in 1Password, workers don't have to wonder who they can share an item with, or whether their password is compliant. Instead, 1Password does the work for them, and they can focus on the task at hand.
The default policies are aligned with industry standards and best practices – perfect for small businesses and startups. For enterprises with global workforces and more complex needs, it's now even easier to tweak those dials to match your security strategy.
1Password Business customers can access their new policies page right now. Keep an eye out for the addition of new policies later this year, like the ability to automatically delete suspended users.
We're in active conversation with customers about the security and administrative policies they want to see added. If you'd like to suggest a particular policy, please share your thoughts in a short survey. We're listening, and we'll review all suggestions in the coming months.
Get started with 1Password Business
Start your free trial of 1Password Business to customize policies for a secure fit.
Get started