We're excited to announce the launch of our free online learning platform, designed to help anyone develop a deeper understanding of online security, privacy, and staying safe on the internet.
As our lives become increasingly digital and cybersecurity threats become more prevalent, it's never been more important for everyone to understand how to stay safe online. But with the flurry of services, technologies, and advice floating around out there, it can be difficult to know how to put it all together.
That's why we've created 1Password University: your one-stop destination for free, online security resources – made for everyone.
Security training doesn't have to be boring
From one convenient hub, you can access a wealth of knowledge ranging from 1Password-specific tips and tricks, to deeper dives into the fascinating world of IT security concepts. Learn how to make the most of your 1Password account's features, find out how to build a culture of security in your workplace, or discover why re-using the same password across multiple accounts puts you at risk.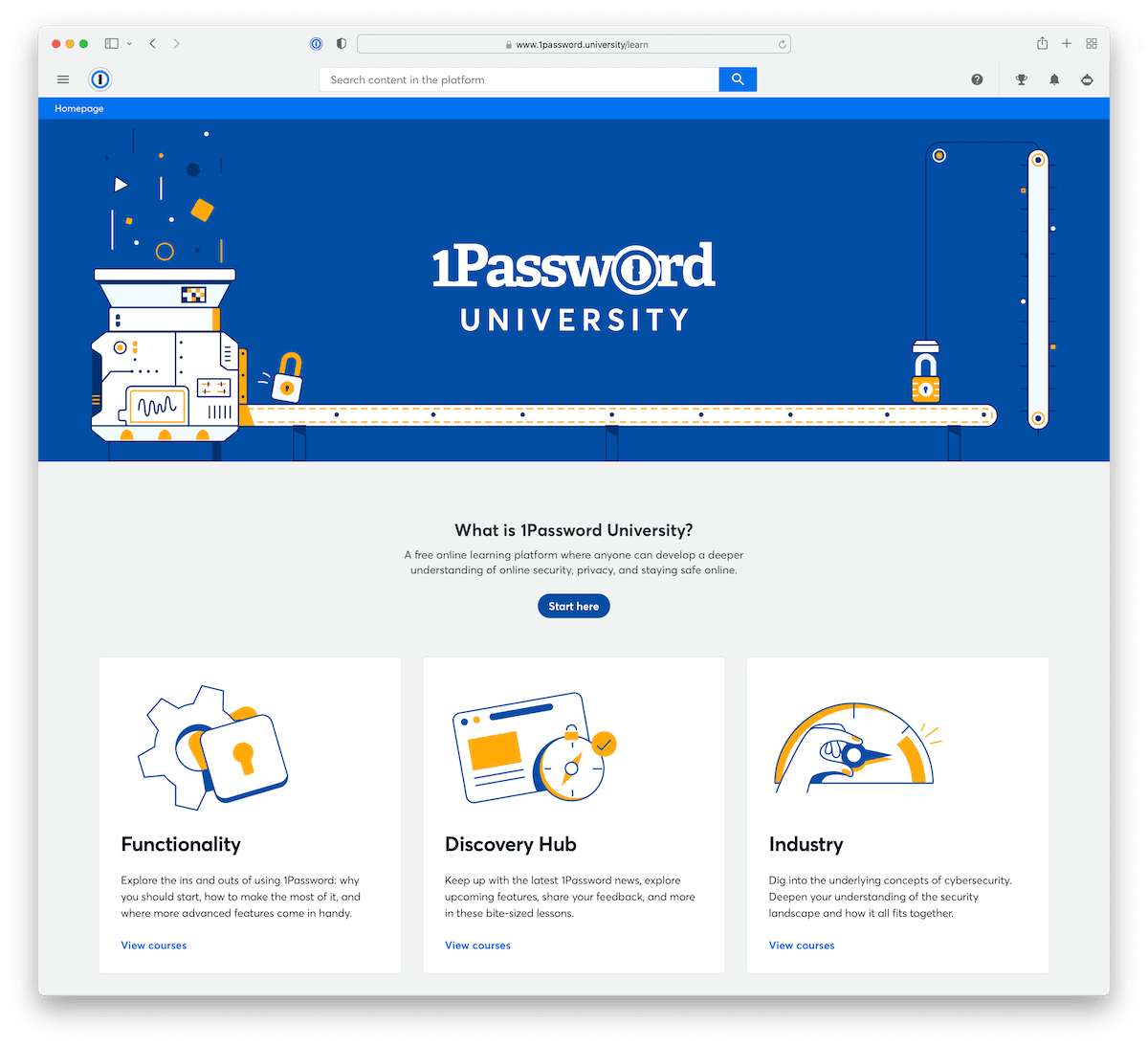 Made for everyone
1Password University will teach you how to navigate the landscape of apps, sites, and services we all rely on without giving up your private information or putting your data at risk.
Best of all, you don't have to be a security aficionado – or even a 1Password user! – to benefit; anyone can jump in and learn something new for free.
Each course and learning path has been carefully crafted to help answer more than just the what and how of a concept; we believe it's critical to address the why behind these ideas to help learners truly understand their value.
If you already use 1Password (by yourself or with loved ones), you'll find courses on how to make the most of your membership. Meanwhile, Business and Teams customers can use 1Password University as a free way to augment their workplace security training with courses for admins and team members alike.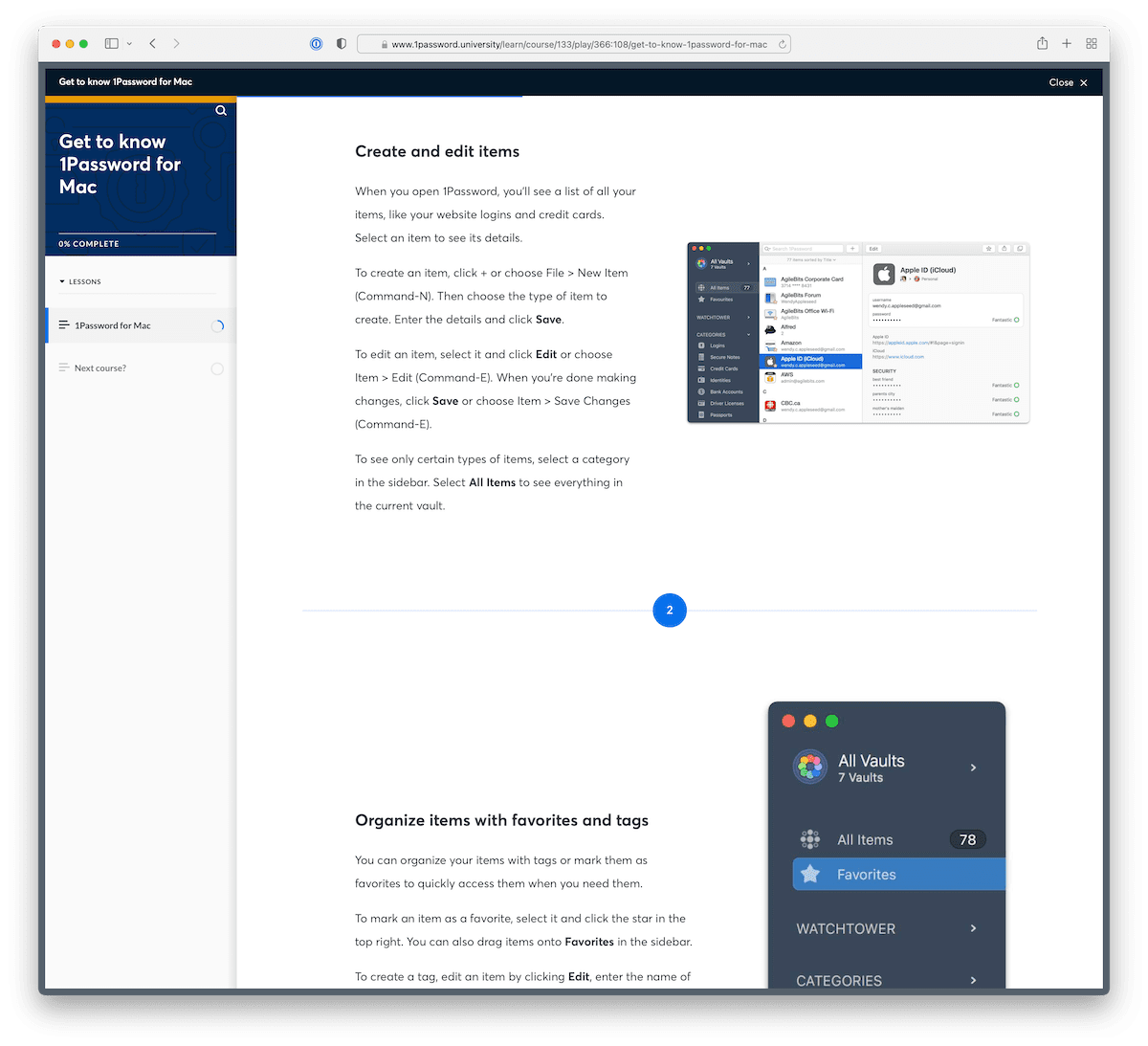 Take a peek inside…
Here's a look at a handful of the courses you can take in 1Password University today:
Getting started with 1Password. Learn how to sign up, set up your account password and Emergency Kit, download the apps and browser extensions, and start upgrading your security with unique passwords, 2-factor authentication, and biometric unlocking.
Security habits start at home. Help your family establish better online security habits. As more work, school, and life happens on the internet, it's important to understand the risks and how to combat them. Discover how 1Password can help parents, couples, and caregivers protect their loved ones.
Go beyond logins in 1Password. There's a lot more to 1Password than simply storing login credentials. Discover the other kinds of items you can keep in your vaults, and learn how to enrich your saved items with custom fields, tags, links, and more.
Implement 1Password Business. A guide for administrators looking to build a culture of security in the workplace. Learn best-practise tips for preparing your team, deploying 1Password effectively, and using the administrative tools at your disposal to support the rollout process.
Growing with you
At 1Password, our mission has always been to help you stay protected, private, and productive online – whether you use 1Password or not. With the launch of 1Password University, we're putting our 15 years of security expertise to work by creating fun, dynamic learning resources for people of all skill levels.
And this is only the beginning.
As we continue to build out the course catalogue, you'll discover a growing collection of information ranging from the basics of passwords and security habits, all the way to advanced lessons about the more technical aspects of IT security, data privacy, and the technology behind it all.
Get started
Sign up for 1Password University today and start sharpening your security skills with free, expert-led courses made for everyone.