Happy World Password Day!
The idea behind World Password Day is simple: to promote the use of strong, unique passwords to keep your accounts protected and your browsing safe. For those of you wondering how best to celebrate the day, we've got a challenge for you: how high can you get your 1Password Watchtower score?
While a high Watchtower score won't give you access to better loan rates, it will give you peace of mind. Not to mention some bragging rights, too.
Level up your Watchtower score
Think of the Watchtower dashboard as your online security HQ – a 24/7, always-on command center where you can review and resolve potential vulnerabilities. To view your Watchtower report and score, simply navigate to the Watchtower tab in 1Password.
Improving your score is easy. With the new Watchtower dashboard in 1Password 8, you can quickly see what needs your attention.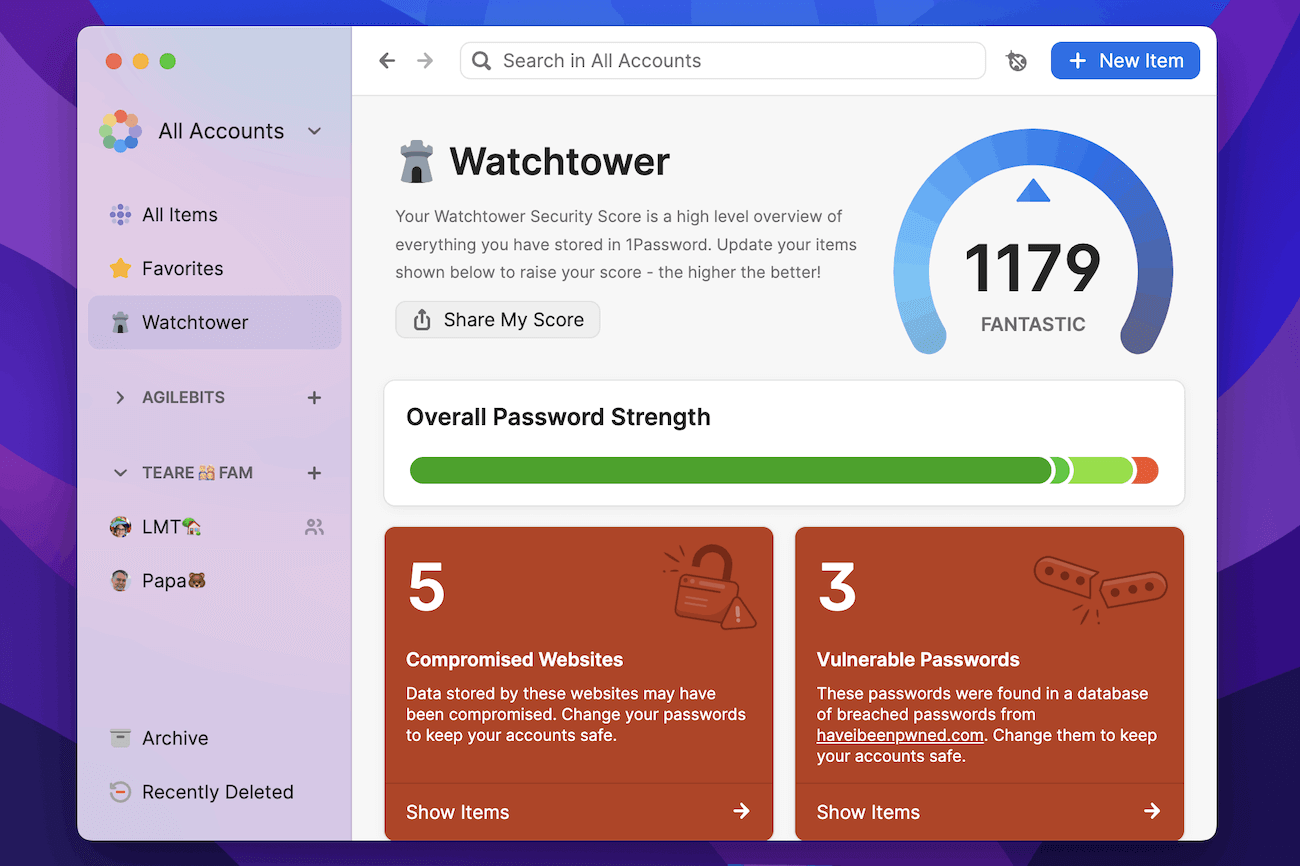 To give you a head start, we've outlined some actions below that you may see flagged in your dashboard – resolve these and watch your Watchtower score climb.
Change weak and re-used passwords
Watchtower will flag and bring any weak or reused passwords to your attention on the dashboard. Create a strong, unique password for any flagged accounts using the 1Password Strong Password Generator.
Change passwords that have appeared in a data breach
Watchtower integrates with Have I Been Pnwed to alert you if any of your login credentials are involved in a data breach. You should secure your logins marked as "Compromised" by changing your passwords as soon as possible.
Enable 2FA where it's offered – and save in 1Password
The two-factor authentication (2FA) notification will appear on login items that support 2FA but haven't had it enabled yet. For a speedier workflow, we recommend managing two-factor authentication in 1Password rather than using another authenticator app.
Update HTTP sites to HTTPS
Websites will be marked as "Unsecured" when the URL saved in 1Password starts with HTTP. Any time you enter passwords (or other sensitive information for that matter) on an unsecured website, they remain unencrypted and therefore vulnerable to interception. HTTPS is the encrypted version of the HTTP protocol, and you can resolve these alerts by simply clicking "Use HTTPS" in the Watchtower banner to ensure you're using a secure connection.
Take action on expiring items
1Password can help you keep your credit cards, memberships, licenses, and passports up to date. The "Expiring Soon" alert will appear for items that are, of course, about to expire. Take whatever action is required to keep these items from expiring and leaving you in a lurch.
Share your score
The more vulnerabilities you fix, the more your score will grow. With 1Password 8, you can share your score on social media or with friends and family to encourage others to take action and secure their accounts. From the Watchtower tab in the app, select "Share My Score" – you can copy the link or share directly to Twitter.
If you don't have a 1Password account yet, sign up to see where your online security habits need a boost.