In 2017, the cryptocurrency market skyrocketed to over $600 billion. It's the digital gold rush, and everyone wants their share. The lure of riches is too much to ignore, but there are also enormous risks. We can't teach you how to make the best investments, but we can help you manage your cryptocurrencies securely.
Contents
I've been trading crypto for a while now, and to be perfectly honest, none of it would be possible without 1Password. It helps me stay secure, and creating and managing all of my credentials – 46 and counting – is an absolute breeze.
Set up 1Password before investing in crypto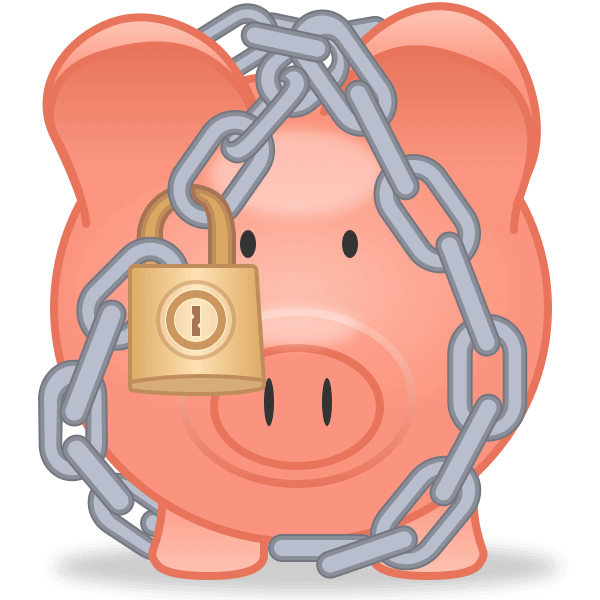 Before you invest in crypto, you need to take your security seriously. The best way to do that is with 1Password. I've seen people invest without using a password manager at all, and I'm seriously terrified for them. They create weak passwords, which they store on a piece of paper or unencrypted on their device. Or, like a number of early bitcoin investors discovered, they no longer remember their credentials. So while they may have thousands of dollars stored in a digital wallet somewhere, it's lost forever.
There have already been reports of people losing over $100,000 by accessing their accounts on public Wi-Fi, or signing in to a fake website. While 1Password can't protect you from insecure networks (if it's unavoidable, always use a VPN like Encrypt.me), we can protect you from phishing sites, weak and duplicate passwords, and a foggy memory.

How to use 1Password to store your crypto
So just how can you use 1Password to manage your crypto? It depends what you're storing: account credentials, private keys, wallet seeds and backups, or crypto addresses. I'll shed some light on how I use 1Password to manage them all.
Exchange accounts
Exchanges are where all the action takes place. After you've purchased some crypto, you can send it to an exchange and trade it for any other coin on offer. Unless you only trade the top 20, you'll need to sign up for a few exchanges to buy the coins you want.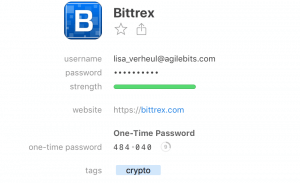 When I sign up for an exchange like Bittrex, Binance, or Kucoin, I save it as a Login item, just as I would for a regular account. I enable 2-factor authentication using one-time passwords, and I strongly recommend you do the same before depositing money there.
When I want to sign in, 1Password fills my username and password, and copies my one-time password to the clipboard for easy retrieval. Plus, it won't fill my details anywhere except the specified URL, keeping me well protected from both man-in-the-middle and phishing attacks.
Wallets
If the collapse of Mt Gox taught us anything, it's that you should always take your coins off an exchange. To keep them safe, you'll need to set up some wallets. Cryptocurrency wallets allow you to interact with the blockchain to store, send, and receive crypto. Because most coins have their own blockchain, you'll likely need more than one.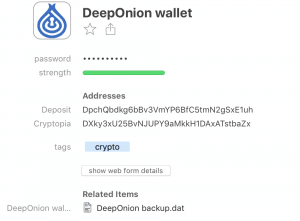 There are 3 main wallet types: software, hardware, and paper. Many people prefer hardware wallets like the Ledger Nano because they're not connected to the internet. My only advice here? Don't buy one second hand.
I'm worried I'd lose a hardware wallet, so I use a mix of paper and software wallets and store the details in 1Password. I set up my software wallets on an encrypted Virtual Machine with the password saved as a Login item. I create a Login item for each wallet (software and paper), and use the password generator to create a wallet seed or passphrase.
If my wallet address won't change, I set it as the username. If I create multiple addresses, I add them to a new section called Addresses for easy retrieval. And if I need to save private keys, I add a new field to the Login item, label it Private Key and set it as a password so it's always concealed.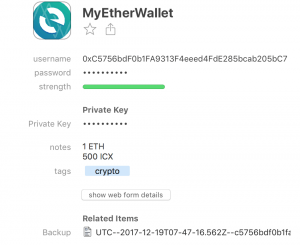 Once my wallet is encrypted, I save a backup and attach it to the Login item in 1Password. This way, if I ever lose my MacBook Pro, I can restore the wallets on another computer using my wallet backups and credentials.
To help me see how my coins are spread, I can use the notes section to keep a tally. I find this especially helpful for keeping track of coins in MyEtherWallet, a paper wallet that stores both Ethereum and ERC20 tokens.
Cryptocurrency addresses
Much like a bank account, if someone in my family wants to send me crypto, they'll need to know my wallet address and the currency tied to it. 1Password covers that, too. I simply create a Bank Account item and name it after the currency. I use the name of the wallet for the bank, and insert my wallet address into the account number field. Then I just add it to our Shared vault so it's there whenever they need it.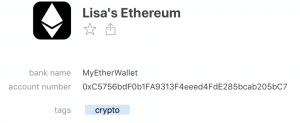 Organize your crypto with tags
I have a lot of data in my vaults, and with my crypto items growing rapidly, I need a good way to organize them. Luckily, that's a simple fix. All I need to do is tag them crypto and I can see everything at a glance.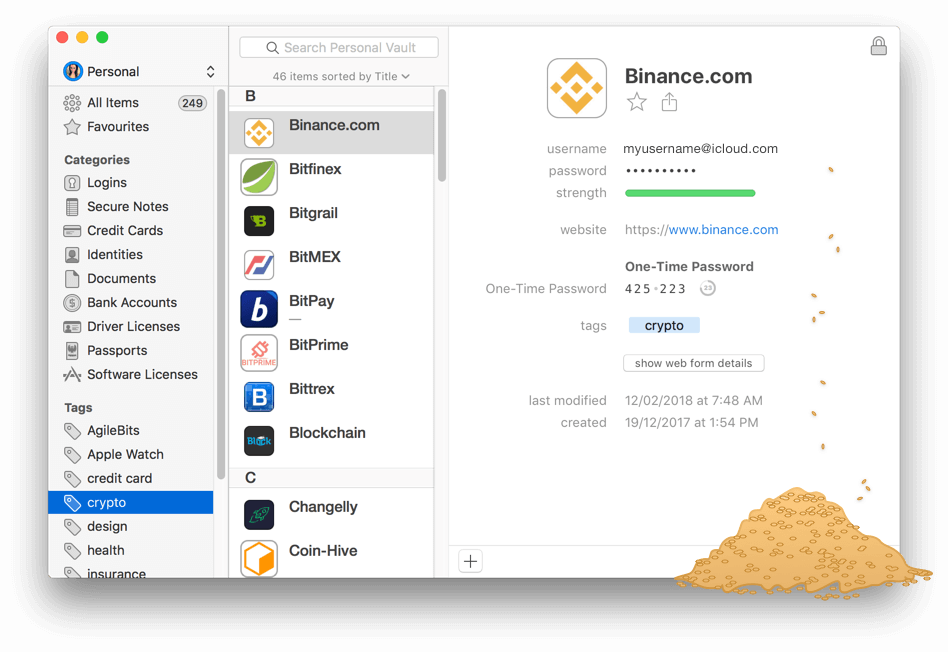 Pay for your 1Password account with crypto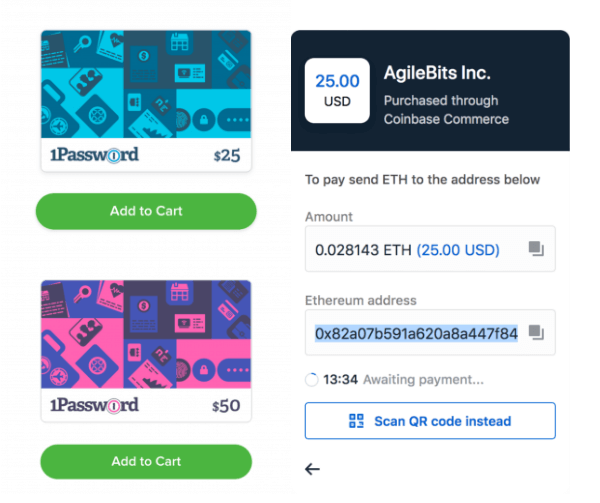 If you ever wanted to pay for your 1Password account with crypto, now you can. We've released 1Password Gift Cards as an alternative payment option, which you can purchase with Bitcoin, Ethereum, Litecoin, and Bitcoin Cash. When you get to the checkout, choose Coinbase as your payment method and complete your order in the cryptocurrency of your choice. Once your payment has cleared and you've received your gift card, you can redeem it by adding the code to your Billing page.
Sign up for 1Password and manage your cryptocurrency
Sign up for 1Password today and get your first 14 days free.
Try 1Password free