Working from home, taking online classes, and getting together with family over video chat. We're all living an increasingly virtual way of life, so it's more important than ever to use the internet safely at home.
Contents
To help, we've looked into how scammers can take advantage and have put together some tips to help you and your family protect yourselves.
Phishing scams are on the up
Three percent of all global spam is now estimated to be coronavirus-related, with many messages impersonating reputable, global organizations like the World Health Organization and the United Nations. These phishing emails are designed to trick you into clicking malicious links or attachments by claiming to direct you to information about the virus, or even direct you to places to buy masks, cures, or tests.
Tip 1: Check all messages carefully
The best way to protect yourself against phishing is to vet messages thoroughly – even if they appear to come from a reputable organization or someone you know. Don't click any suspicious links or attachments, and if you're unsure, call the sender or message them directly to check. If the email is from a company or organization, visit the sender's website directly to find their contact information.
Be especially wary of emails and SMS messages that:
Ask you to click a link or sign in to an account
Ask you to share any kind of personal or sensitive information
Offer tests or cures
Appear to be selling masks
Claim to be acting for the local authority, saying they need contact details or other sensitive information in case of emergency
Link to websites that offer government-funded support or aid
Encourage you to sign up for health-related news, information, or alerts
Threaten to reveal secrets about you or infect your family
This isn't an exhaustive list by any means, but it gives you an idea of what to look out for. Here's some more detailed information on how to spot a phishing scam. Make sure you report phishing attempts to the organization or person the scammer was impersonating so that they can take steps to prevent future attempts.
And, if you fall victim to a phishing scam, don't be too hard on yourself. These scams use powerful social engineering tactics and it only takes a momentary lapse in concentration to fall for one.
We're signing up to more online services
As more of us are told to stay home, we're looking for new ways to work, keep in touch with families, and keep ourselves entertained. Last week, 2 million people downloaded Houseparty, a social networking service that enables group video chat. Zoom has seen daily users more than quadruple over the past 30 days, while Microsoft says cloud usage has grown nearly 800 percent.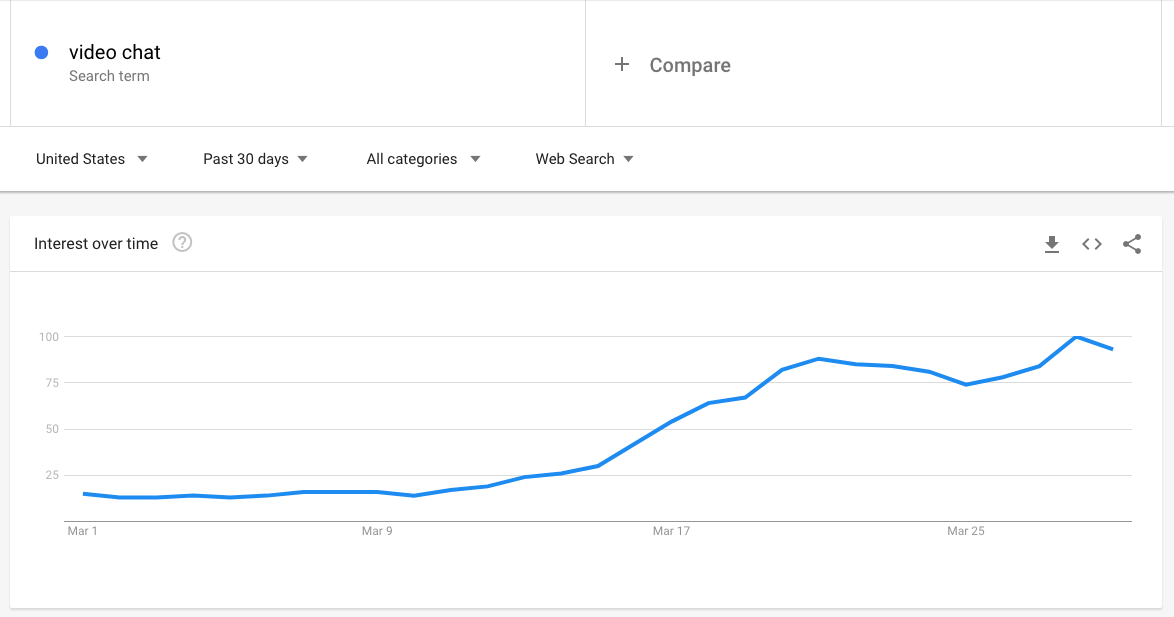 A lot of us are also leaning on technology to help with homeschooling, or to keep kids occupied. Duolingo, the language learning app, has seen a 200 percent increase in test-taking activity, for example. While fitness influencer, Joe Wicks, has had almost a million tune in to his live YouTube fitness classes.
This in itself isn't a problem, as long as everyone in your family members – whether they're in school, away at college, partway through a career, or enjoying retirement – are careful about the apps and services they access.
The Family Password Paradigm
Learn how different families are approaching online security, password use, and password sharing in the home.
Download the report
Tip 2: Vet apps and software carefully
Be wary that scammers may be looking to fill demand by creating fake pages or apps designed to capture your personal information and login details. To stay safe:
Check whether the permissions apps are asking for are reasonable, or whether they're trying to access more than they need.
Download apps through official stores and marketplaces. It's usually safer than downloading them straight from the internet.
When trying a new tool, visit the website directly and download it from there.
Do a little research. Check out app store reviews, do a quick search online, and ask for opinions on social media. If there's a major concern with an app, people are likely talking about it.
Also, take the time to set up parental controls before letting kids loose. Not only will you prevent them from inadvertently making costly in-app purchases, but you can also limit what information they can share and who with.
Tip 3: As always, practice good password habits
Use strong, unique passwords for every service you sign up for. So, if your login details are stolen, they can't be used to try and access other services or accounts.
Spend some time updating old passwords so that they're all strong and unique.
Don't share passwords using insecure methods like email or instant messenger. The safest way is to share them using a password manager.
Tip 4: Secure your home network
Your router controls which devices can access to your home Wi-Fi, and when set up correctly, stops anyone from accessing your network that shouldn't be. As more of our everyday lives are happening online, now is also a good time to make sure it's set up correctly. To get started:
The best way to protect yourself and your family online is to stay vigilant. Every time you open a new message, pause and question it. If something looks too good to be true, it probably is.
Not using 1Password yet?
Try 1Password today and keep your family safe online.
Get 14 days FREE