Each new year brings with it a fresh opportunity to be better than we were the year before. In 2020, we supported a lot of great causes, helping to make a positive impact for people and communities around the world. Our team here at 1Password worked hard in 2021 to keep that momentum going!
At 1Password, we're lucky to be in a position that lets us connect with and support various organizations doing vital work, both around the world and in our local communities. While 2021 was another difficult year, we're grateful for people showing us that there are still many positive things happening all around us. We'll always be thankful that we have the opportunity to help make a positive impact! Below is a glimpse into some of the good we helped put out into the world in 2021, and why these causes are important to us.
Small change, big impact 💻 🌎
Online learning has become a normal part of students' routines throughout the pandemic, but a laptop is financially out of reach for many families. Which is why we set out to find our outdated, but still highly usable computers, a new home.
We donated 20 computers to Why Not Youth Centres in Ontario, a place where children and teenagers can go to be safe and get help with things they need, ranging from mental health support to food supplies. This donation allows visitors to the Centre the ability to participate in online learning, finding work, and connecting with opportunities in the online world. Prior to our donation, the Centre was down to one slow, nearly non-functional computer, so it felt great to be able to help in a significant way. If you, or your company, have some computers that you aren't using, please check your local area for opportunities to donate.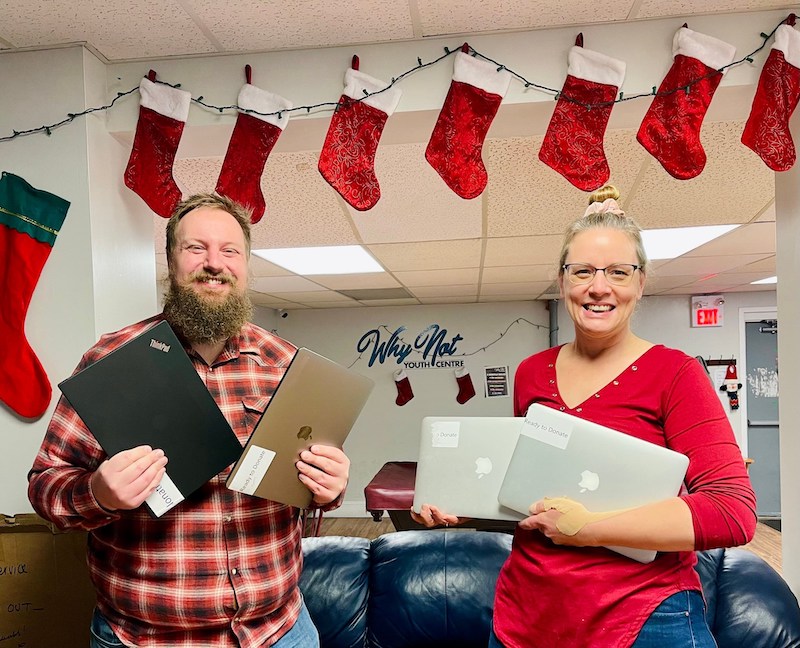 A sea-rious amount of good 🌊 🏄
This past year we partnered with Sustainable Ocean Alliance (SOA) to help fund 10 projects working on ocean conservation projects, along with encouraging more sustainable use of marine resources. SOA is a global community that provides mentorship, funding, network access, and other resources to groups around the globe. Our $50,000 donation will support ten amazing projects working to improve our oceans on both local and international levels.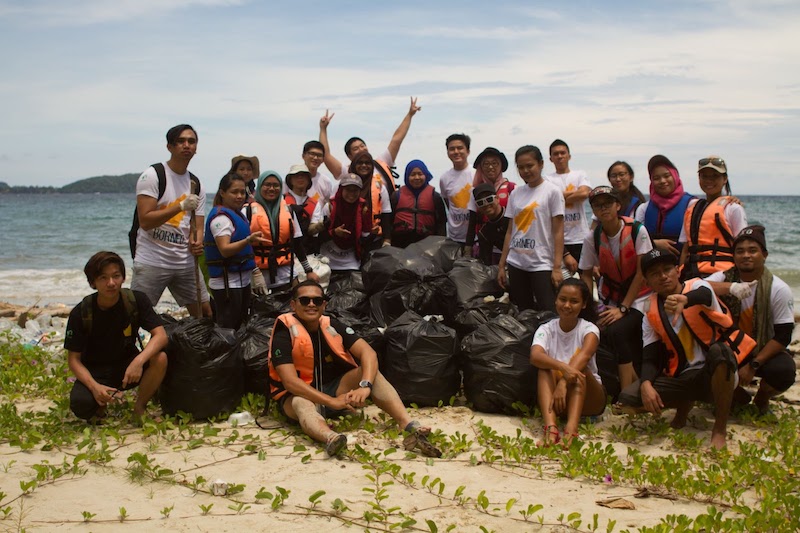 Giving Thanks 🍞🍏🍖
Food security has always been something we're passionate about. With inflation reaching 20-year highs in 2021 – and food prices expected to rise 5-7% in 2022 – we wanted to do our part to help all families celebrate Thanksgiving. So, for 2021, we donated $1 from each new 1Password Families sign-up during the month of November. With your help, we were able to raise more than $50,000 for Food Banks Canada, Second Harvest, and United Way Centraide – all of which work hard to reduce food insecurity across Canada and the United States.
A monetary donation is one of the best ways to support food banks. Cash donations enable food banks to directly purchase foods that are most in-demand from visitors, like fresh produce which isn't often donated because of its shorter shelf life. It also enables them to supplement slower donation periods. Food banks frequently receive discounts from manufacturers, supermarkets, and farmers, meaning a dollar donation goes to feed more families than just a food donation. If you'd also like to help in your community, consider providing a donation to your local food bank.
Truth and Reconciliation in Canada 🧡
As a Canadian company many of us were deeply affected by the discovery of unmarked graves at former residential schools across the country. It brought to the forefront the Canadian history of colonialism and the need for accountability and justice for the past. The government designated September 30th as the National Day for Truth and Reconciliation – a day meant to honor Indigenous residential school survivors, their families, and their communities as a vital part of the process of reconciliation.
We decided to make September 30th a recognized holiday for all 285+ Canadian 1Password employees and encouraged our team to use this day to educate themselves more about Canada's dark history, and get involved in their communities. We also made donations to both the Orange Shirt Society and the National Centre for Truth and Reconciliation to help support the important work they do.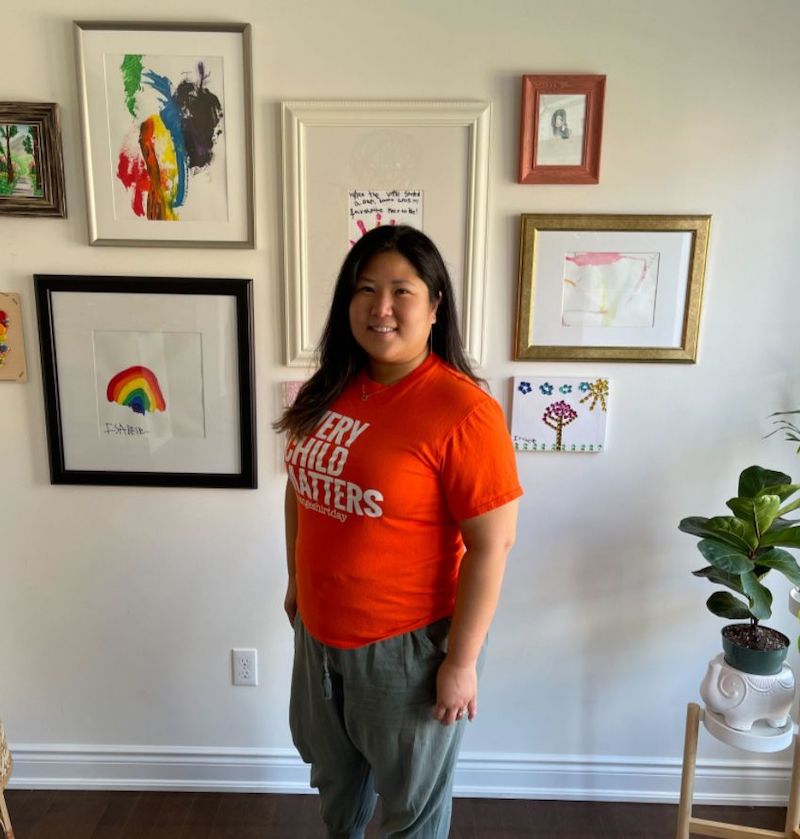 Securing the future 🔒🚀
By October 2021 the world had already surpassed the total number of data breaches reported in 2020 – which was previously a record year for data breaches. As attacks continue to increase it's more important than ever to help make the web a safer place for everyone. We decided to partner with Let's Encrypt to match donations during their annual summer fundraising campaign. Let's Encrypt is part of the nonprofit Internet Security Research Group (ISRG) and helps website owners enable HTTPS encryption – a process that can be quite complex, but is vital to providing safer internet spaces for all.
In just 17 days, more than $28,000 was raised by 600 donors from 28 different countries. We matched everyone's donations and threw in an extra $22,000 – making a grand campaign total of $78,141. This funding will go a long way in helping secure online spaces and helping keep people's information private.
Standing up for free speech 📰🔏📢
The work journalists provide in our society is important, but it can sometimes be dangerous. We wanted to support the work of the Freedom of the Press Foundation, a nonprofit helping to protect the rights of journalists. To celebrate World Press Freedom Day we matched the $25,000 raised by donors and were able to donate a total of $50,000 to the foundation.
In addition to our monetary contribution, we also have our 1Password for Journalism initiative, where we support journalists directly by providing free 1Password accounts to qualifying reporters. This helps journalists keep sensitive information – like files, notes and contacts – private at all times. For those crossing borders, travel mode has been especially valuable.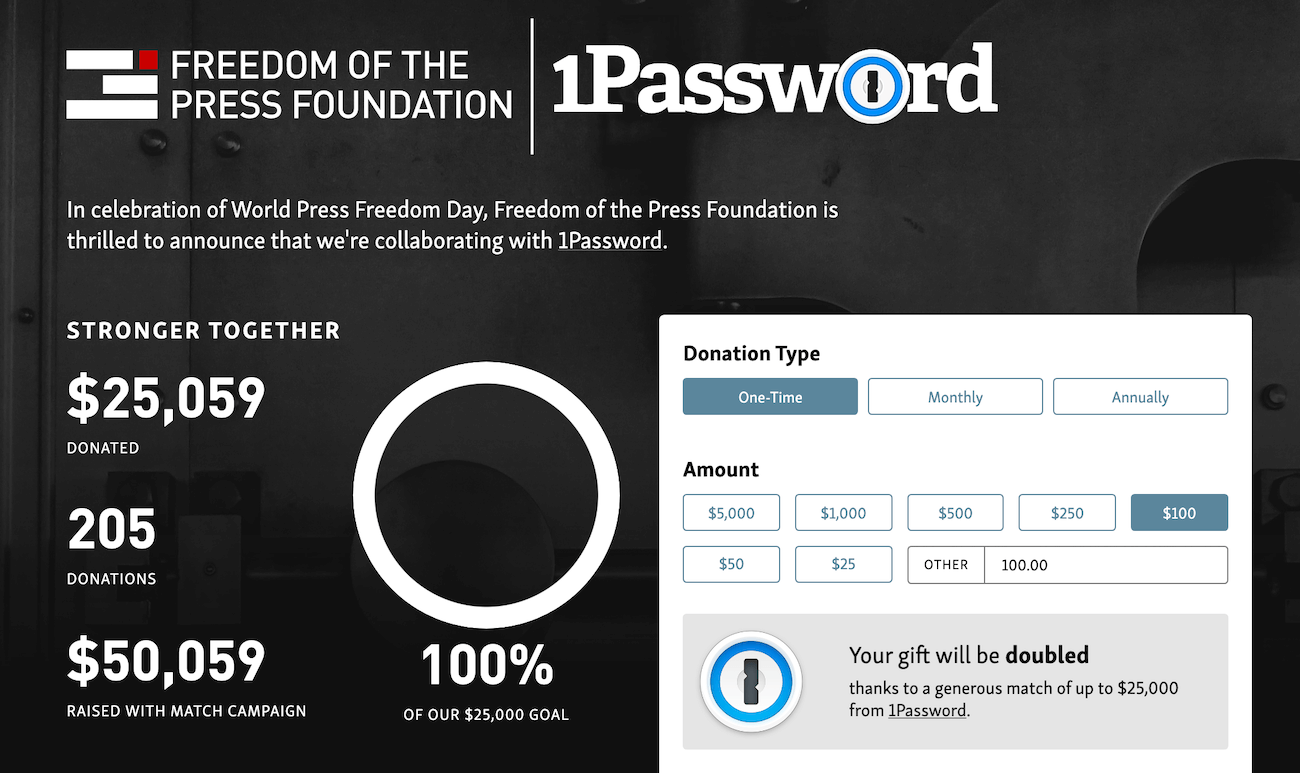 Making a difference 🏥 🩺
St. Jude Children's Research Hospital is a leader in research and treatments focused on defeating childhood cancer and other life-threatening diseases. Every September is Childhood Cancer Awareness Month, and the Accidental Tech Podcast and Relay FM community come together to raise funds for this incredible organization. When we heard about the work they were doing we couldn't help but join in. We were honored to help St. Jude Children's Research Hospital reach their fundraising goal with our donation of $26,922.04.
Giving Tuesday 🎁💝
We rounded out our year of doing good by encouraging everyone at 1Password to participate in Giving Tuesday. Giving Tuesday is the week after Thanksgiving in the United States and is a global generosity movement that encourages people to give back to their communities. As part of Giving Tuesday, we gave every employee $50 ($26,600 USD total) to donate to a charity that resonated with them directly.
We also created a Daymaker 'Making Spirits Bright' campaign. Daymaker works with nonprofits in cities across the United States and Canada to gift wishlist items from kids in under-resourced communities. We matched employee donations to help brighten the holidays for more families, and we were able to donate 462 gifts.
Looking forward 👀💡
In retrospect, 2021 felt like a blur for myself. Taking this opportunity to look back at some of the positive moments 1Password had over the year reminds me that there are always brighter days ahead. For 2022, we will continue to push forward in finding ways to help support our communities and to kick things off, we've introduced an Employee Volunteer program. Everyone at 1Password now has two full days off that they can use to make a difference volunteering in their community. We're looking forward to seeing what everyone is involved with, and can't wait to share with you :)
Thank you for helping 1Password do good in 2021. Our communities, small and large, are places to foster togetherness, so if you would like to help make an impact in your community, please do – your support goes a long way!