We're excited to announce the launch of health monitoring, a new feature in 1Password that proactively monitors your SCIM bridge. If your SCIM bridge goes offline or becomes unreachable, health monitoring will alert you by email so you can fix the problem right away.
Automate user and group provisioning with SCIM bridge
1Password integrates with Azure AD, Okta, Rippling, and OneLogin – allowing you to fold the management of your 1Password account into your existing workflows, using the systems you trust.
Once set up, you can automate everyday administrative tasks and manage your team from one central place. Use your identity provider to deploy 1Password, invite employees, grant them access to groups, and deprovision them when they leave.
The SCIM bridge automates provisioning by securely connecting 1Password to your identity provider. Health monitoring minimizes disruption to your workflow by letting you know about any connection issues with your SCIM bridge, so you can resolve them quickly and continue using your favorite tools.
Maximizing productivity with proactive alerts
If the SCIM bridge disconnects or there's an error, health monitoring alerts you immediately by email. The email includes a link to the SCIM bridge troubleshooting page on the 1Password Support site, so that you can diagnose and fix the issue right away. If you need help, just reply to the email to get in touch with our support team.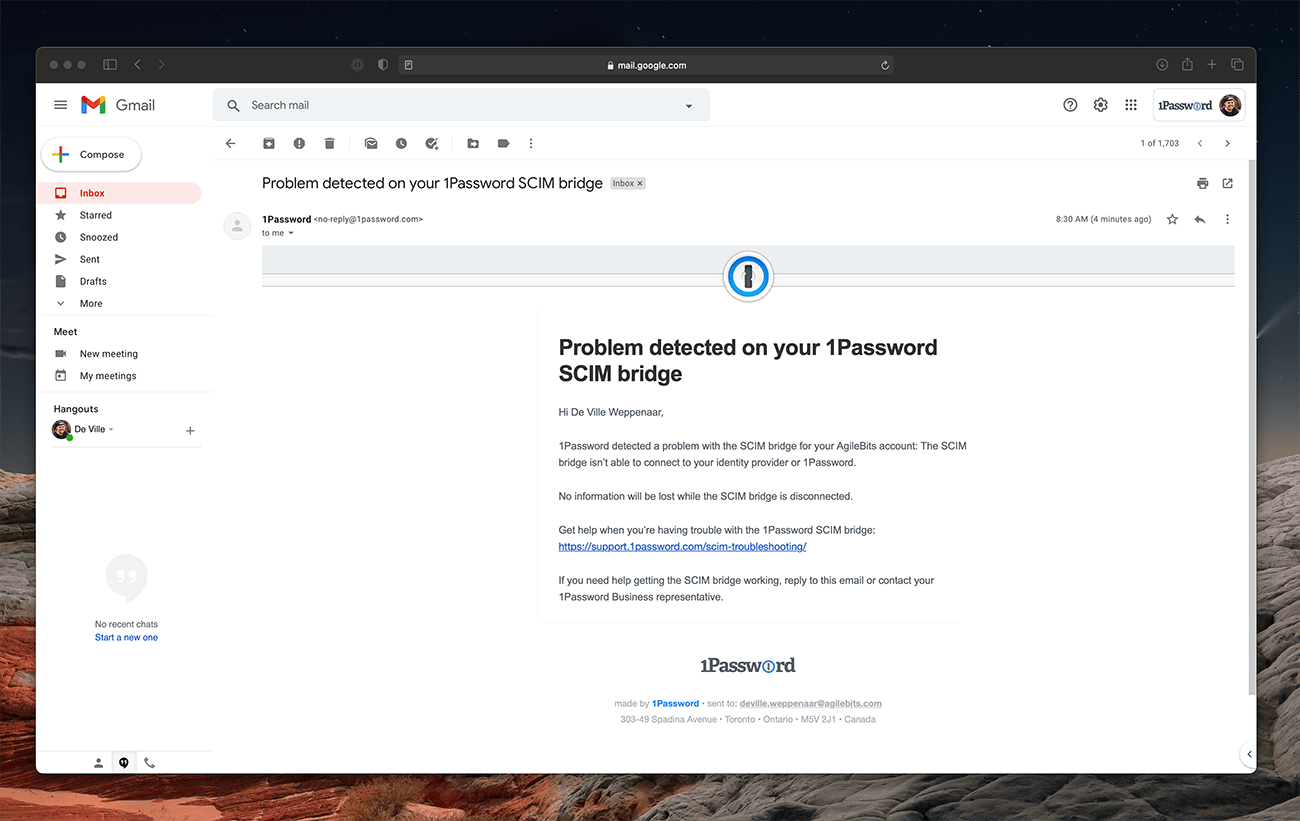 When the SCIM bridge is back up and running, you'll get another notification letting you know that your identity data is syncing again and that full functionality is restored.
Get started with a single click
You can turn on health monitoring in the Provisioning settings on 1Password.com. If you set up the SCIM bridge before December 17, 2020, then first you'll need to redeploy the SCIM bridge. Don't hesitate to contact our support team if you need help.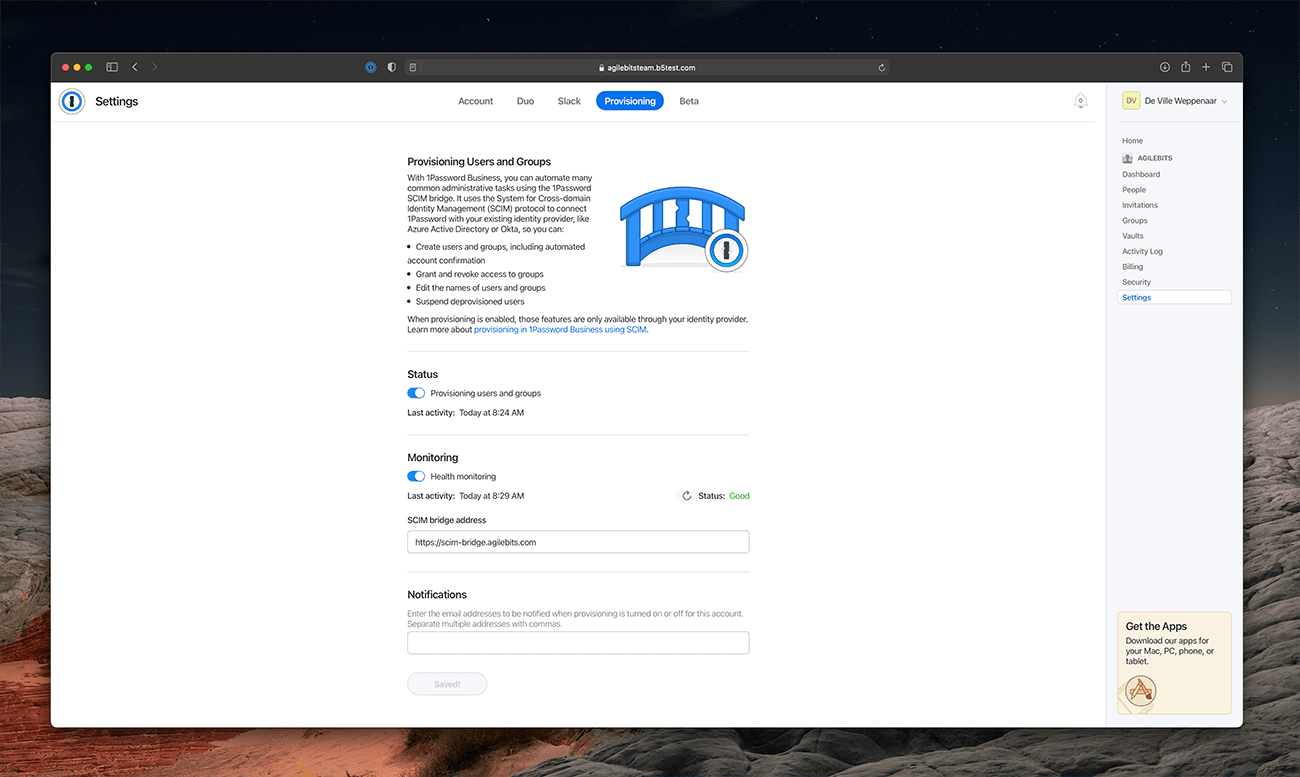 You'll also find everything you need to monitor your SCIM bridge in the Provisioning settings.
Here you can enable or disable health monitoring, see the status of your SCIM bridge, and add the email addresses of people you'd like to get alerts. If you don't specify a recipient, they'll go to the administrator of your 1Password account.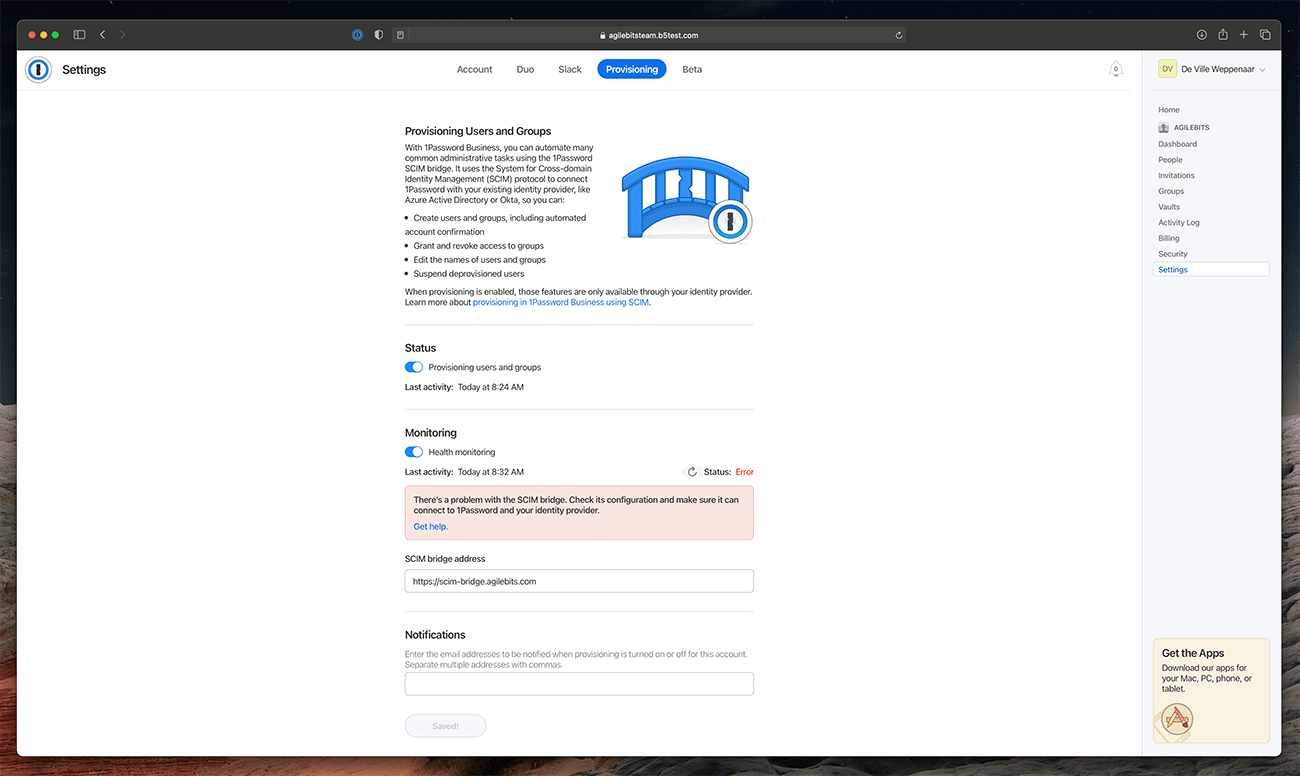 Private and secure by design
1Password has developed health monitoring in partnership with Checkly, and as always, maintaining the privacy and security of your data has been our top priority. Together, we've taken several important steps to protect your business information:
Health monitoring only shares your account's unique identifier (which we don't consider a secret) and the domain name that your SCIM bridge is registered to with Checkly.

We've set up a new way to verify with a bearer token, so Checkly can only access the information it needs to function.

Checkly needs to authenticate itself before receiving any results and doesn't install anything on your SCIM bridge.

The SCIM bridge itself has a robust, security-focused architecture. It runs within your cloud provider or existing infrastructure, so your account's encryption keys always stay under your control – right where they belong.
Checkly and their team's approach to privacy and security made them the perfect partner for this integration. We're excited to deliver these powerful monitoring capabilities together and help you keep your identity data in sync with 1Password.
Ready to get started? Visit the 1Password Support site to learn more about provisioning with the 1Password SCIM bridge. If you're new to 1Password, you can start a free trial today.