IT and security professionals rely on one thing above all else to minimize risk: information. Today, we're announcing a brand new way for 1Password Business customers to view their account security posture with unprecedented visibility into password health, data breaches, and team usage.
Say hello to Insights from 1Password, a new way to monitor and mitigate security risks across your business.
The Insights dashboard consolidates information already available in places like the Team report, domain breach report, and Watchtower reports in one glanceable dashboard. Open the detailed view of a particular section to see and act on the insights presented in the dashboard view. Dive deeper still by accessing the complete report to get the full picture.
Use Insights to get ahead of potential security risks and take action on those risks with suggested next steps, all in one place – because you can't protect what you can't see.
Illuminating and eliminating risk
Imagine you're a small business owner, tasked not only with running your business but also protecting it. You know that every reused password increases your risk of a security incident, so you put a strict policy in place prohibiting reuse.
But how do you know that guideline is being followed?
Now imagine you're an IT manager who uses the domain breach report built into 1Password to monitor potential breaches – and you just realized that half a dozen people in Sales are using compromised credentials to log into their CRM.
What's the fastest way to resolve the situation?
Finally, imagine you're a Security Manager who needs to report on broad risk factors every quarter. What information do you need? Where do you find it? And how do you export it all?
Your new security dashboard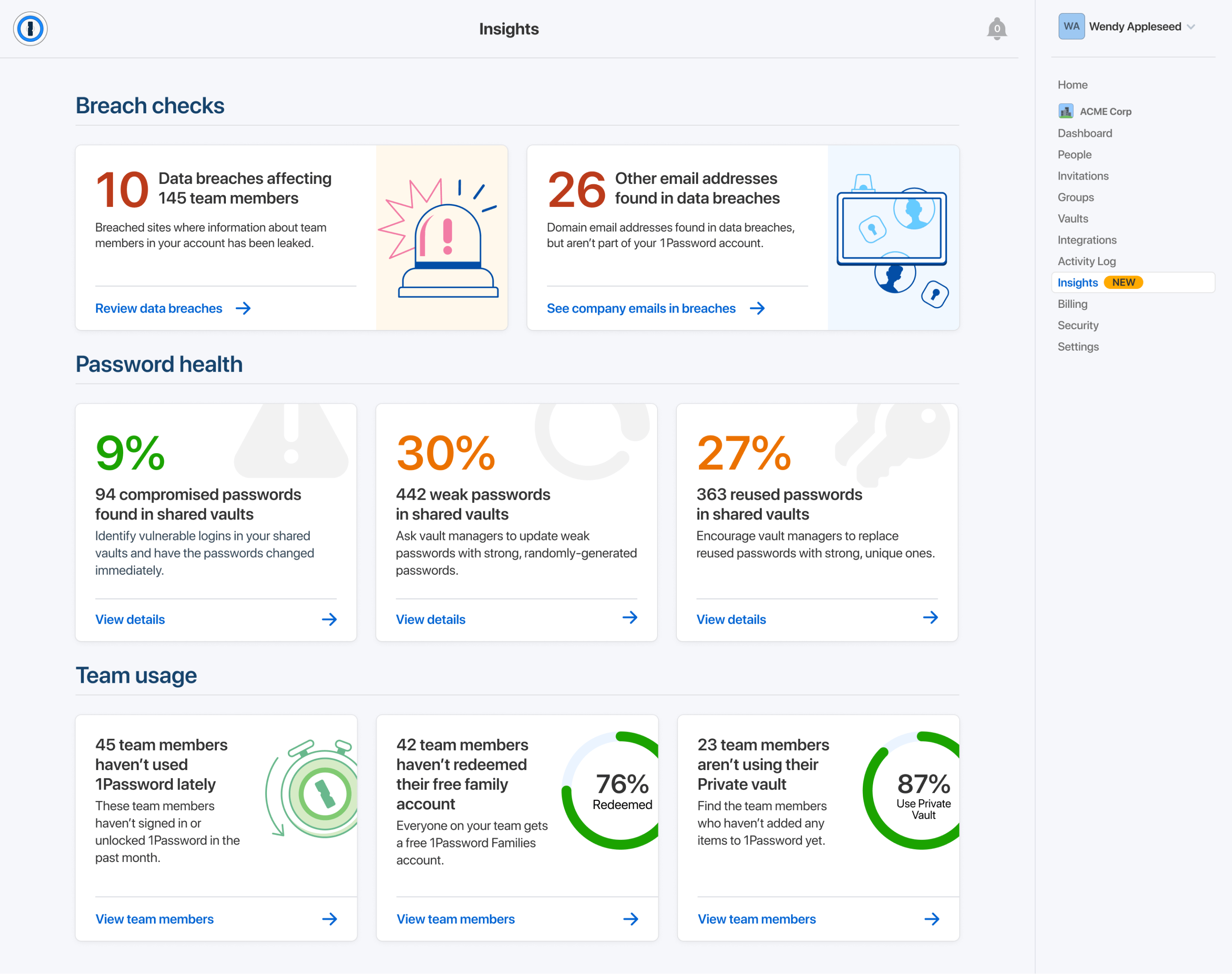 Insights from 1Password gives you a single place to:
Understand security risks across your workforce.
Act on those insights to mitigate risk.
Communicate those risks and share security insights easily.
Your insights dashboard is divided into three sections with high-level security data for breach checks, password health, and team usage. Drilling down into each section provides a detailed report on that data with suggested actions to mitigate risk and improve your security posture.
Act on domain breaches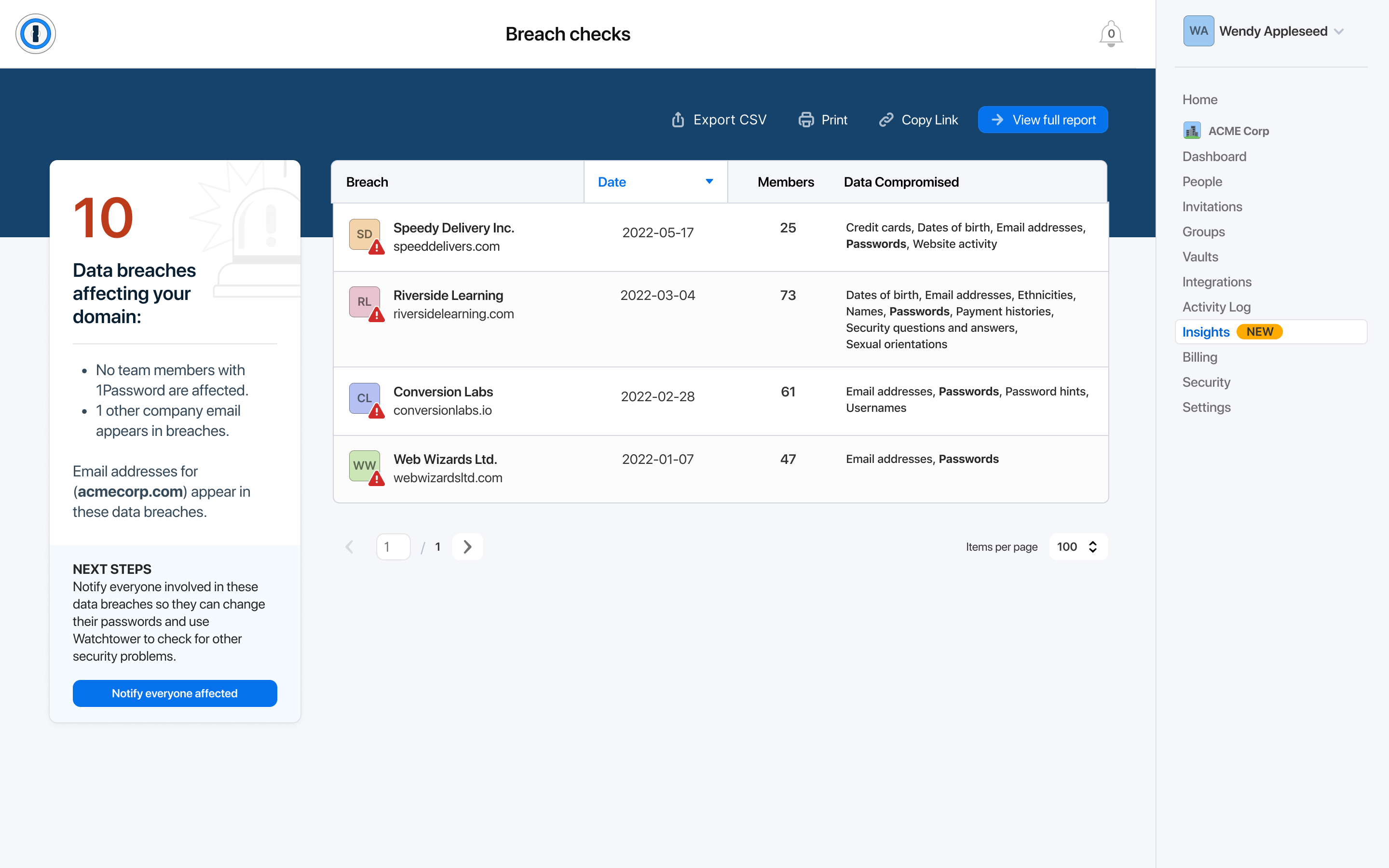 The breach checks section provides information on breaches of company-owned domains. Just like the domain breach report, this section integrates with the Have I Been Pwned database (just like Watchtower) to check for potential breaches.
If a breach is detected, you can select the relevant card to see more details, like who's been affected and the date of the breach. In the left sidebar, you'll see a suggested action. Selecting "Notify everyone affected" will open a new window. From there, you can type in a quick message and select "Send notification email" to notify everyone affected by the breach in one go – all without leaving your insights dashboard.
If anyone affected by the breach isn't using 1Password, you can send a message inviting them to set up their 1Password account and change their login credentials.
Monitor password health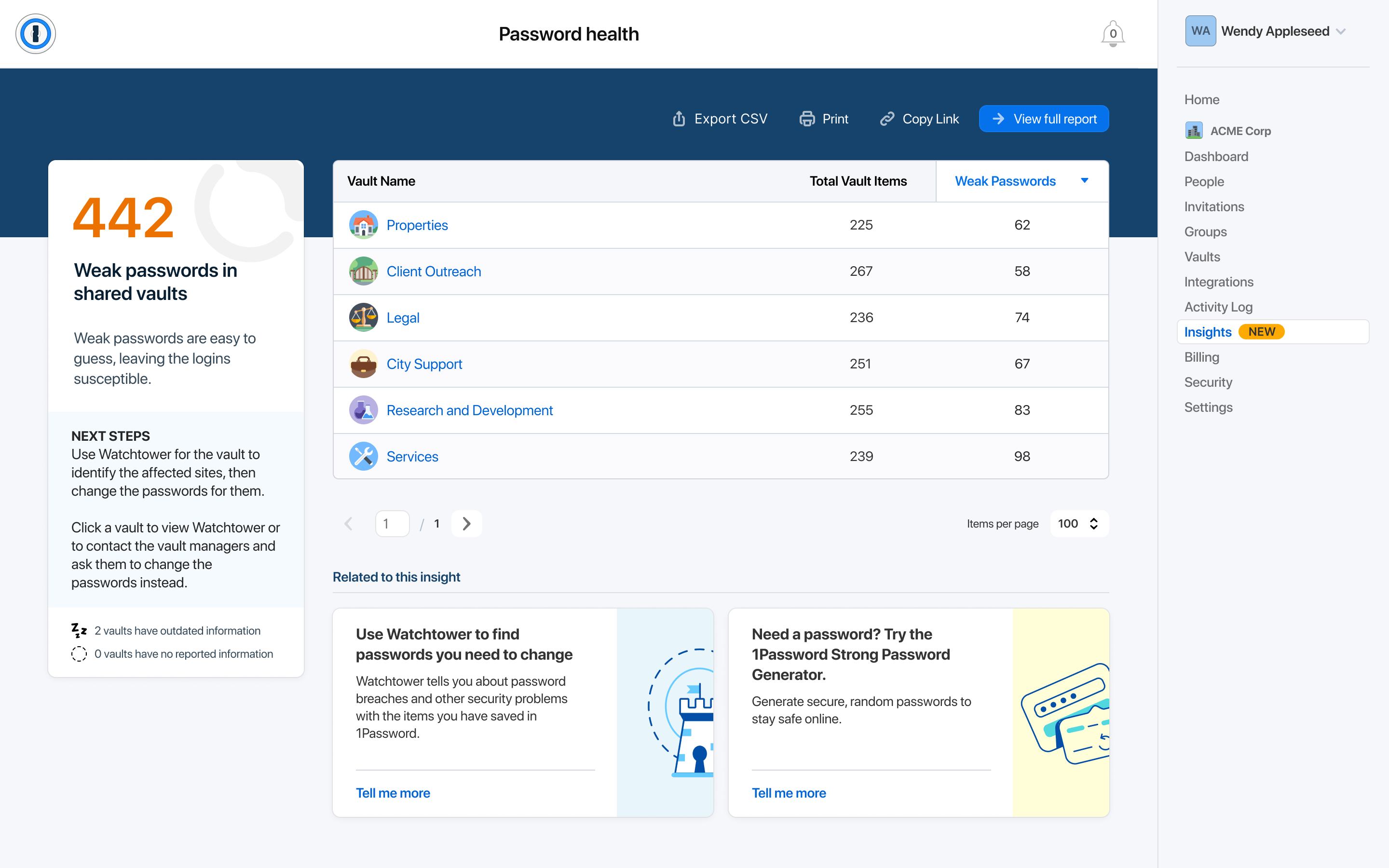 The second section of your dashboard aggregates 1Password Watchtower data so you can easily identify vaults containing weak, reused, or compromised passwords.
Notice something amiss? Open the detailed view to see the full range of risks across shared vaults with a new business Watchtower report. Use the suggested action to send a quick message to affected vault owners with instructions on how to update the affected items.
If you have access to the business Watchtower report and the affected vault, you can open the relevant items directly in Watchtower.
Need to share that data? Export your Watchtower reports in CSV format, print them, or use the individual share links in 1Password.
Monitor shadow IT and other risks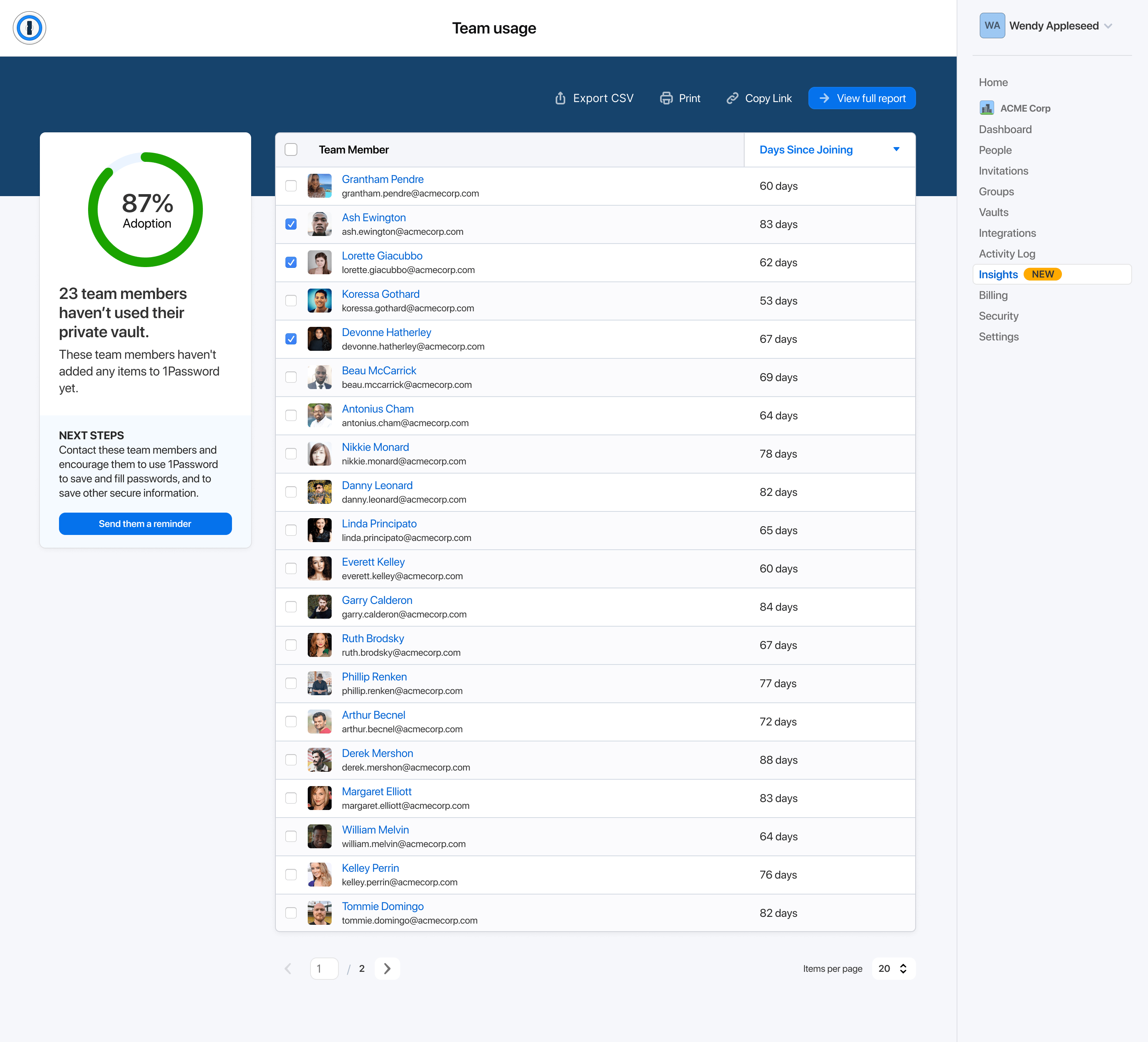 The third section of your dashboard includes information on 1Password usage across the company. Here you can see who has (or hasn't) been using 1Password to generate strong passwords and who isn't yet using their private vault.
You can also see who hasn't yet redeemed their personal 1Password Families account – and send them reminders to help them stay secure at home and build a strong security mindset.
Together, these features help you keep eyes on shadow IT — if your colleagues aren't storing credentials in 1Password, that's a strong signal that they may be creating accounts the security team doesn't know about.
Reporting on risk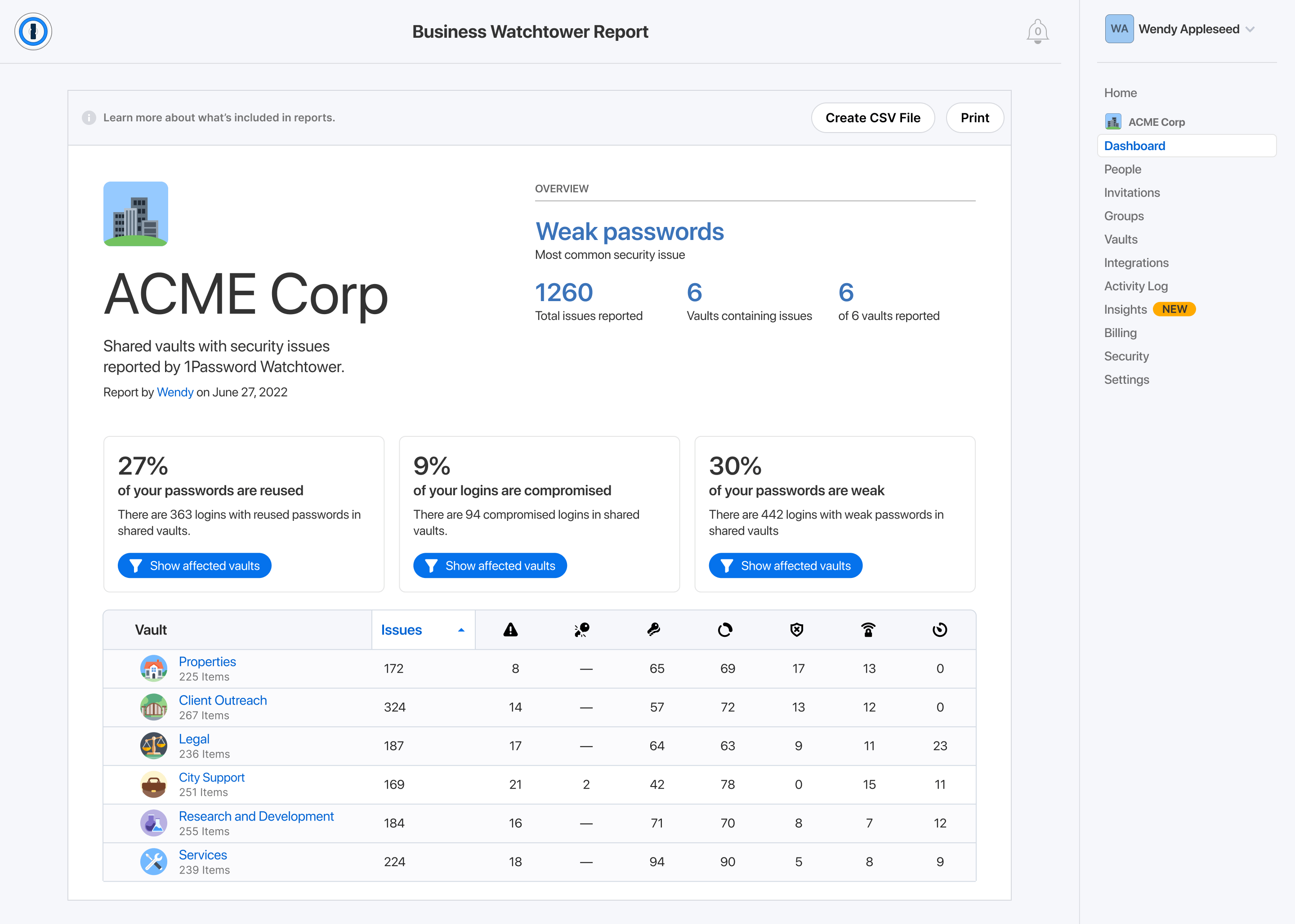 As a security professional, you're not just tasked with mitigating risk: You often need to communicate those risks to leadership so everyone has a better understanding of where the company stands at any given time.
That's why we've armed those professionals with detailed reporting tools so they can share the insights found in their dashboard, making quarterly status reports and audit requirements simple.
Preserving privacy
Insights from 1Password is, above all, from 1Password – which means we've taken every precaution to ensure that all the insights curated on your dashboard meet our rigorous standards for privacy.
We don't have access to sensitive information like your team's password health. As always, we can't see your data, which means we can't use it, share it, or sell it.
Get started
Insights from 1Password is available now to 1Password Business customers who belong to an Owners or Security group. Ready to take a deeper dive into all the new insights at your disposal? Join us for a walkthrough on July 12, 2022 at 12 PM ET / 9 AM PT.
Get to know Insights from 1Password
Register to see Insights from 1Password in action on July 12, 2022 at 12 PM ET / 9 AM PT.
Register now