If you're new to 1Password X, you're in for a treat! 1Password X is a full featured version of 1Password that runs entirely within your web browser. It's great if you're using Linux or Chrome OS and has quickly become my favourite way to enjoy 1Password on the web.
Since launching in November we've been hard at work exploring what's possible and polishing everything else. I'd love to share with you what's new since 1Password X blasted off! 🚀
Our best password generator yet
One of the things that we wanted to explore in 1Password X was how could we make our beloved password generator even better. And we were willing to go back to the drawing board to make it happen.
We started by suggesting new passwords directly within websites: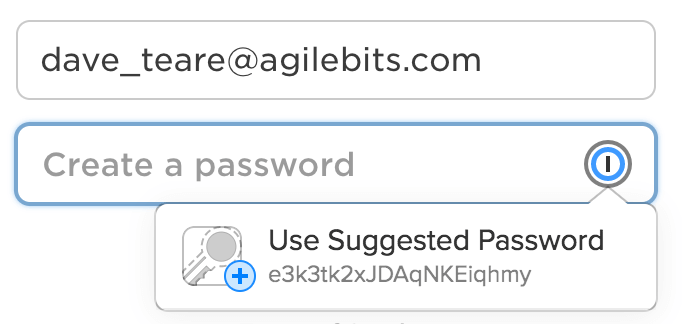 Just click Use Suggested Password when signing up and you've secured this website. It's incredibly easy and perfect for most sites.
Some websites, however, don't accept long passwords. Or sometimes you need a memorable password or a numeric PIN code.
1Password X now has a fully customizable password generator and it's our best one yet! When you need a custom password just open 1Password from the toolbar and bring up the password generator: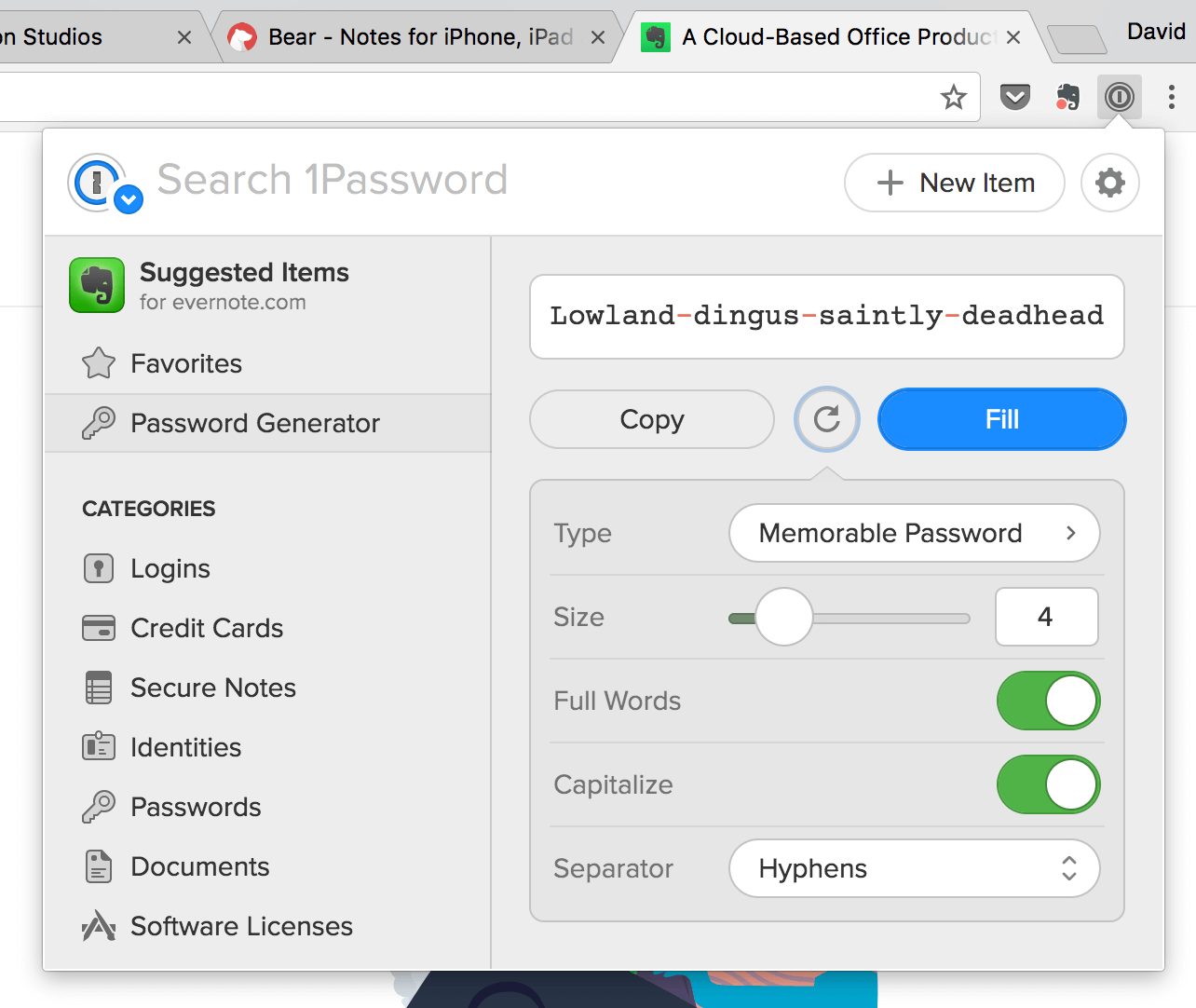 In addition to looking amazing, our new generator is more powerful and easier to use than ever. You can customize everything and choose between different kinds of passwords depending on your needs.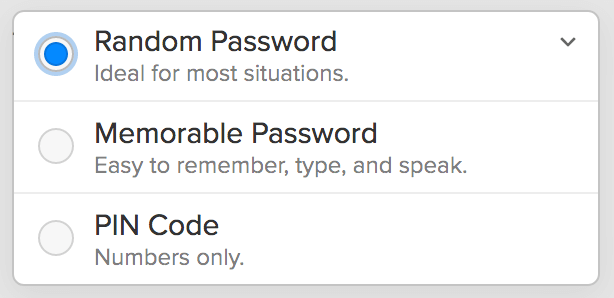 I've always enjoyed the simplicity of our password generator and didn't want to lose that as we added more options. I'm incredibly thankful that our designers found a way to pack so much power into such a simple and beautiful window.
Smarter filling and saving
Using machine learning, we can now distinguish between registration forms and sign-in forms. This is incredibly cool as it allows us to anticipate what you need and suggest appropriate actions.
When you're on a sign-in form, 1Password X will offer to fill it for you. If you're on a registration form, it will suggest a strong, unique password for you to use. And if you need to change an existing password, 1Password X can help you there, too: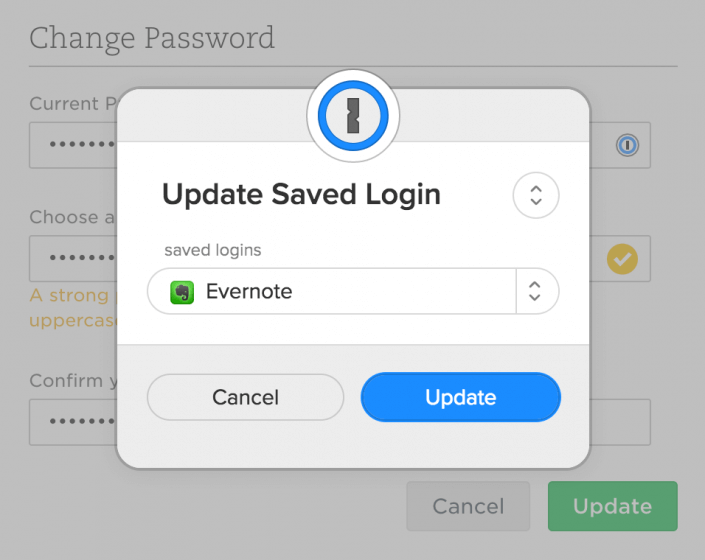 Along with these more visible improvements, we also greatly improved form filling all around (especially credit cards and identities) and added support for those running in Incognito mode.
Faster everything
Feel the need for speed? 1Password X is packed full of it! Unlocking 1Password is now over 30 times faster and loading your items is instantaneous.
I'm now able to unlock 1Password X on my 2014 MacBook Pro faster than I can type my Master Password. I have over 3000 items in 50+ vaults spanning two accounts and I have access to everything I need before I can say "oh my". 🙂
In addition to blazing unlock speeds, you're also able to view your item details and fill Logins faster than ever.
To achieve this incredible speed, 1Password X caches your encrypted data locally so it's always available. That means you always have access to your data, even when you don't have internet or are on spotty Wi-Fi.
And so much more
We've added over 120 new features and improvements to 1Password X since our inaugural 1.0 release. In addition to the highlights above, some more of our favourites include creating new items, customizable auto-lock settings, and full support for Japanese!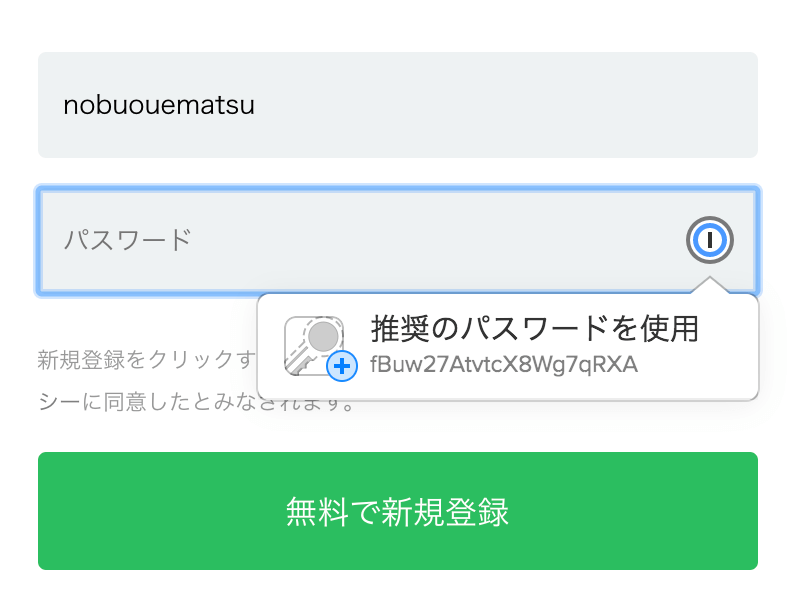 To get started, all you need to do is install 1Password X and sign in to your 1Password account.
Oh, and there's one more thing
1Password X initially came out for Google Chrome and since then we've added support for Vivaldi, Ghost Browser, and coming very soon, Opera. But as much as I love Chrome and its Chromium-based relatives, it's time for 1Password X to support more browsers.
Mozilla does an amazing job of keeping the web an open and inclusive space for everyone to enjoy, and we want to support that. So that's what we're going to do! 1Password X is coming to Firefox. 🎉 🙌
We have an internal build of 1Password X running on Firefox Nightly already and we're almost ready to share it with adventurous testers. If that's you, please give us your email and we'll be in touch.
There are even more exciting things planned for 1Password X and I hope to share them with you soon. Your feedback is immensely valuable in helping us set priorities so please join us in our forum and say hi.
Onward and upwards! 🚀 😘