Working remotely gives me the freedom to work from wherever I like: the couch, a coffee shop, a plane, or a hotel room. When I'm on the move, I need a device that's both powerful and portable, so I often work from my iPad. And while I love my iPad, I've recently been thinking about changing it up.
I've spent a lot of time with our Windows team lately, hearing about the hard work they've put into 1Password for Windows, and it's given me some food for thought. Now, I'm seriously considering swapping my iPad for a new Surface Pro. Here's why.
Privacy-focused browsing
I've been using Edge on my Mac for a few months now, and I've been impressed by its performance and security features. Edge is faster, lighter-weight, and more secure than its predecessor, Internet Explorer. It's the same browser I've come to know and love on my Mac, but feels even more intuitive on the Surface Pro.
And it's only going to get better. The new Microsoft Edge, currently in beta, is built on the Chromium engine, giving it better compatibility with extensions and websites. The new version of Edge is more privacy-focused and includes features like tracking prevention and InPrivate mode, which keeps my searches and browsing safe.
Unlocking with ease
Working from a tablet rather than a laptop means I don't always have my hands free to type my passwords easily. With Windows Hello, I can get straight back to work using biometric authentication to unlock my screen and open 1Password.
On the Surface Pro, to unlock 1Password, I just place my finger on the fingerprint sensor or glance at the camera, making it quick and easy to pick up where I left off.
Make it my way
I'm guilty of having too many applications, windows, and tabs open on my computer at any given time. It's easy for something to get lost, often forcing me to click through everything to find what I need. It can be frustrating, especially when I'm in a rush.
The revamped keyboard shortcuts in 1Password 7 work great on the Surface Pro and put all my information at the tip of my fingers. I can customize or disable shortcuts as needed, so 1Password fits seamlessly with my workflow.
Keep it small
To keep clutter to a minimum, I love using 1Password mini and it feels right at home on the Surface Pro. I can quickly and easily access my information, without having the full-screen version of 1Password open. This comes in handy for filling in details on apps and websites that don't have 1Password integration.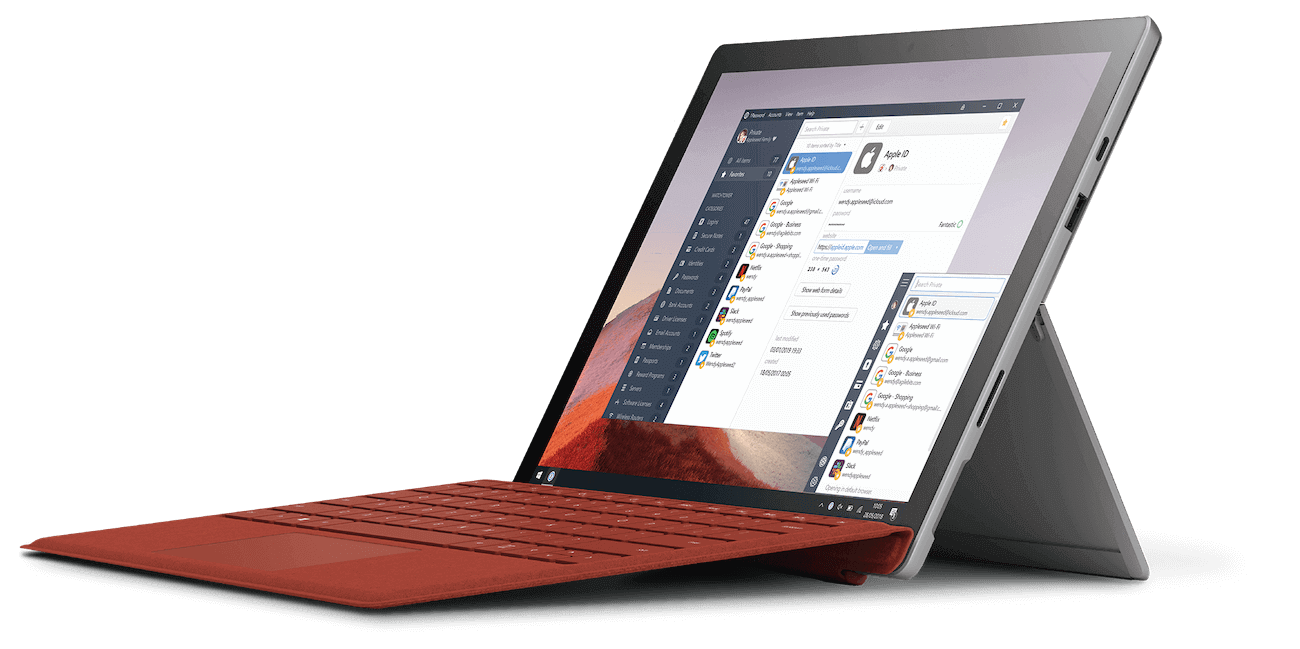 The 1Password mini on Windows even supports the Quick Copy menu, so I can quickly copy usernames, passwords, or grab a one-time password. I just open 1Password mini and everything I need is ready. Best of all, when 1Password detects the use of two-factor authentication, it will automatically copy a one-time use password to the clipboard.
Are you using 1Password on a Surface Pro? We'd love to hear what your favorite features are! Drop us a line on Twitter or reach out on the 1Password Forums.
Sign up for 14 days free!
If you want to try 1Password on your Windows Surface Pro, sign up now for a 14 day free trial!