Today we're celebrating Family Day here in Ontario and throughout other parts of Canada. It's a great way to remind ourselves of the people in our lives who are always here when we need them. Family can mean a lot of different things – my brother-in-law Mike calling to ask if I need help shovelling snow, my aunt sharing a new card game, or a friend who needs a ride to an appointment – in the end, family means "together".
Sharing together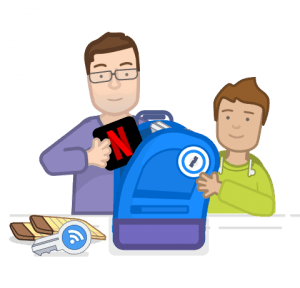 Most of the time, sharing lives together is as simple as sharing a meal, sharing how your day was, and – these days – sharing Wi-Fi passwords and Netflix accounts. 1Password Families can't cook for you or get your kids to clean their rooms, but it's great with online accounts. In fact, it's great for sharing a lot more than passwords, too.
The Winter Olympics in Pyeongchang got me thinking about international travel, and I'm reminded of Jeff's post about his son's trip to Texas. He used 1Password Families to help his son prepare for his trip to the USA for an international gymnastics training camp. I'll let him tell the story:
I created a Texas Trip vault [and] added our passports, contact info, and a credit card for emergencies (new headphones are not an emergency). In went the flights, insurance policies, consent forms, and all the rest. Finally, I added passwords for all the ways he could reach us, from Skype to FaceTime to Zoom; although, trying to get a 15-year-old to actually talk to his parents was another matter.
It was really quite reassuring to know that all of that information was there for him to easily access on either his Mac or his iPhone.
And that's just one example. There are as many different ways to use 1Password Families as there are families. You get to choose who has access to shared information, and everyone gets their own personal vault for stuff that's private. But no matter what you share with your family, you can be sure that your secrets are safe.
Recovering your peace of mind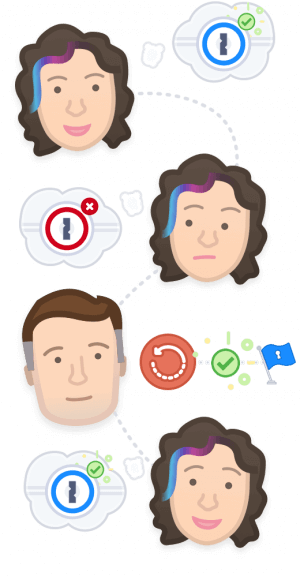 One of my favourite taglines for 1Password is "Go ahead, forget your passwords". Taking that plunge into a world of not knowing my passwords was scary, but now that I'm here, I can't imagine going back. There's only one password I need to remember now: my Master Password. But what happens if I forget that?! I'd normally start to feel my peace of mind slip away just thinking about that, but thanks to my family, I don't have to worry.
Nobody at 1Password ever has access to your information. That means that if you forget your Master Password, we can't help you recover your account. But if you have a 1Password Families membership, you can designate another family member who can help you recover your account. You get to have peace of mind because you're in control.
Make the switch
If you have a 1Password account and have been considering inviting your family, there's never been a better time. There are a ton of benefits to 1Password Families, some of which I mentioned above. A family account lets you:
Share vaults securely. Shared vaults show up on your family's devices instantly.
Recover accounts. If someone in your family forgets their Master Password or can't find their Secret Key, a family organizer can help recover their account.
Simplify payment. A single subscription covers a family of 5, with room to grow.

Upgrading to a family account is as easy as inviting more people.
Simply sign in to your account on 1Password.com and click Invite People in the sidebar. 😀
Love for our 1Password Family
With that, I'd like to wrap this up with a special thank you to all of our extended 1Password family members. Without the lovely people I work with every day and all the amazing customers who have supported us over the years, 1Password wouldn't be where it is today. Thank you! And I mean it when I say we have amazing customers. Dave and I were recently away and came back one day to our room and saw this on the door: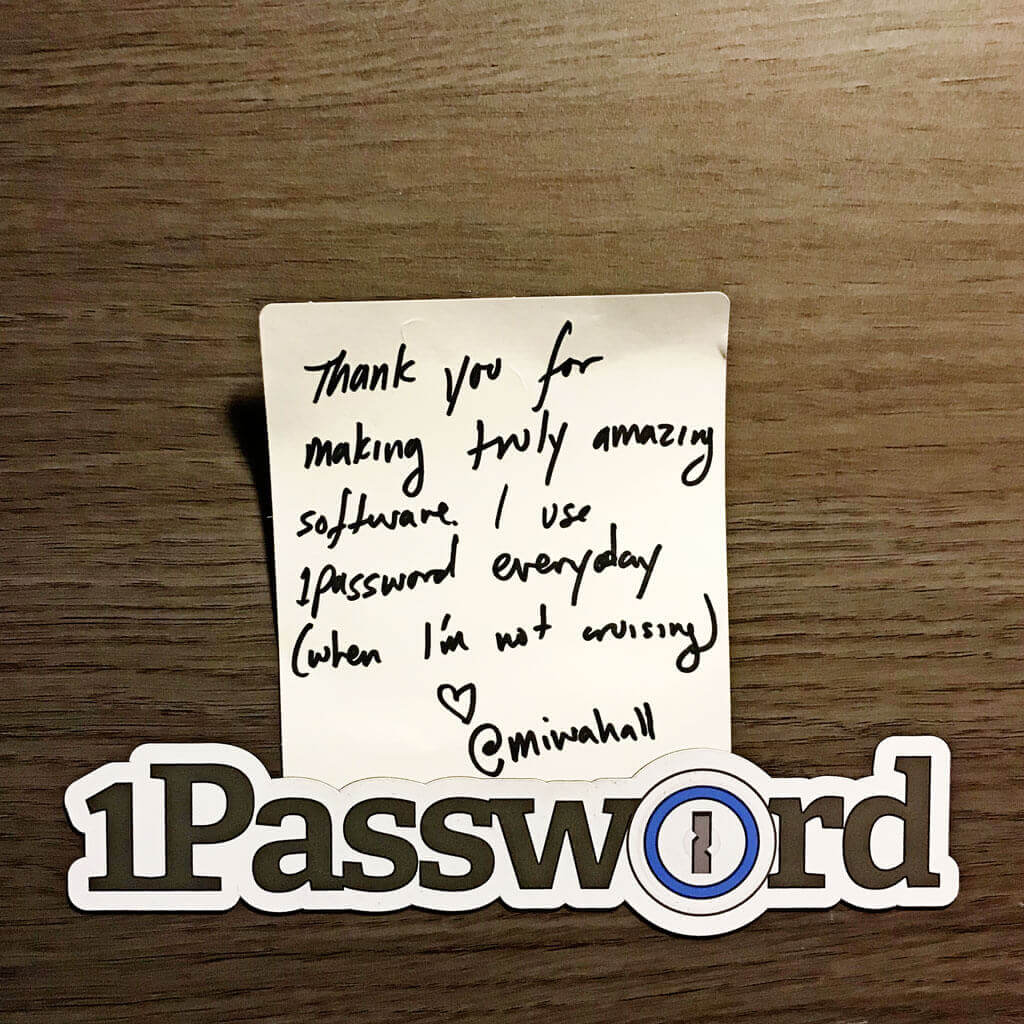 It's heartwarming to be making connections with people, and we're so glad we've had the chance to be a part of your lives! ❤️