Sometimes I forget to marvel at what we, as an industry, have built in the past 30 years.
I have this little device in my pocket, and a slightly larger version on my nightstand. With either one, I can video chat with a friend in the UK, access my medical records, or check in for a vet appointment. I can track my workouts or reserve a table at my favorite restaurant.
I can buy movie tickets, concert tickets, and plane tickets. I can watch videos uploaded by creators from around the globe and learn how to do almost anything. Heck, I can even pair up a controller and play some pretty awesome games. All from the device in my pocket.
Unless I was tethered to my desk, I couldn't do any of that when our founders – Dave, Sara, Roustem, and Natalia –  built the first version of 1Password in 2006. The smartphone and tablet as we know them didn't yet exist.
But today, when I pull out my phone or grab my iPad, a world of possibilities opens to me.
That's the world for which we built 1Password 8. The one in which most internet traffic goes through our phones and tablets. The one in which most people are juggling dozens, if not hundreds, of logins to access everything they need for work and life.
The world where you use your phone for everything.
This is 1Password 8 for iOS and Android. It's a brand-new experience designed to bring a little order to a hyper-connected world. Where did I save my medical records? What's my bank account number? Do I need to worry about that data breach I heard about yesterday?
And, of course, what the heck is my password?
Built for speed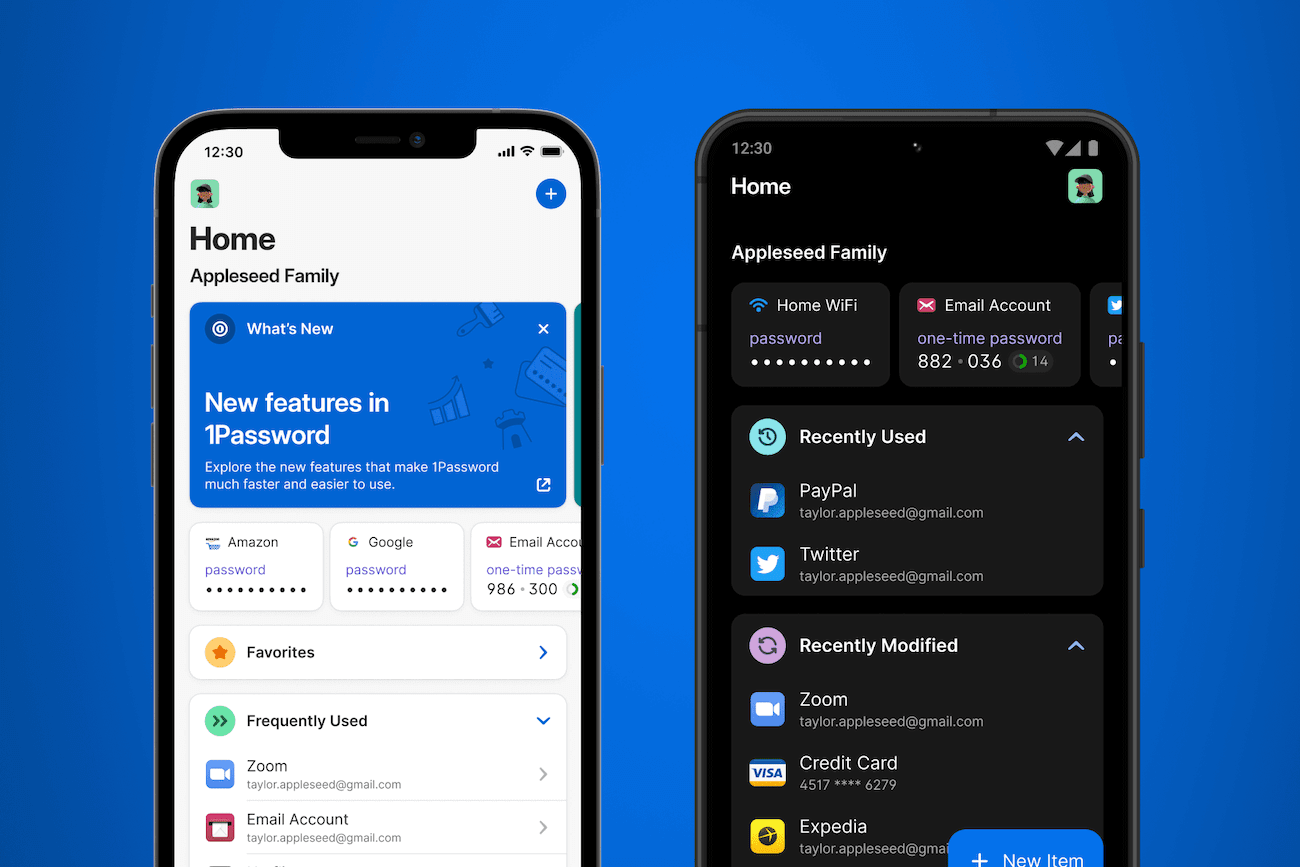 When we began work on 1Password 8 for iOS and Android, we went straight to customers to find out what they were trying to accomplish in 1Password. Armed with that knowledge, we then dove into making it as fast and easy as possible to achieve those tasks. Speed is everything on mobile, and 1Password 8 delivers.
It starts with your new home screen. And I mean it when I say it's your home screen. When you open 1Password, you can hide, unhide, or reorder what you see here. You can even pin specific fields from your items to this screen for instantaneous access.
I have my kids' Screen Time passcode pinned to my home screen so I can show it in Large Type with a tap. No two people are alike – and now, no two 1Passwords are alike.
The new design also incorporates an updated, always-available navigation bar so you can:
Quickly access your home screen. Here you'll find your favorites, recent items, or anything else you want fast access to.
Access all items across all your accounts. All your vaults, all your tags. It's all here.
Search everything. When you tap the search button, the search field is immediately focused. Just start typing to find what you're looking for.
Boost your security. Get one-tap access to the all-new Watchtower experience for mobile.
Of course, 1Password is more than just an app. If we're doing things right, it feels like an extension of iOS and Android, putting the things you've stored in 1Password right at your fingertips, right when you need them.
Maybe you're autofilling the one-time code when you log into your banking app, or your payment card info on Amazon.
Everywhere you need it, the autofill experience is now faster and more precise. Payment cards, addresses, identities – autofill whatever you need, when you need it, on both iOS (with the Safari extension) and Android.
Built for peace of mind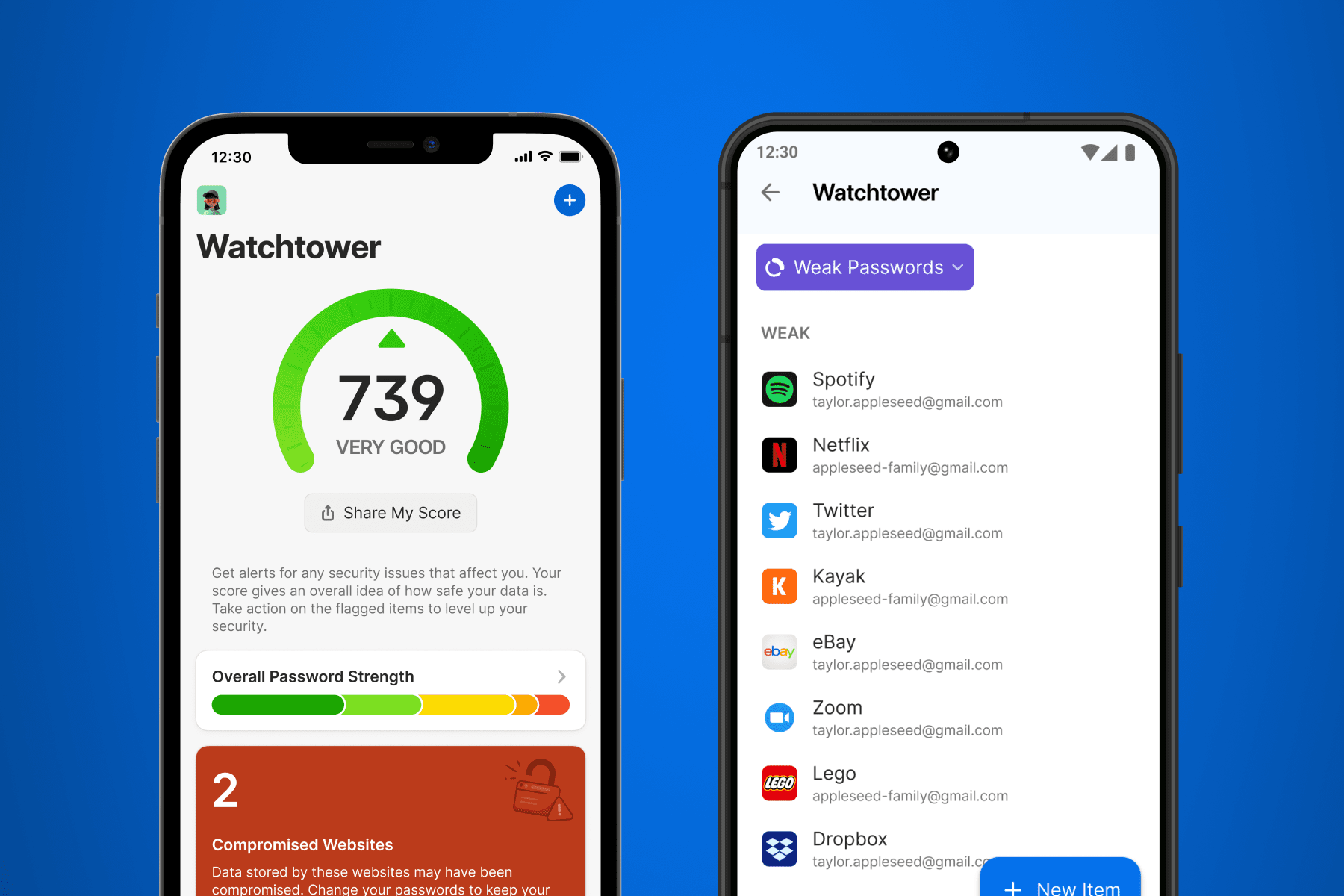 There's nothing like knowing – not guessing, but knowing – that you're protected. With the all-new Watchtower experience for mobile, that peace of mind is just a tap away.
Watchtower is your security sentinel, letting you know when you need to take action and making it easier to do so. If your credentials are involved in a data breach, you'll see an alert in Watchtower and in the item itself. Tap it to take steps to protect yourself (like changing your password).
Those actionable alerts now extend to your security score, which gives you a bird's-eye view of your overall security. Watchtower continually evaluates key security data points (locally, on your device) to calculate your score, and shows you where you can take action to improve your security. Your score incorporates things like weak passwords, inactive two-factor authentication, compromised passwords, and others.
You can also share your score directly from Watchtower by copying it or tweeting it. Watch out, though – this can get addictive fast. I've been known to spend idle minutes knocking down security issues in my own vaults to get my score just a little bit higher.
We also made security questions easier. Questions like "What's your mother's maiden name?" or "What was the name of your childhood pet?" are designed to enhance security, but they can also be a pain. If the question is too obscure, it's hard to remember the answer. Too common and it's easy to find that info if an attacker looks hard enough.
Now you can generate random answers to security questions as easily as you generate a password. Just add a security question field to any item, and let 1Password generate an answer for you. Better security, no more guesswork.
Of course, you still get all the other security-boosting features you've come to expect from 1Password. That includes the ability to securely share items – yep, files and documents too – with anyone, even if they don't use 1Password.
Built for you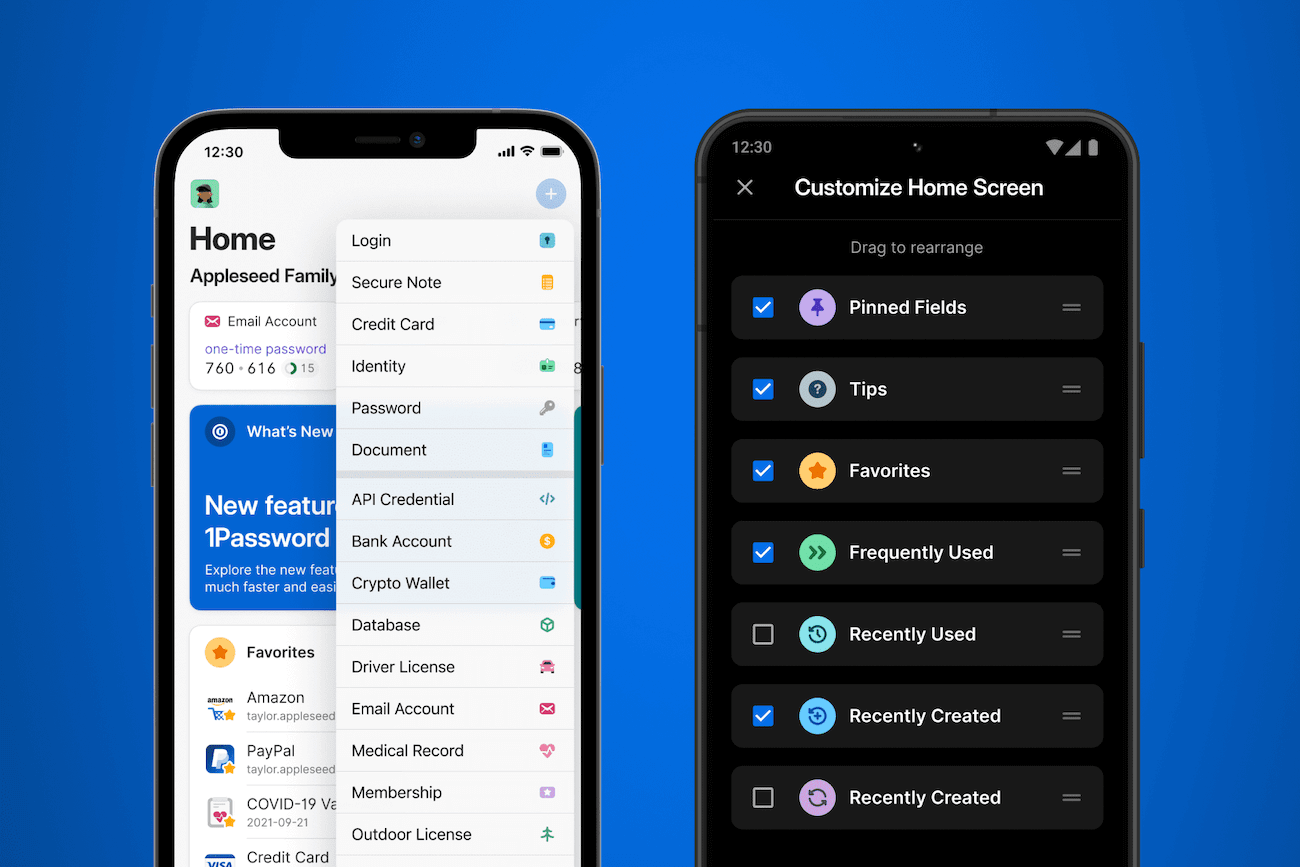 Nothing is as personal as these little rectangles in our pockets, so with 1Password 8 we wanted to create something that you could shape to your needs.
Enter the customizable new home screen.
You might want fast access to your favorites and pinned fields, whereas I might prefer to see a list of frequently used and recently created items. It's your 1Password, so it's your call.
What are pinned fields? The easiest way to make 1Password truly yours. You can pin any field in a 1Password item directly to your home screen, so you always have instant access to, say, your bank's routing number or the one-time code for your Twitter login.
To customize your home screen, scroll to the bottom of the screen and select "Customize" then select or deselect sections to show or hide them (respectively). Drag-and-drop sections to choose the order in which they appear.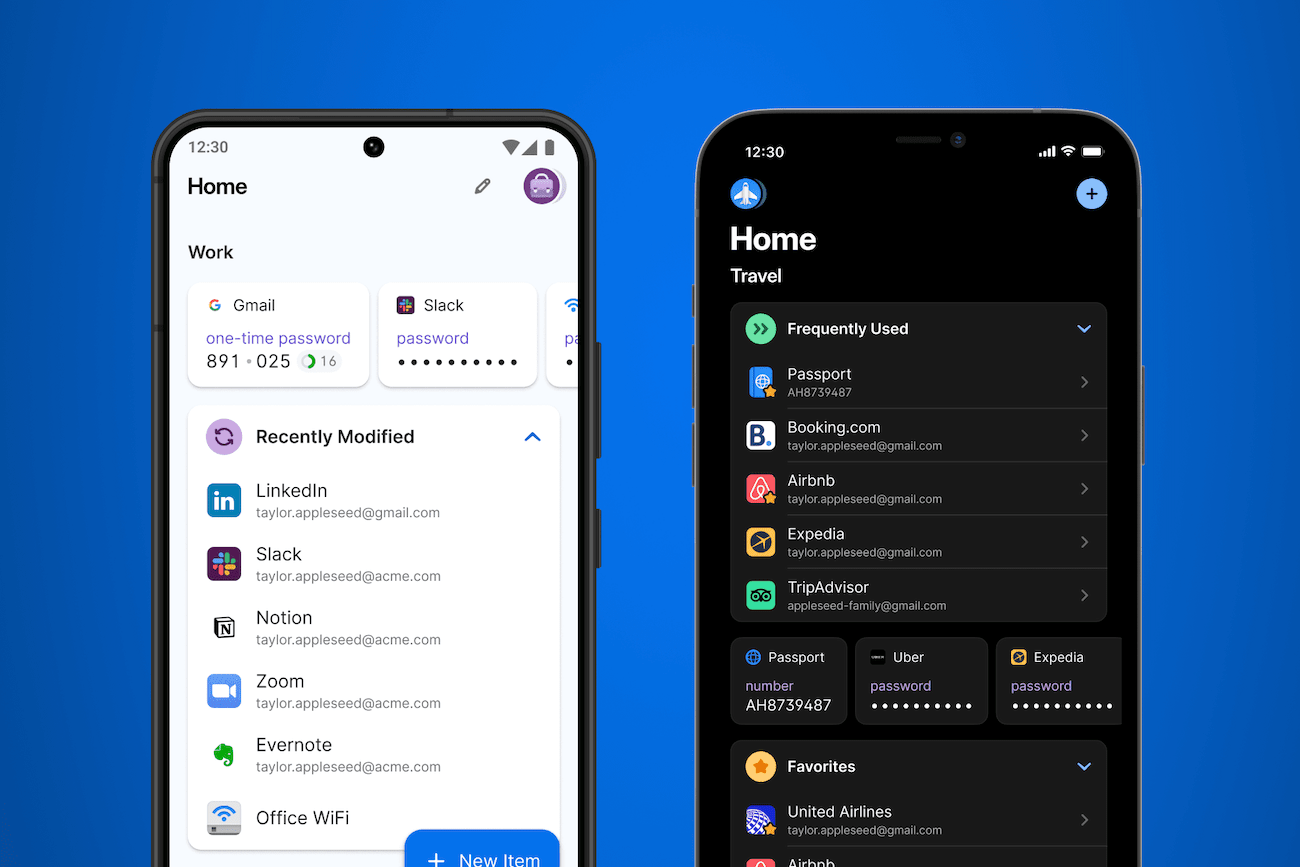 Collections have come to iOS and Android, too. Collections are an easy way to create a custom group of vaults for easier context switching. Maybe you want to create a collection of personal, work, and travel vaults, or create collections that separate shared vaults with private ones.
Again, it's up to you. Just tap the vault icon at the top of the screen and select "Manage Collections" to set it up.
1Password also respects your device's appearance settings, so if you dwell on the dark side all day long with Dark Mode, 1Password will embrace the darkness right along with you. 😎
Download 1Password 8 for iOS and Android
I can't emphasize the new part of "all-new" enough. 1Password 8 is more than an upgrade: It's a brand new experience, and you can download it now from the App Store and Google Play Store. 1Password 7 will not automatically upgrade to 1Password 8.
Once you download the app and start exploring, you'll also find little flourishes throughout: new icons and typography, detailed item views, and new indicators next to shared items so you can see what's shared and what's private at a glance.
Regardless of how you set up your 1Password, you'll be getting the most advanced version of 1Password we've ever built, completely recreated for a mobile-first world.
PS: I want to give a huge shout-out to the 1Password community. The feedback from Early Access testers and other contributors has been invaluable. Thank you.
But we're not done yet. We're still listening, so if you'd like to share your thoughts, stop by the community and say hi.
Download 1Password 8 for iOS
Get the all-new 1Password 8 for iPhone and iPad. It's everything you need for a worry-free digital life on the go.
Download on the App Store
Download 1Password 8 for Android
Protection has evolved. Get the all-new 1Password 8 for Android phones and tablets.
Download on the Play Store