It's your turn, Android folks! The newest generation of 1Password is now available in Early Access – so put on your explorer hats, help us track down those bugs, and let the feedback flow.🕵️‍♀️
This early preview represents one of the most monumental updates we've ever created for Android, and it's all about two things that make Android such a great mobile OS: fun and extensibility. It's 1Password to the Core, and it makes the most of everything Google's latest mobile operating system has to offer.
If you're already sold, then by all means, head over to the Play Store and install it right now. Happy testing — and don't forget to report those bugs!
There's a lot of goodness below the fold, so if you'd like to take a quick tour first, let's dive in…
Modern design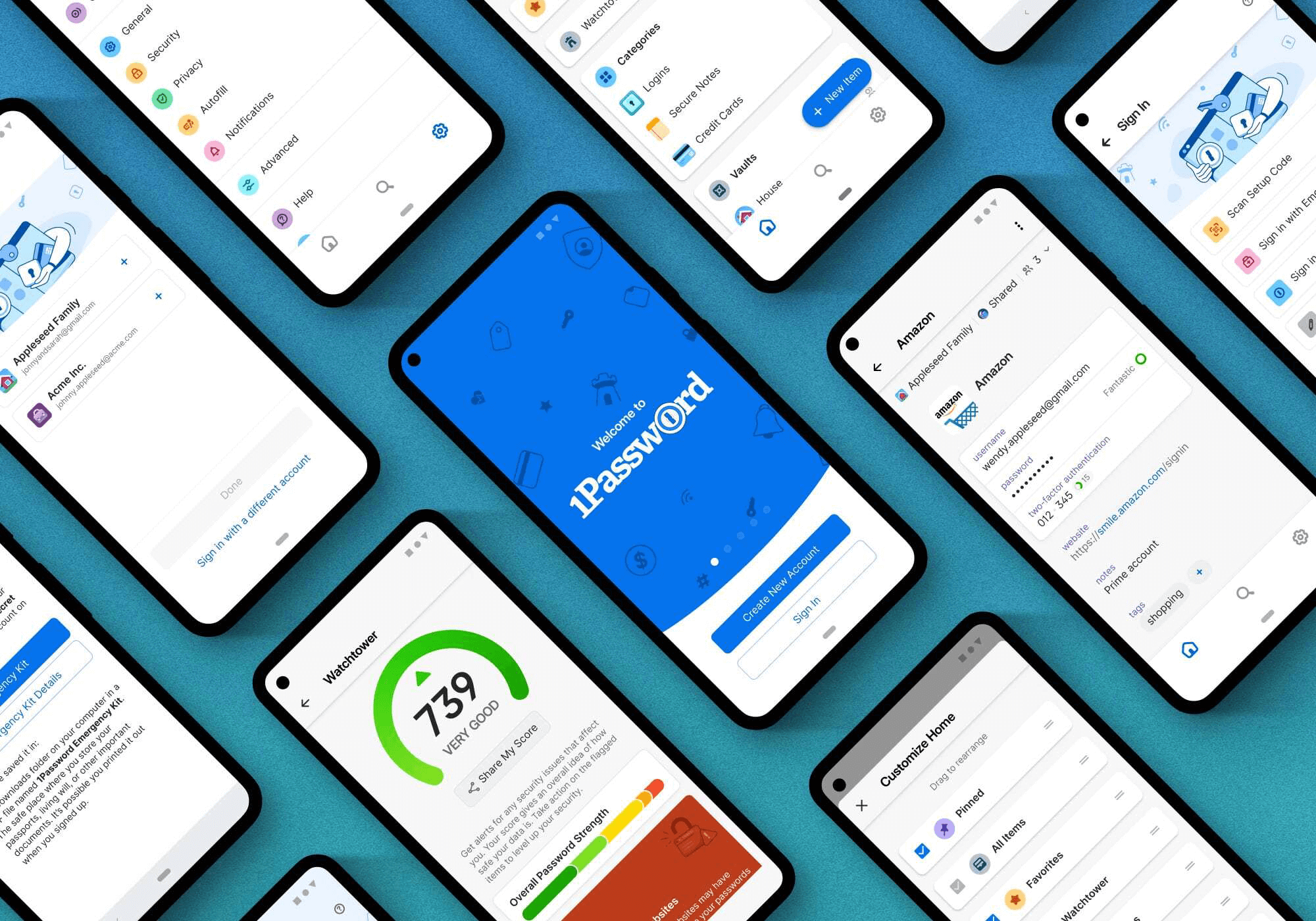 Every aspect of 1Password 8 for Android has been redesigned for a more cohesive experience across every platform you might use. Jumping over from Windows, macOS, Linux, or even iOS? You'll feel right at home regardless, because this doesn't just look like the same 1Password … it is the same 1Password.
As I mentioned in the iOS Early Access post, we've spent a lot of time unifying our design language to bring you a familiar but fresh 1Password experience, whatever device you're using. The new designs of 1Password 8 on Android feel distinctly like 1Password, but also distinctly like an Android app – because it is.
Powered by a modern Core
Both of our new mobile apps are powered by the same, all-new 1Password Core. Utilizing the same foundation that powers 1Password for Mac, Windows, and Linux allowed us to put many of the delightful touches and powerful functionality from the desktop experience in the palm of your hand. 🤯
Written primarily in Rust, a secure systems programming language famous for its performance and safety, the 1Password Core provides a more stable, more performant, and more secure experience than ever before.
This unified backend delivers the same performance and feature set across every 1Password app, from search results to the password generator to item editing. It's all consistent, smooth, and so. dang. fast.
The new home for your digital life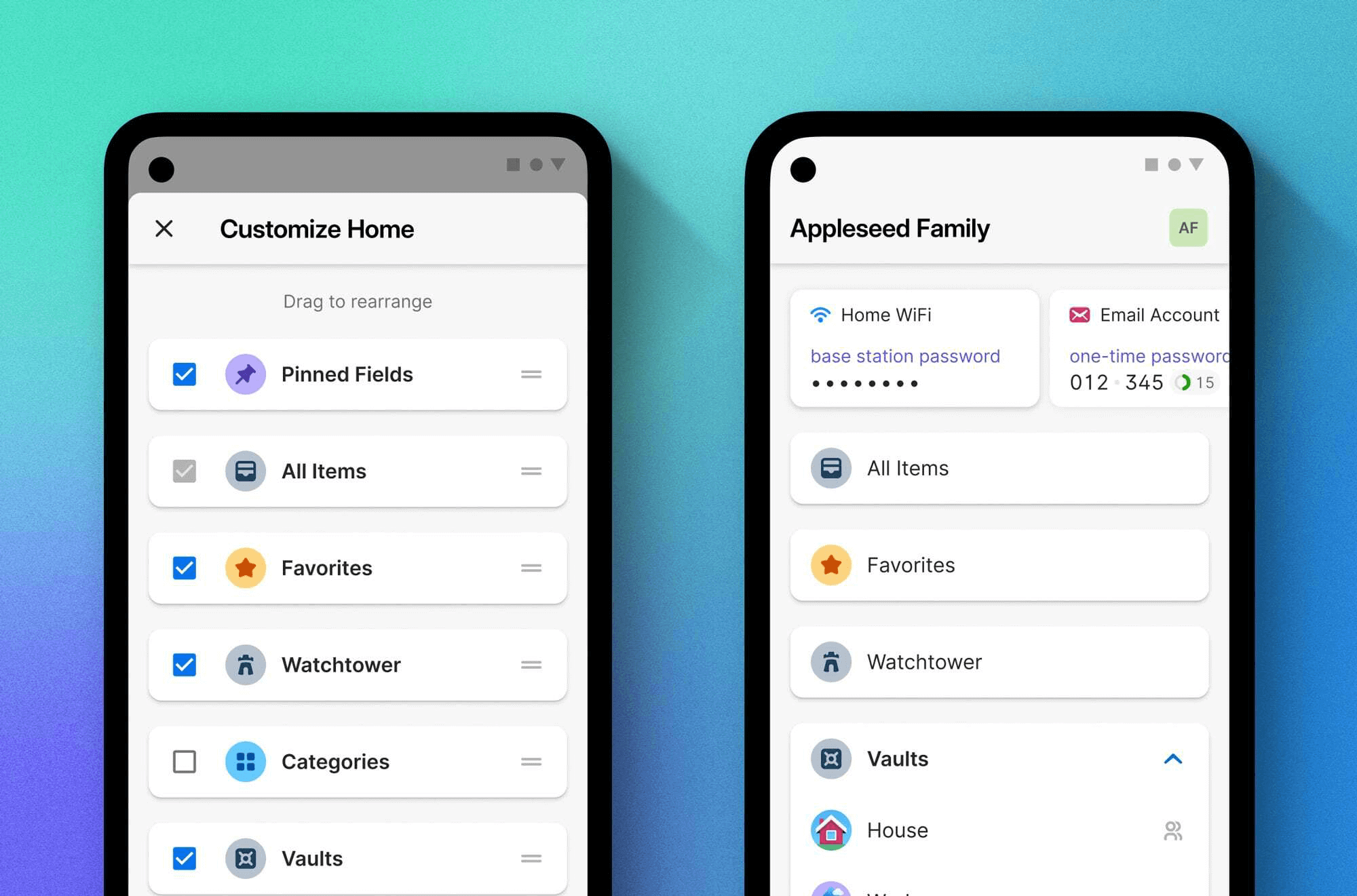 There's a wealth of new capabilities in this app, like the fact that you can autofill many different item types, like payment cards.
But my favorite by far is the new, customizable Home tab. The ability to tailor your user experience is a huge part of what makes Android such a popular operating system, and we're bringing that same concept into everyone's favorite security app. No one uses 1Password in precisely the same way, which is why we are maximizing the customizability of this screen so you can set it up just the way you like it.
Want to put Watchtower front and center? Move it to the top. Want fast access to frequently used items, vaults, or categories? You can do that. Want to hide tags altogether? It's all up to you. Just scroll to the bottom of the Home tab, tap 🏠 Customize Home and make it yours.
We've also added another completely brand new feature to 1Password for this update: the ability to pin individual fields to the home screen! Simply navigate to an item, tap on nearly any field, and choose "Pin to Home." I've set up two pinned fields myself: my Amazon Video PIN for when I'm renting or buying some cinematic masterpiece, and my Wi-Fi password for when I need to tell a guest how to join my network.
Because this is Early Access, we're not quite finished with the Home tab experience just yet. We have tons of ideas about how to give you more control with Smart Tiles, but we also want to hear what you want to see in your Home tab – so drop by the forums and let us know what you think.
Effortless security in true 1Password style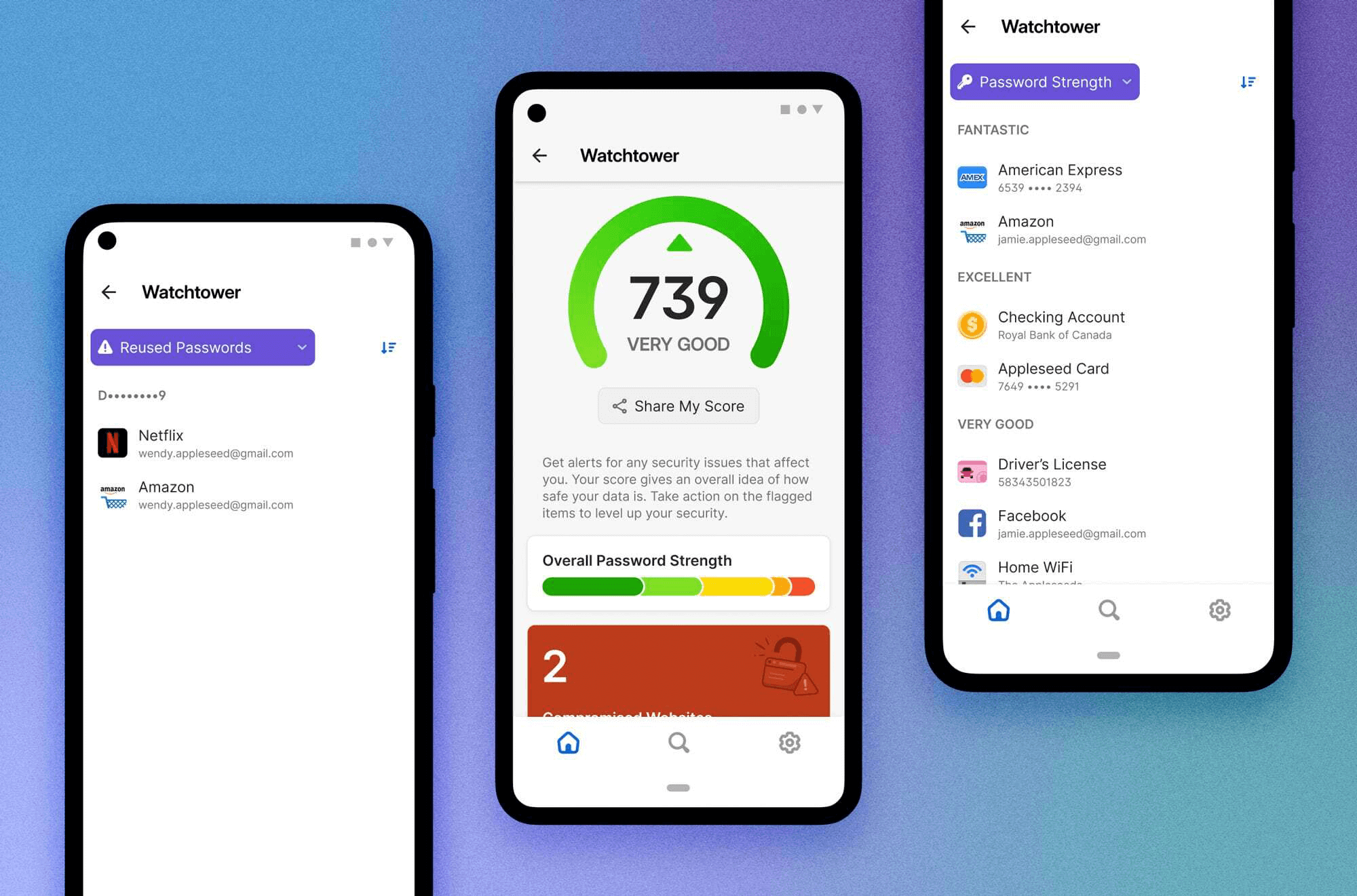 Watchtower has been notifying you of potentially compromised logins for years, but we've always wanted to bring the full power of Watchtower's desktop experience to mobile – so that's just what we did. Watchtower now features a full security dashboard, so you can get a bird's-eye view of your security health and take fast action when you need to.
That means not only giving you the security insights you've come to expect from Watchtower, but also giving you the ability to act on those insights with less effort. Take it for a spin and you'll see what I mean.
The classics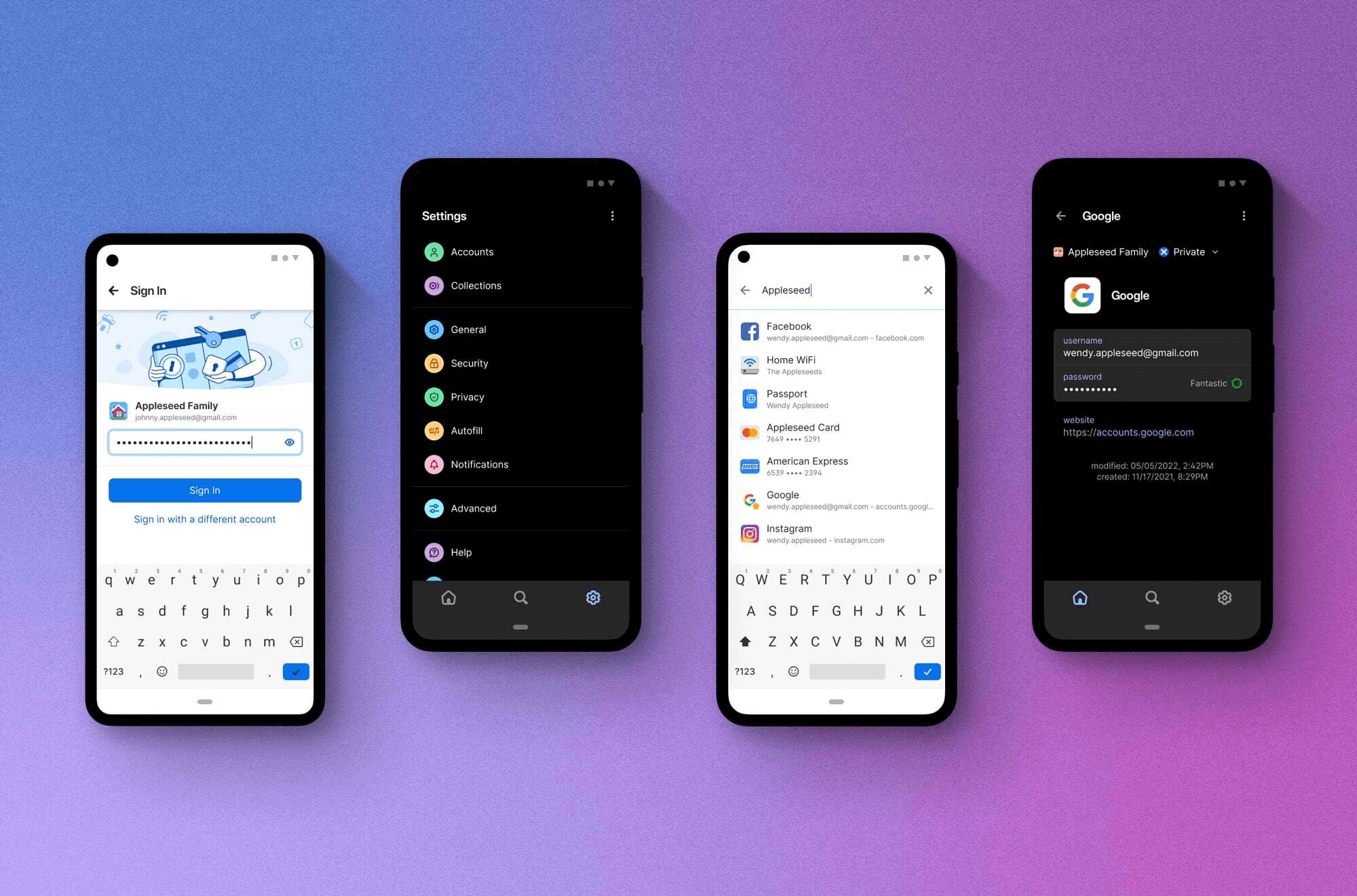 As much as we've changed in 1Password 8, the greatest hits are still here. You can still unlock with your fingerprint, autofill your passwords into apps and websites, and more. And of course, the industry-leading security that you've come to know and trust continues to underpin everything we do.
I would recommend popping over to the Settings tab and checking out all of the options available to you to set up 1Password just the way you like it.
More to come
As I mentioned above, today's preview is just our first look at 1Password 8 on Android, and while it represents a massive lift by our design and development teams, we've got more in the pipeline. In the coming months, we'll be adding support for account management, in-app purchases, signup improvements, secure item sharing, and an essential settings walkthrough.
Ready to take 1Password 8 for Android Early Access for a spin? You can run it side-by-side with 1Password 7:
Search for "1Password 8" in the Play Store from your Android device.
Tap "Install."
Start testing!
Keep that feedback coming
As all 1Password apps are, 1Password 8 for Android is a collaboration between 1Password and our customers. We're active on the beta forums, so if you have thoughts, ideas, or suggestions, stop by the community and share your thoughts.
And don't forget: As you continue testing 1Password 8, you can provide feedback directly to us by returning to 1Password 8 (Early Access) in the Play Store and tapping the "Private feedback to developer" option, or by leaving a review directly in that listing like you would for any other app.
Now, enough talk – explorers want to explore! Enjoy, and I'll see you in the forums.
Test 1Password 8 for Android
Install 1Password 8 for Android on your test device.
Join the beta