This is a massive release where quite literally everything has changed. Seriously, every bit and every pixel has been recreated from scratch using the latest and greatest technologies to make 1Password the best it can be.
From an incredible new design to having all your vaults in one place to a whole new architecture, 1Password 7 is the fastest, prettiest, and most powerful version of 1Password yet. In short, it's simply the best. A bold claim but thankfully we can back it up. 😎
All new modern design
Our design team has been working their tails off reimagining every aspect of 1Password. We wanted to make it as powerful and beautiful as the Mac app while staying true to the Windows platform.
It all added up to a breathtaking new design that you're going to love. And it all starts with the lock screen.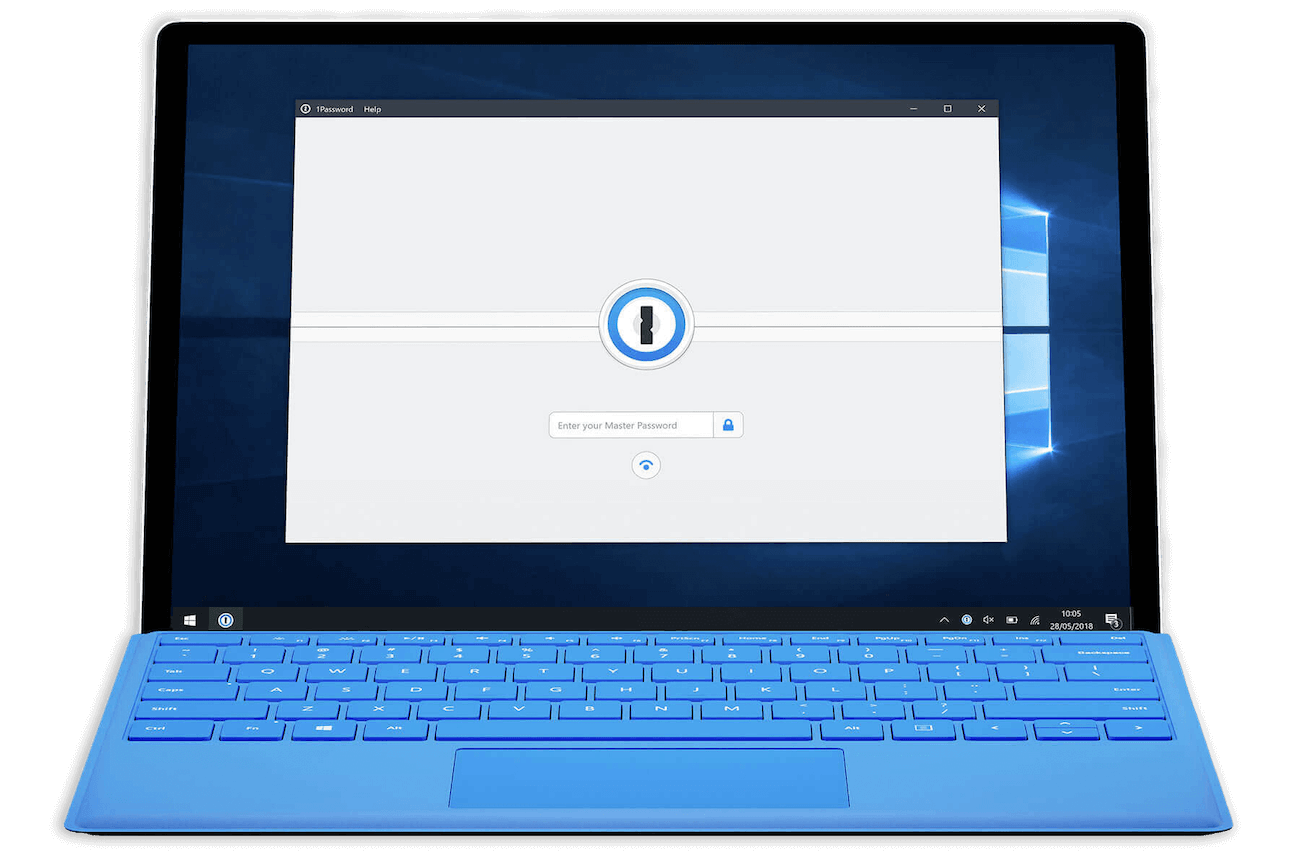 The steel doors look great and also symbolize the strong encryption that protects your data. And to would-be-attackers, our encryption design is far more secure than the strongest steel.
Once you unlock 1Password with your Master Password (or Windows Hello), you'll be delighted by the stunning new layout protected behind those doors.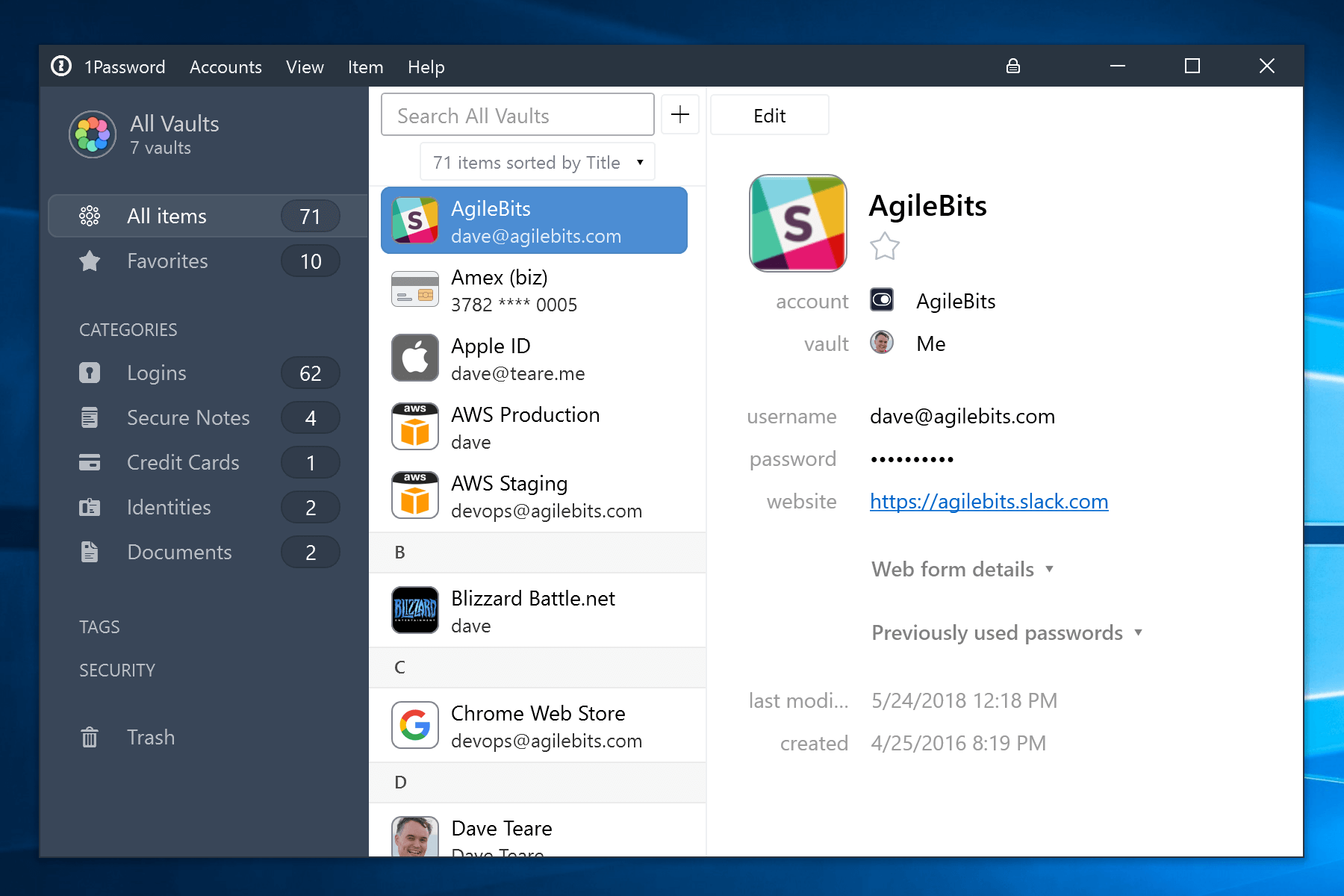 Beautiful! 😍
Everything has changed and not a single element of the design has been left untouched. Yet the heart and soul of 1Password remain, so you're able to jump right in and find everything you need.
Your items have never looked better and with full support for time-based one-time passwords, logins really shine. They look so good that you'll find yourself happily waiting for a new 2FA code simply so you can watch the countdown animation. 🙂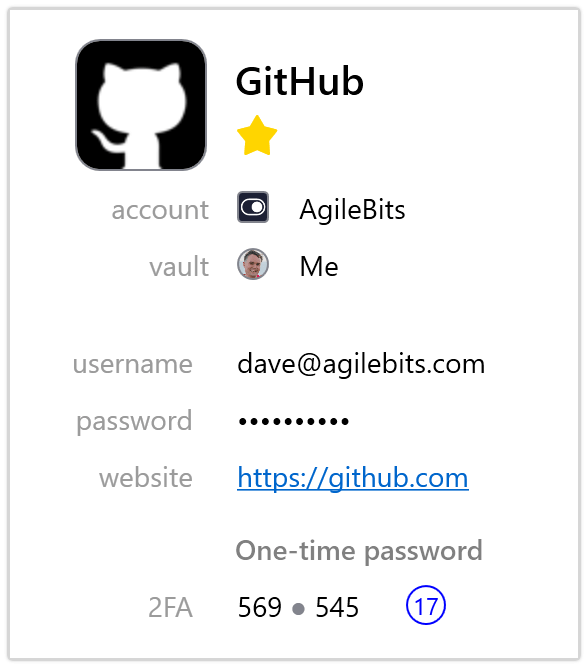 You can also zoom right in on the password using Large Type. This is perfect for those times you need to type it on another device or are asked for specific characters from your password.

Our new highlight feature while searching makes finding what you're looking for super easy. And with the addition of search power-ups like title:, tag:, and file:, it's never been easier to discover what you're looking for.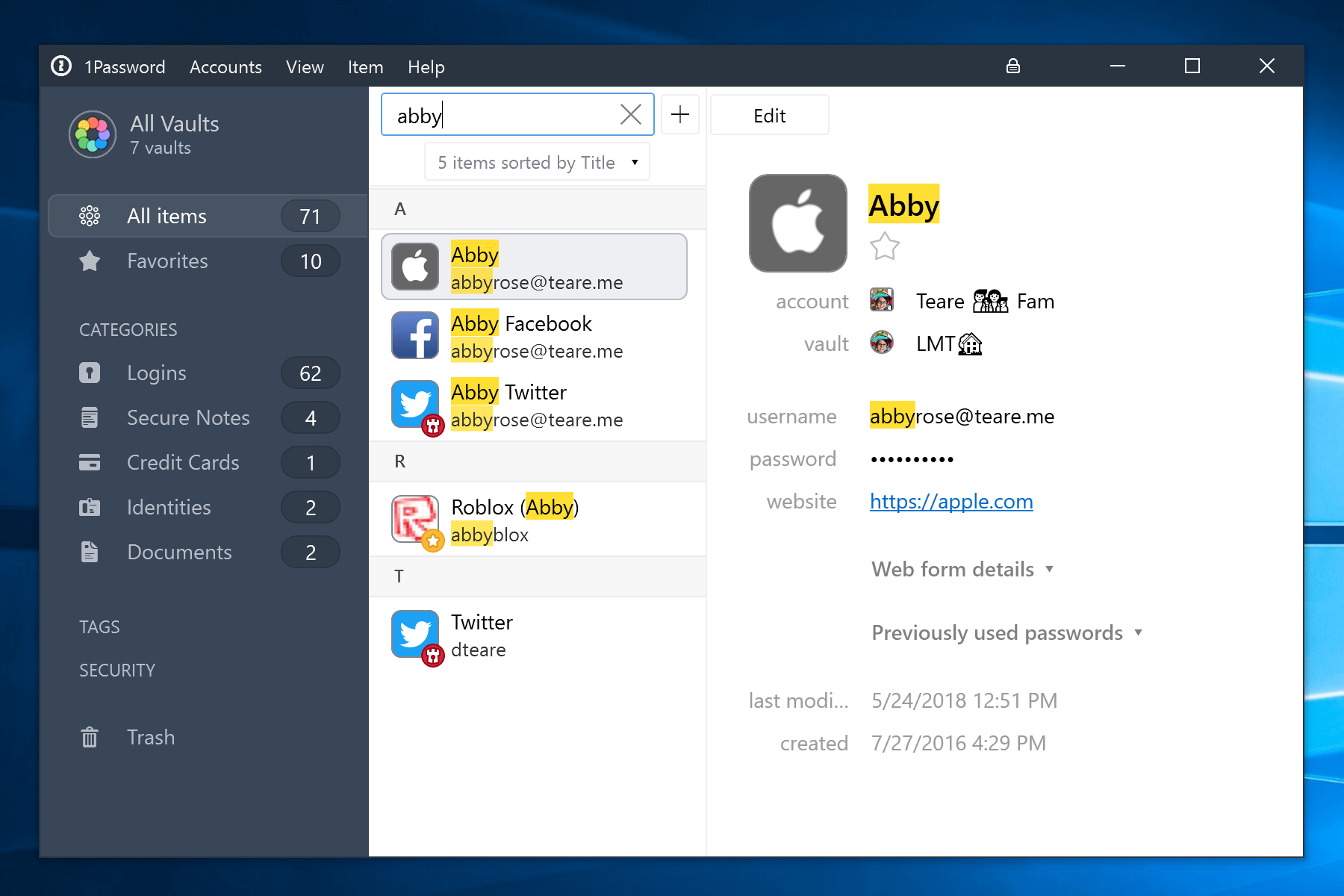 And when you prefer to browse, the sidebar is great for navigating between your categories and tags. Along with support for nested tags you can take things to a whole new level by organizing your organization. 😉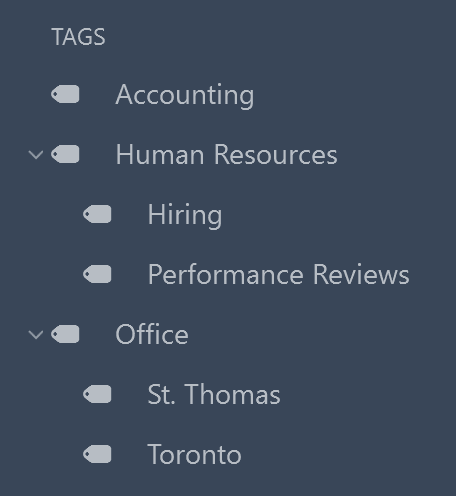 Oh and the sidebar gets even better as your vaults live there, too.
All your vaults, all in one place
There's more to the sidebar than meets the eye. Sitting just beneath the surface is a powerful new way to organize and securely share your items.
Simply click on the sidebar header and your categories will slide away, revealing your collection of vaults. Vaults allow you to group your items depending on their purpose and who needs access to them.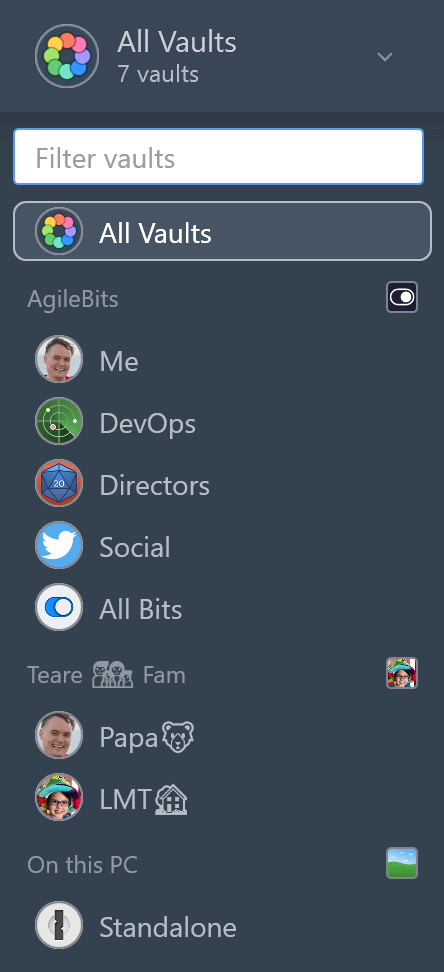 Vaults are so nice that you'll find yourself adding lots of them. Between my AgileBits business and Teare family accounts, I now have over 50 vaults. Being able to switch between vaults and accounts makes it super simple to stay focused on the task at hand.
Together with a 1Password Families or 1Password Business account, vaults can be used to securely share passwords with your family and colleagues. Simply sign in to 1Password.com and choose who you want to share with and 1Password will do the rest.

My favourite part of sharing passwords this way is the ability to control everyone's permissions, including making passwords read-only. For those with edit access, changes they make will be seen by everyone else right away.
1Password mini is always by your side
The new awesome carries over into 1Password mini as well, yielding a more powerful and beautiful experience. When you're on a website and need to login, 1Password mini makes it super easy.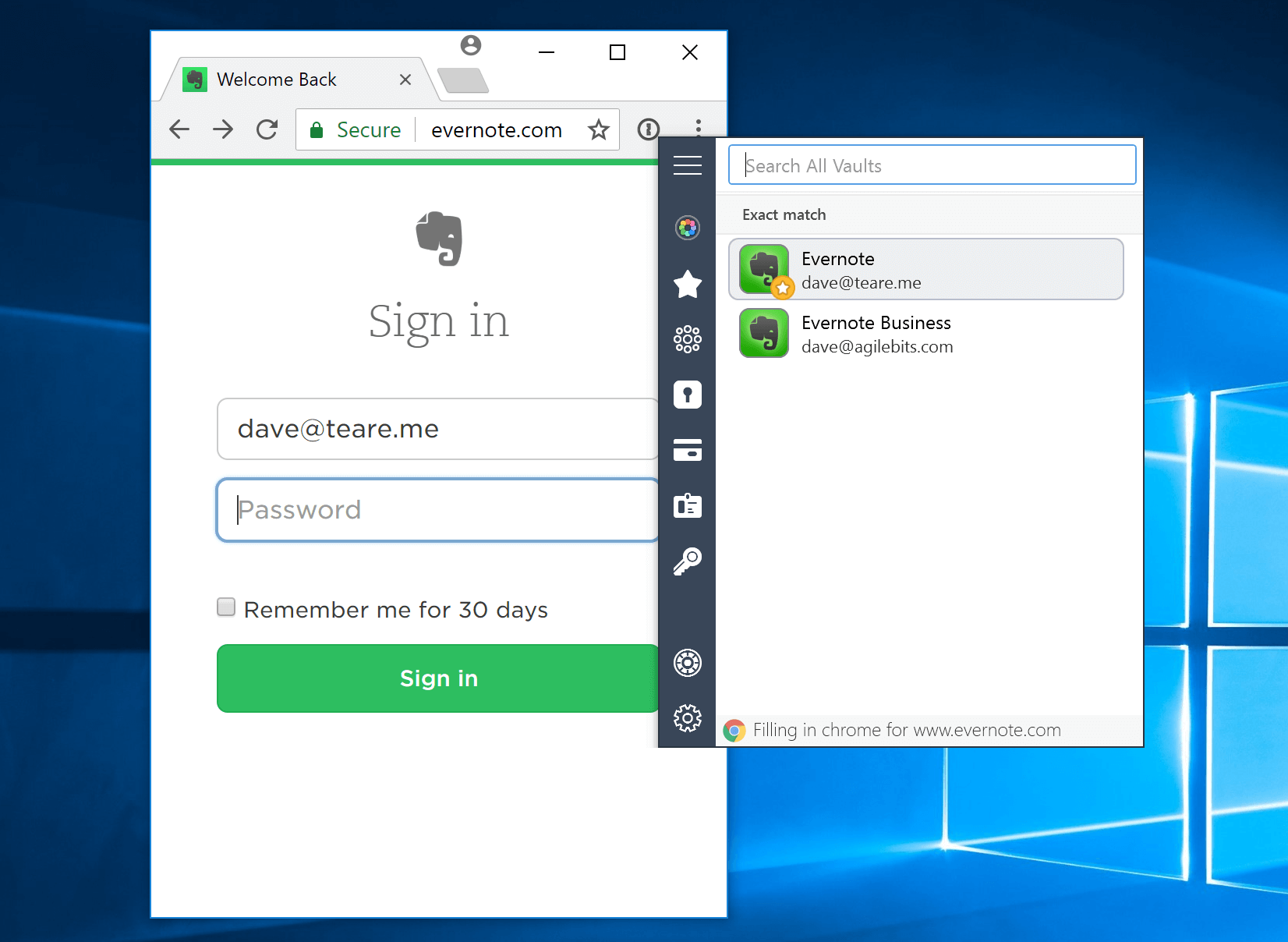 Selecting a login will automatically fill your username and password for you. And if you have two-factor enabled, the one-time password will be automatically copied to your clipboard so you have everything you need right at your Ctrl-V fingertips.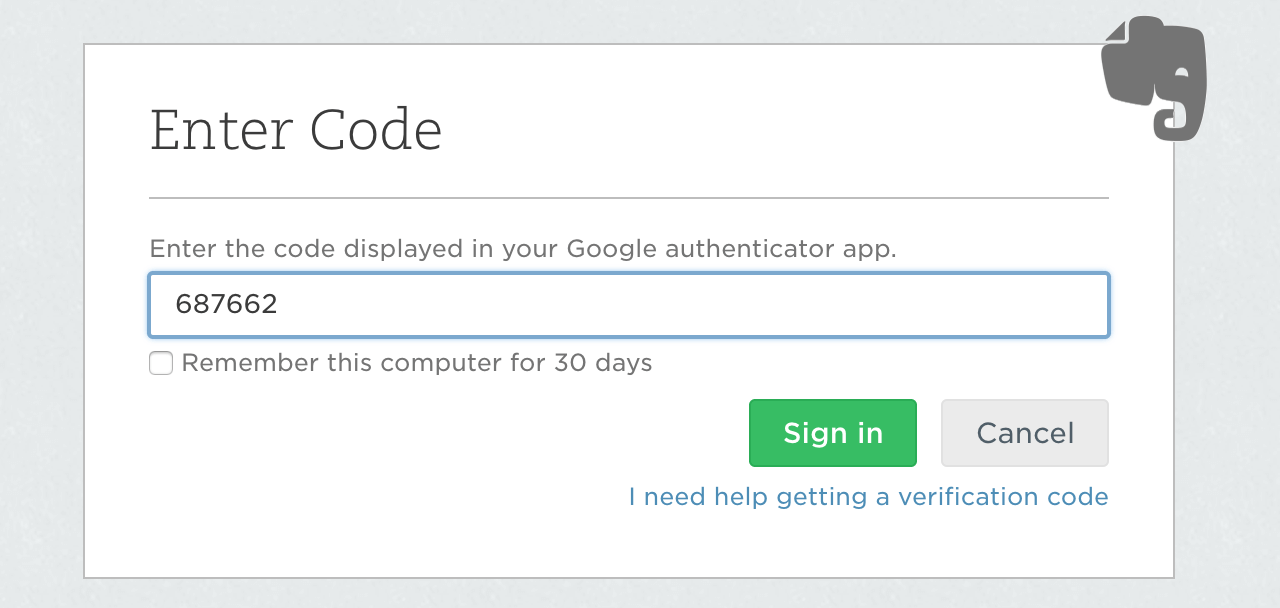 1Password mini will also help you create new logins as well. When you sign up for a new service or log in for the first time, 1Password mini will jump in and offer to save it for you.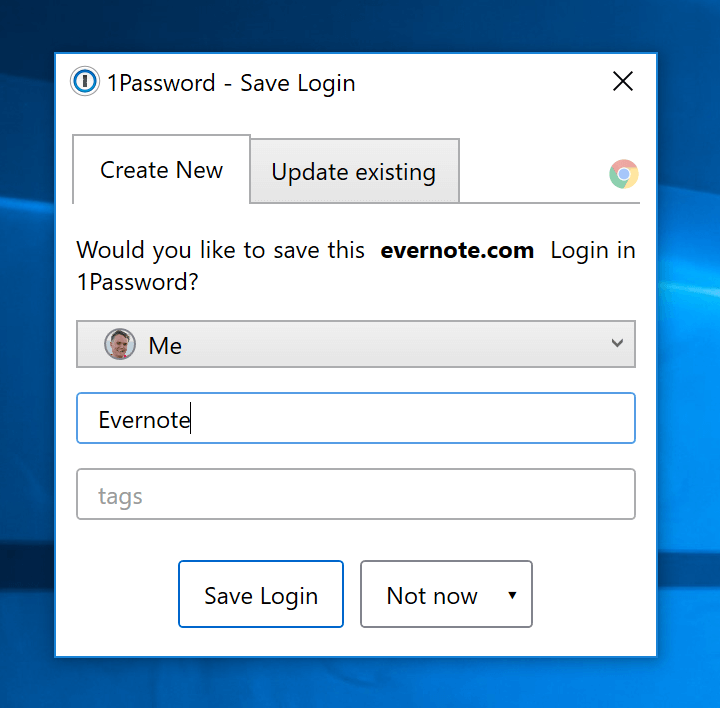 In addition to naming your new login and assigning tags, you can also choose which vault to save it to. This is great for keeping things organized as well as choosing who to share with.
And if a website has been breached, mini will alert you so you know that you need to update the password.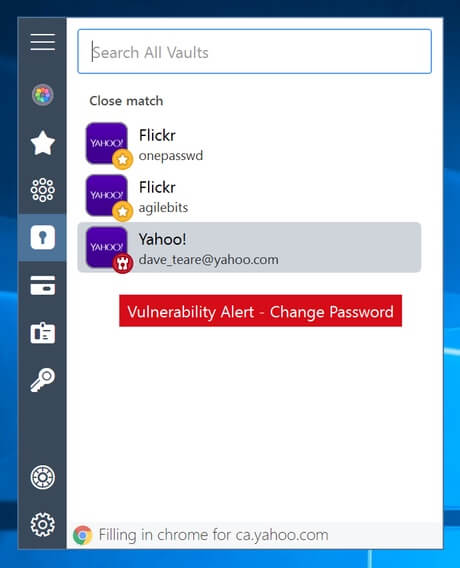 Oh and then there's also Open and Fill which automatically opens websites and fills passwords for you. When combined with the search and organization features of 1Password mini, it's perfect for bookmarking your favourite sites.
Designed for everybody
We wanted to create 1Password 7 for everybody and be as inclusive as possible. That started with allowing you to sync your vaults yourself as well as using 1Password accounts on 1Password.com, 1Password.ca, and 1Password.eu.
1Password also speaks your language and has been localized to Français, Deutsch, Italiano, 日本語, 한국어, Português, Pyсский, 简体中文, 繁體中文, and Español.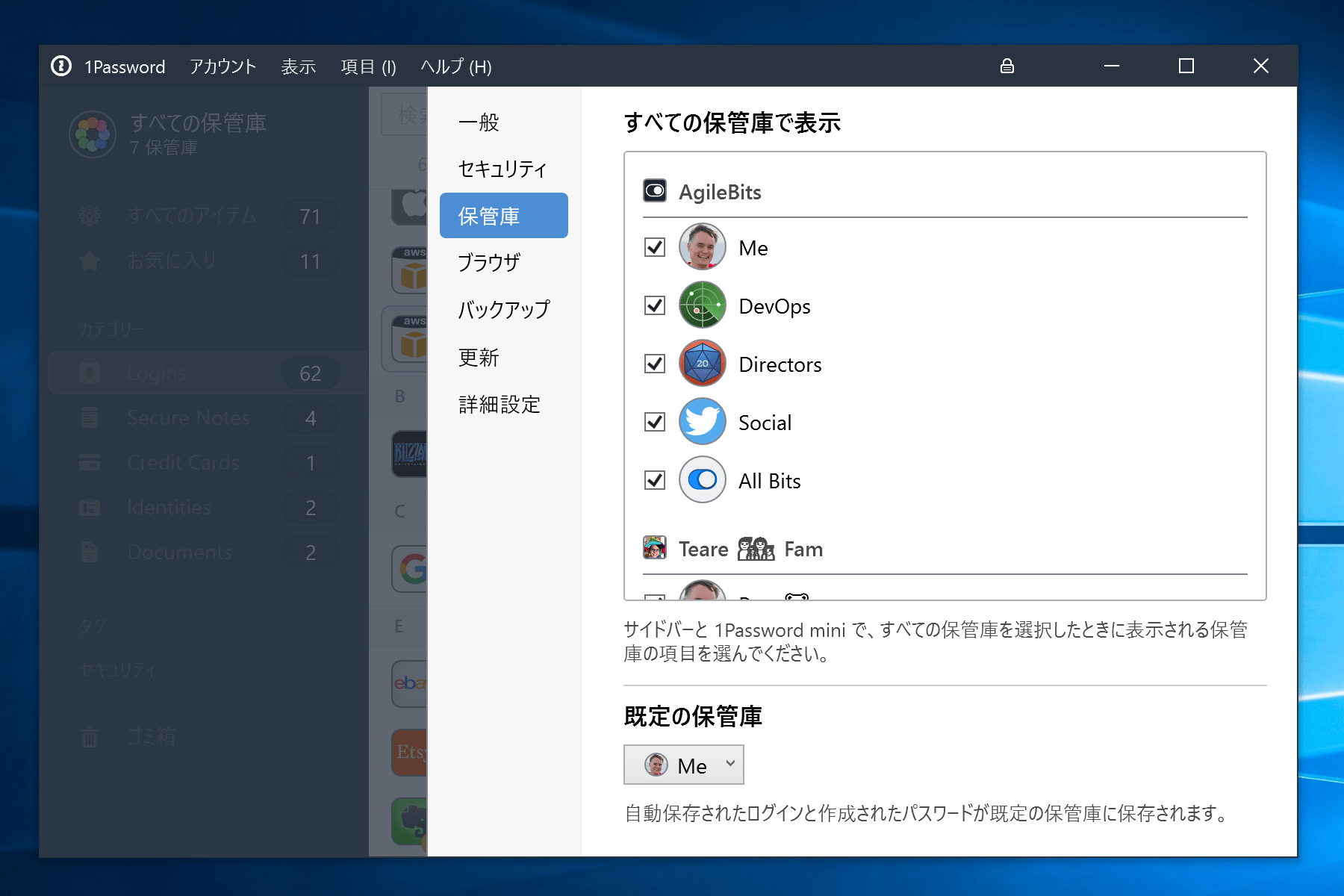 Being able to use 1Password in your language is great and it's even better on High-DPI displays. 1Password 7 has full support for HiDPI in Windows 10 so it looks incredible on 4K monitors and other high density screens.
And for those of you who rely on assistive technologies, rest assured that 1Password 7 is fully accessible with out-of-the-box support for screen readers like Narrator.
Why hello there, Windows Hello
We also added support for Windows Hello so you can unlock 1Password using your fingerprint or simply your smile. This works great in the main app as well as in mini.
I love the "looking for you" animation with the eye looking back and forth, and can't help but grin when I'm greeted with a smiling face along with the "Hello, dave!" message. 🙂
As for security, your data is protected by your Master Password as always. To keep things as secure as possible, the first time you unlock you will need to provide your Master Password and then Windows Hello will be able to unlock 1Password thereafter.
Strong foundations
1Password 7 is a completely new modern app built from the ground up to use the latest and greatest technologies available. This gave us a strong foundation and allowed us to push the envelope to make 1Password the best it could be.
In addition to fundamental enhancements like HiDPI and Unicode support, 1Password 7 comes with a whole new database layer that enabled us to make everything much, much, much faster.
And if you're moving over to our new 1Password memberships, syncing your data is more secure than ever. With the addition of a Secret Key, Secure Remote Password, and Galois/Counter Mode, your data has never been safer. Oh, and to top things off, the speed and reliability is simply unparalleled.
All of these changes combine into the fastest, most secure, and best looking 1Password experience on Windows ever! Long story short: you're in for an amazing treat! 🍪
How do I get it?
To start enjoying the best version of 1Password ever built, grab it here:
1Password 7 is included free for everyone with a 1Password membership. Simply unlock 1Password after downloading and you're good to go.
Those of you with a standalone license will be prompted to subscribe or purchase a license when 1Password 7 first opens. Licenses will cost $64.99 but are available during our launch special for only $49.99. Licenses are per-person, per-platform so you can use your single license on as many PCs as you have. 1Password 7 for Mac is a separate purchase.
I hope you enjoy 1Password 7 as much as we enjoyed making it for you. We couldn't have done it without your help. ❤
Please join us in our discussion forums or in the comments below to share your experiences with us and help craft the future of 1Password. We always love hearing from you. 😘