Hello and happy November, everyone! We've long anticipated this day here at AgileBits. After months of hard work, 1Password 7 for iOS is now available on iOS 11.
The very first step in the journey that brought us to this point was taken back in June, shortly after the Apple Worldwide Developers Conference. Before a single line of code was written, before a single new screen was designed, we set a single goal for this update: efficiency. Along the way, we also added a few more features, like support for iPhone X and Face ID, and we're excited to finally share it all with you.
As our release notes say, this is the greatest version of 1Password for iOS we have ever shipped, so let's dive in, shall we?
iPhone X and Face ID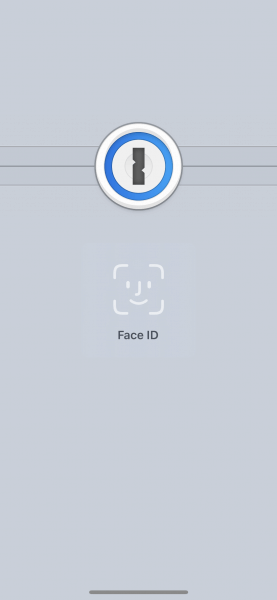 On September 12th, like many of you, everyone here at AgileBits was glued to their screens watching Apple's keynote from the beautiful Steve Jobs Theater at the new Apple Park campus. The announcement of iPhone X was already exciting, but the introduction of Face ID was like Christmas for us. We knew right away that we'd move heaven and earth to be there on launch day with Face ID support.
We began working immediately to make sure that 1Password worked perfectly on iPhone X. Apple was smart and made Face ID work wherever Touch ID already does, so technically we didn't need to do anything. But that's not the way we roll.
We completely optimized the lock screen for Face ID. Matt Davey, who led the design effort, blew the doors off with this one. 🙂
My iPhone X is set to arrive tomorrow, and I can't wait to install 1Password and step into the future.
Quick Copy
In a perfect world, every developer would be as awesome as these folks and take five minutes to add support for 1Password to their app. But because we don't live in a perfect world, signing in to another app sometimes used to mean you needed to:
Open 1Password.
Find the Login you need.
Copy your username.
Switch back to the app where you need it.
Paste your username.
Switch back to 1Password.
Copy your password.
Switch back to the app where you need it.
Paste the password.
And if you needed the one-time password for that app, there were four more steps after that. Yeesh!
In 1Password 7, copying is now done automatically. After you copy your username and paste it in another app, switching back to 1Password will automatically copy your password. And it's the same with one-time passwords. Switch back one more time, and they're copied automatically, too.
You can learn more about Quick Copy on our lovely support site.
Favorites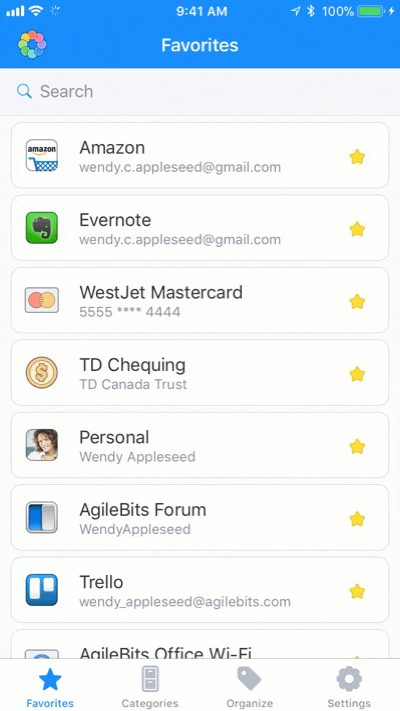 There's no faster way to access an item than by adding it as a favorite. At least, that's what we used to think. In 1Password 7, I'm happy to say that we've done better. Way better.
Now, when you tap an item in Favorites, you'll see all the details you want to copy in a beautiful array of bubbles. Simply tap on any one of the bubbles to copy its value to the clipboard. Not only that, but items on the Favorites list participate in Quick Copy as well!
The Key to a Great App
iOS has wonderful support for external keyboards, and I'm happy to report that now 1Password does, too. If you're one of our keyboard warriors, make sure you give it a try. 1Password 7 includes keyboard shortcuts for searching, switching tabs, opening and filling items, and more.
Go Speed Racer
Big, new features are awesome, but we didn't stop there. We dug deep to unearth some truly fantastic perfomance increases for this update as well. 1Password now unlocks 33% faster and has seen a 400% increase in stability throughout. We also made some improvements to our password generator to make it much more responsive and easier to use.
Wrapping It Up In a Pretty Package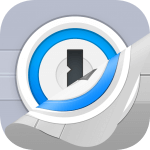 No major update would be complete without a fresh coat of paint on the user interface. 1Password 7 sports a beautiful new icon with a gorgeous gradient on the lock ring. That color scheme carries through to the lock screen where, if you let it sit for a few seconds, you'll notice a gentle "happiness vortex" animation take place as the colors go for a spin.
Many of you use the 1Password extension to sign in to websites directly in Safari or other third-party apps. The next time you do, you'll see the extension received a fantastic visual update as well!
We've also overhauled the navigation bar at the bottom of the screen with some new iconography and a better layout. Coupled with the aforementioned new look for Favorites, our beloved iOS app has never looked better.
And the Hits Keep Coming
Check out the 1Password for iOS release notes for a full account of everything we've crammed into 1Password 7, but I wanted to close out with a few more of my top picks:
If you register a new fingerprint with Touch ID, 1Password will require your Master Password the next time you open it.
You can now delete multiple items at once. Swipe down from the top of an item list, select the items you want to remove, then tap Delete.
Recently used items appear in Favorites for easy access.
Saving a new Login now informs you that the password for that Login has been copied to the clipboard.
An advanced security setting allows you to use a PIN code to unlock 1Password, even on devices that support Touch ID or Face ID.
Whew! Are you still with me? If so, well done! If you haven't already done so, go download 1Password 7 now and tell us what your favorite new feature is.
Until next time!