For the last several months the Design and Development team at 1Password has been hard at work on a major renovation to the smallest part of everyone's favorite password manager: 1Password mini.
Since we launched 1Password 7 last May, we've received more feedback about that incarnation of 1Password mini than any other part of our version 7 update. Given that it was such a significant departure from its predecessor, we anticipated this feedback. Instead of snapping into reaction mode, we took a wait-and-see approach; change is hard, and we didn't want to jump to the wrong conclusions. Over time, we built up a wish list of improvements we wanted to bring to 1Password mini and we set off on our journey.
Core competencies
Before a single mockup or wireframe was created, we took a step back to define exactly what 1Password mini needed to do well:
Show items that match the frontmost app or website.
Fill your passwords, credit cards, and address information into a web page.
Generate new passwords quickly and easily.
The mini's primary goal is to get your information out of 1Password and into the places where you need it with a strong focus on filling your passwords, credit cards, and address information into web pages. Additionally, it needs to be clear how to perform every action.
"Mini is for filling" quickly became our mantra during this redesign, and each decision was made in service of that mission.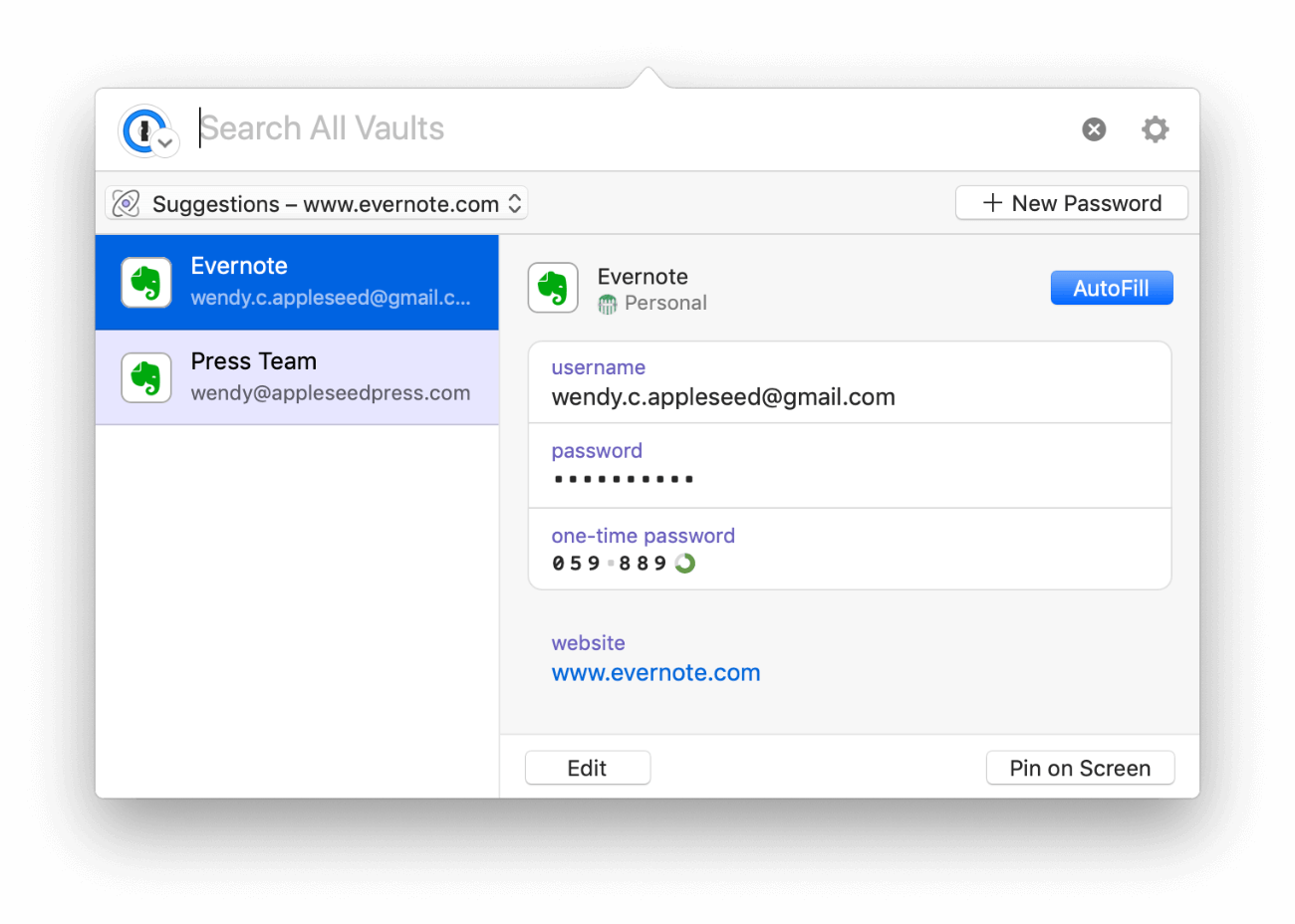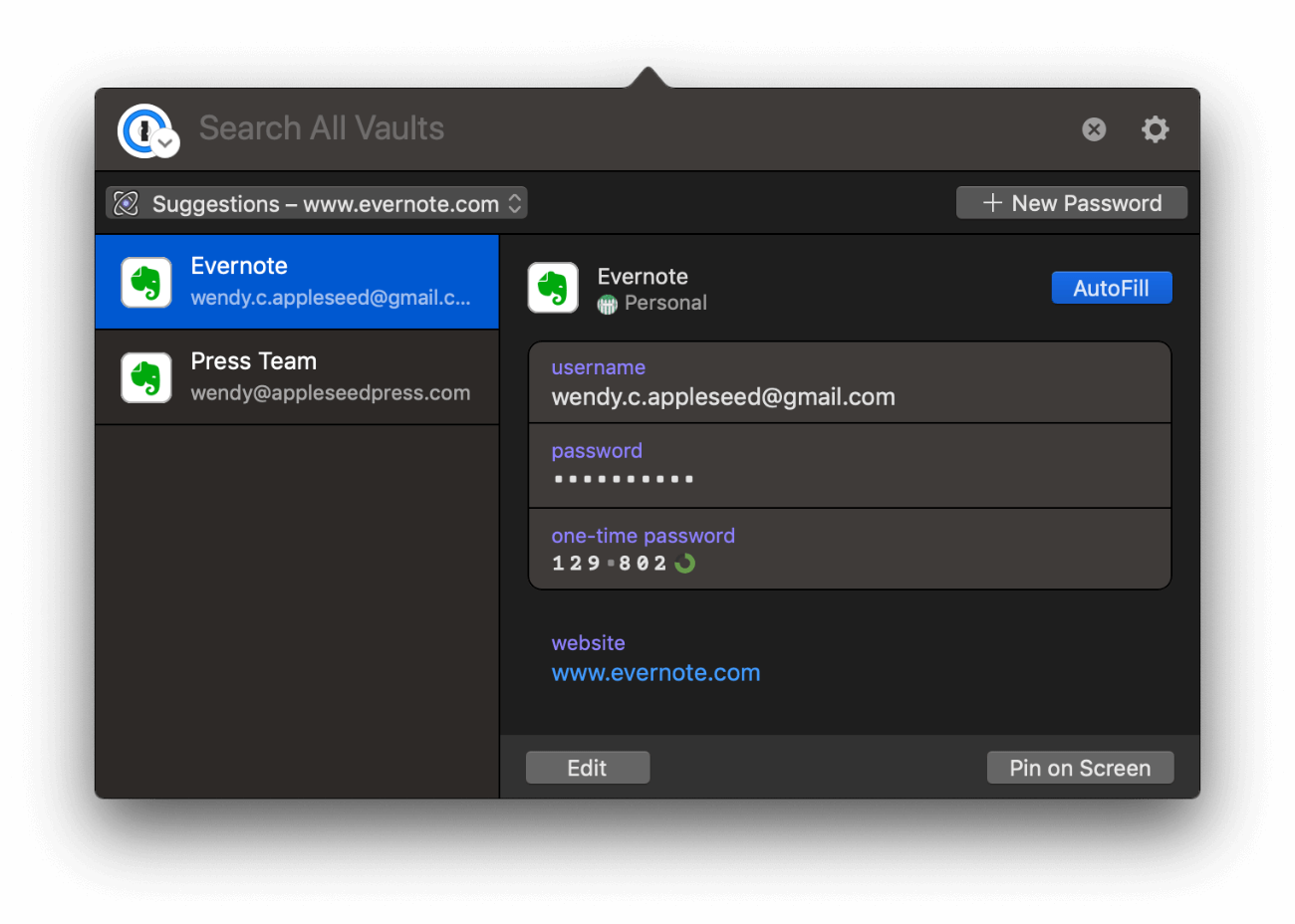 A big piece of what makes 1Password mini successful when it comes to filling your information is our "filling brain". Powered by machine learning that takes place locally on your device, 1Password analyzes the web page and suggests the items you're most likely to need on that page. What this means is that when you're on a shopping cart page buying that bespoke artisanal handmade teak wood lute, 1Password mini will have your credit cards ready and waiting for you.
Complex passwords made easy
Using a strong, unique password for every account is the best thing you can do for your personal internet hygiene. 1Password mini makes creating these passwords incredibly easy. Simply hit the New Password button, adjust the length of the password as needed, then save and copy the password.
To get back to your previously generated passwords, just click the menu button above the item list and select Passwords. All of your passwords are there, conveniently sorted in reverse chronological order: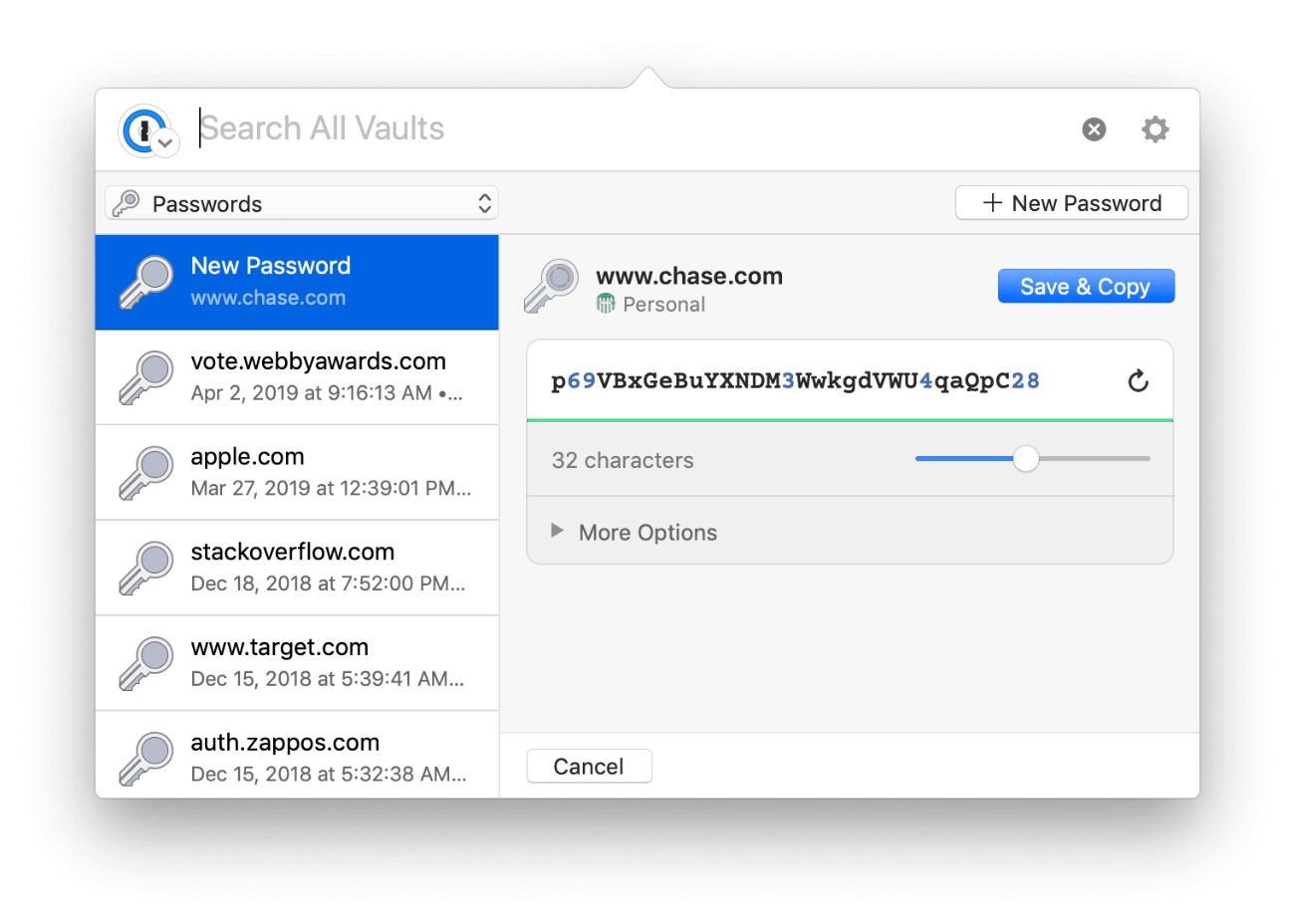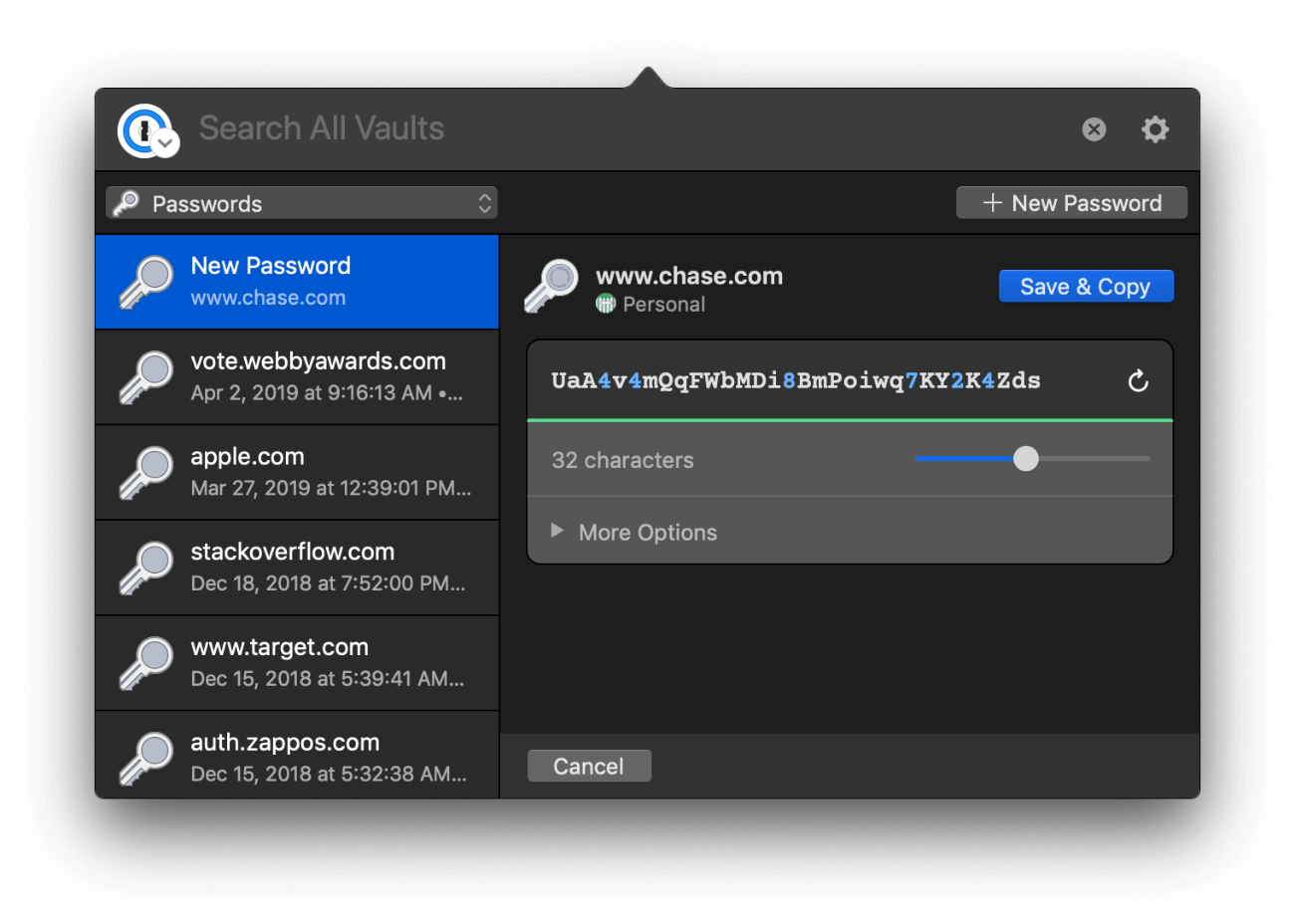 Speedy search
While filling into web pages and creating new passwords might be what you do the most, all your items are available in 1Password mini, and they're only a keystroke away. Simply start typing the name of any item and our speedy search will bring it right up: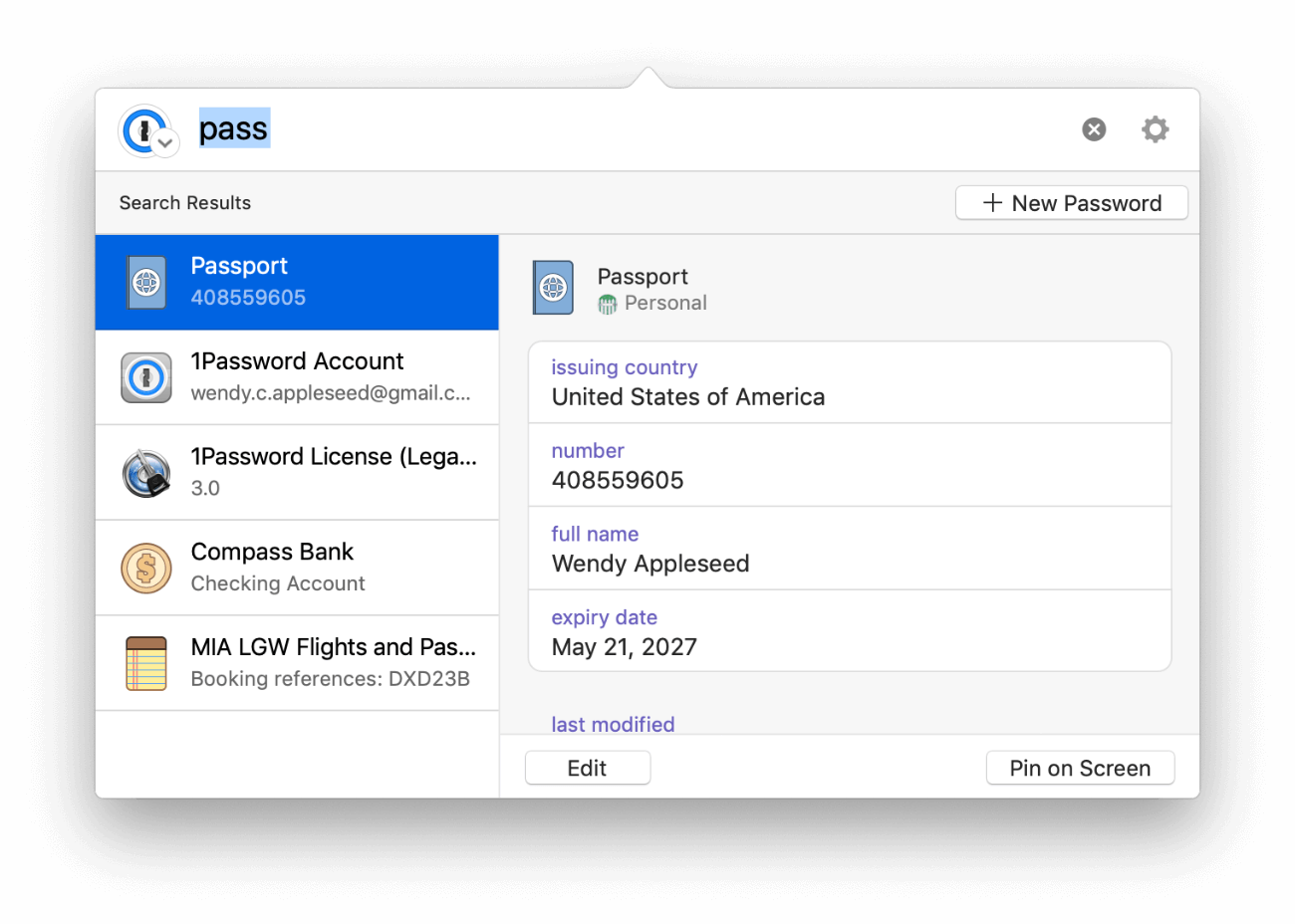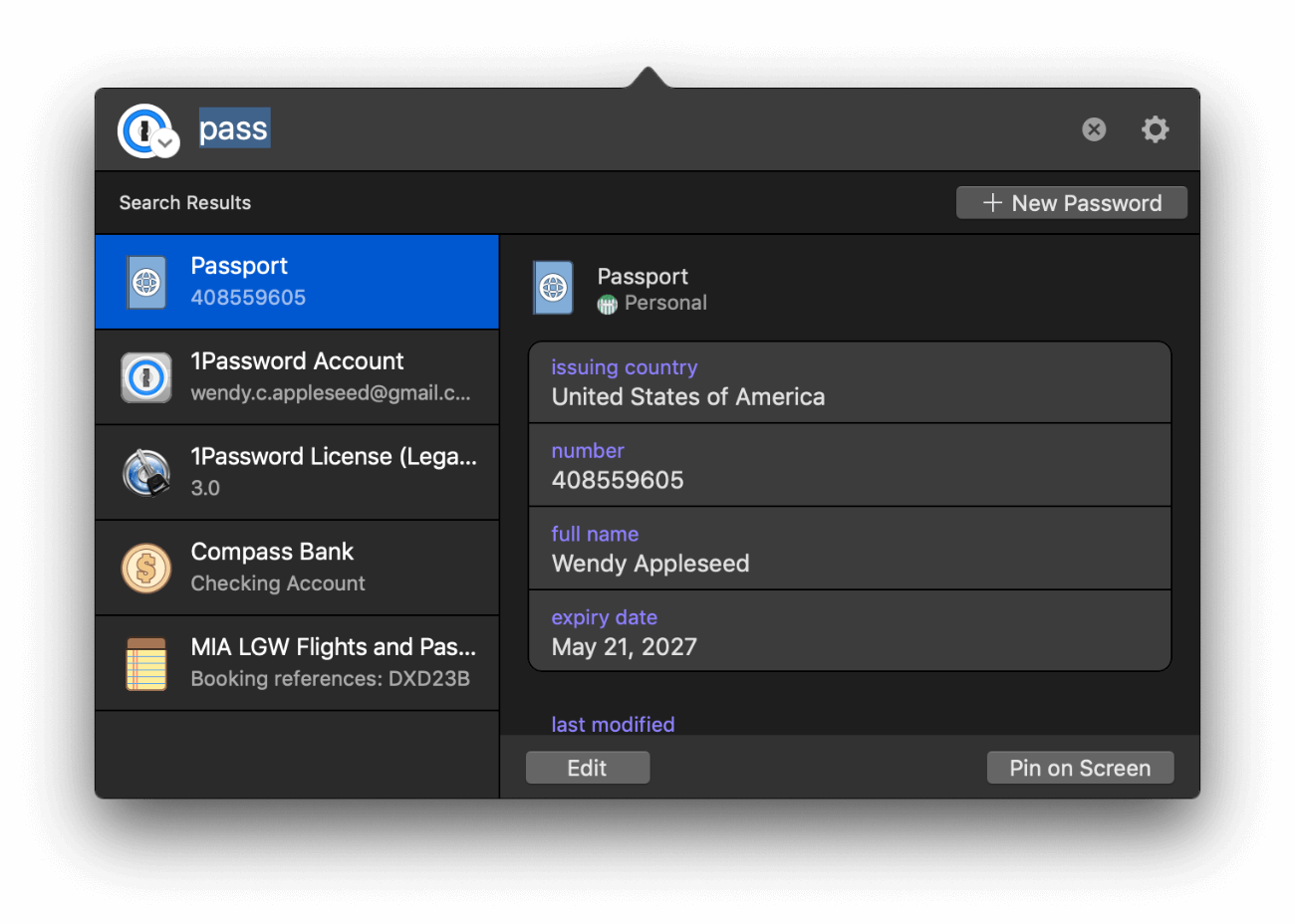 Drag and drop wonderland
1Password has wonderful support for the native apps on your computer, making it easy to sign in to your accounts with Slack, Discord, Omni, and many more. 1Password mini makes this even easier with some lovely drag-and-drop support:
Wrapping it up
1Password 7.3 is available today as a free update for all 1Password 7 customers. If you're still using 1Password 6, you can download and install 1Password 7 from our website here: 1Password.com/downloads.
If you'd like to chat with us about this update (or tell us about your new lute) you can do so on our discussion forum.