Our Android team has been working hard to make sure 1Password for Android sticks to its 2019 resolutions. We couldn't be happier that after many hours in the gym, it's now bigger and better than ever. I think you're going to love 1Password 7.1 for Android.
For this update, our Android team resolved to make it even easier for new 1Password customers to get started. That informed much of their work, and I'm sure you'll agree when I say they absolutely met their goals. With a slicker sign-up process and easier Emergency Kit creation, you can be up and running much faster.
A lot of work has gone into this update, and as ever, you can see everything that's changed by reading the release notes. There's a lot to whet the appetite in there, and I wanted to pick out a few of the biggest changes that we're really proud to bring to 1Password for Android.
Start your 1Password membership with Google Play
If you install 1Password from the Google Play Store, you probably want your membership to be taken care of there, too. By bringing 1Password memberships to the Google Play Store, we've made it quicker and easier to get started when you first install 1Password.
Try it out
Signing up for a 1Password membership has never been easier, and the process even fits into a GIF!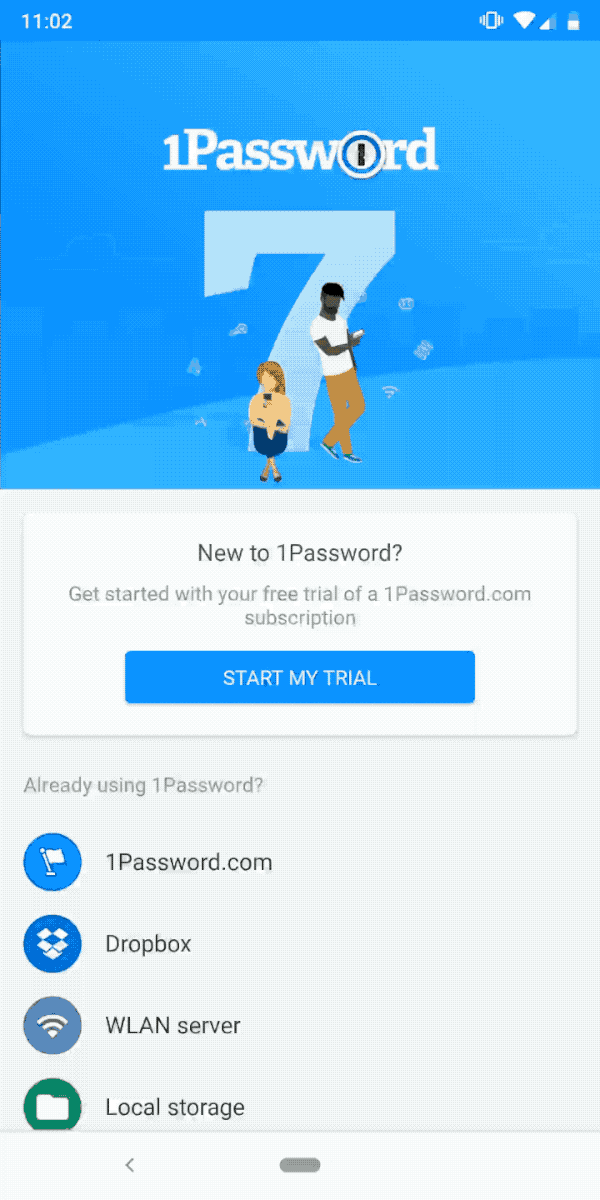 Generate and save your Emergency Kit during sign-up
Speaking of the sign-up process, wouldn't it be great if you could generate and save your Emergency Kit right after you create your account? It really would, so we've flicked the switch and now you don't have to go back and generate it afterwards.
Generating an Emergency Kit during sign-up means there's less chance you could find yourself without one when you need it most.
Tag all the things
For many people, tags are crucial for organizing their passwords, and with 1Password 7.1 for Android, you can tag all the things right from your phone or tablet. You can now create, edit, rename, and remove tags, and you can even nest tags to take your password organization to the next level.
That's great news for the tag-ninjas among you, and managing passwords on Android devices has never been so much fun. I know I can't wait to get tagging!

Enjoy one-time passwords without the hassle
We feel strongly about the importance of one-time passwords, but we also know that entering a password and then switching to another app to get a code is no fun. With 1Password 7.1 for Android, that frustration is a thing of the past.
Now, when you Autofill a password, the one-time password for that account will be automatically copied to your clipboard. Just paste it into the web page or app, and you're good to go. After 30 seconds, the code is removed from your clipboard.
Some honorable mentions
There's a ton of work gone into this release, and I wanted to highlight some of the great changes that have been made. Other notable improvements include:
Category names and item templates are now localized for those with 1Password.com accounts.
Autofill now automatically syncs the latest changes from your other devices. You don't need to open 1Password to sync.
You can now use Autofill to sign in to websites in the stable version of Firefox.
It's now easier than ever to move items between vaults.
Coming to an Android device near you
We're rolling out 1Password 7.1 for Android this week as a free update for all 1Password customers. Once it's available for your device, you can download the new update from Google Play to enjoy all of the fantastic improvements I've mentioned above.
I hope you love using 1Password 7.1 for Android as much as our Android team loved building it for you. As always, we would love to hear your feedback on the 1Password Support forum.
Enjoy!